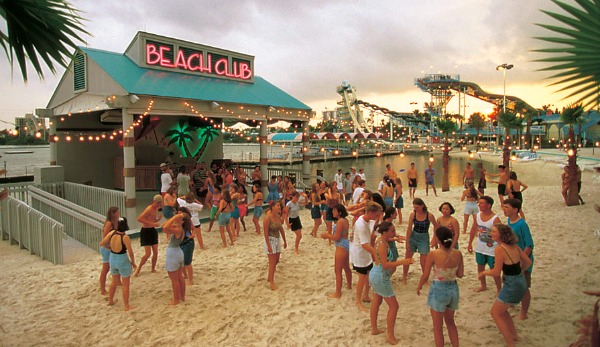 This water park on International Drive is packed with water rides but it doesn't quite have the 'theme park' atmosphere that you get at the Disney ones. The Disney parks are also more spread out and make the most of the surrounding landscape. Nevertheless, it's worth a visit if you're not bothered about that side of things as the rides are great and there is also a wave pool to enjoy. At peak times, the lines at the park can get lengthy, but that gives you time to top up your tan and dry out. We'd recommend arriving at opening time to try out the popular rides first. The "Bomb Bay" slide has a glass floor that slides away from underneath you and you then fall down an almost vertical 76 foot drop. Another high ride is the very scary Der Stuka which sends you down a 250 foot drop.There are plenty of multi-person rides like "The Blast" and there are more leisurely experiences too like the Lazy River. The new attraction for kids is Blastaway Beach which is a sandcastle themed water playground. This is an extract from our free Orlando City Guide.
The rides and slides at Wet 'n Wild are split into 3 categories: Solo rides, Multi Person rides and Easy Going rides. Brain Wash (pictured above) is on of the newest multi person rides which drops you and your co-riders down a 53 foot drop a dark tunnel which has a swirling effect decorating the walls – great if you want to be disorientated! Other multi person rides include Disco H2O which is a thrilling ride with music, the Surge which is a huge ride covering 600ft from top to bottom and The Flyer which is a toboggan style ride.
The thing about Wet 'n Wild is that you always feel the park is evolving. As water ride technology improves, rides get replaced and updated. Every time we've been, there's been something new to do.
Mach 5, pictured above, is one of the biggest solo rides at Wet 'n Wild. You slide down the chutes on a padded mat with a roll up bit at the front – it looks a bit like a snow sledge, but it does go fast! If you pull up on the front it goes ever faster too. There's also the Storm which is a body slide which spins you round and drops you in a pool at the bottom. It's supposed to resemble a cyclone!
As for the the more relaxing experiences, top of our list is the Surf Lagoon with it's intermittent waves and Lazy River, pictured below, is lovely too for unwinding.
Wet 'n Wild Orlando has various opening times depending on the season, but typically opens at 9.30 or 10am and closes anywhere from 5pm to 9pm. Adult admission on the gate is $49.99 plus tax, but you can save money by buying Wet 'n Wild Advance Tickets online.  Wet'n Wild is also included in the Universal 3 Park Bonus Ticket.
LOCATION & CONTACT
Address: Wet 'n Wild, 6200 International Drive, Orlando, Florida 32819, USA
Tel: +1 407 351 1800 or from inside the USA 800 992-WILD
Email: info@wetnwildorf.com
Wet 'n Wild Orlando is signed on the I-4 and International Drive.
MORE ON WET N WILD ORLANDO
Universal 3 Park Bonus Ticket – Includes Wet 'n Wild
Wet 'n Wild – Official Website
Wet 'n Wild – Wikipedia
More Things To Do In Orlando
Orlando Hotels – We recommend Hotels.com for the best service and prices