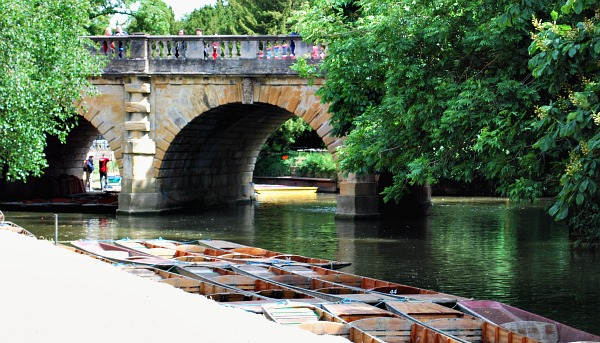 Whilst the students of Oxford are best known for the their rowing, you may prefer something a bit more leisurely and the River Cherwell is an ideal place to go punting as it's a calm, slow flowing tributary for the Thames. Punting on this route takes you through some lovely meadows belonging to the colleges and there are some nice views of Oxford along the way. You can hire a traditional rowing boat instead if you want, or head to the Thames itself where you can have someone else do the driving and take a 40 minute leisure cruise from Folly Bridge. This is an extract from our free Oxford City Guide.
Punting is a big draw for tourists and locals, especially when the weather is fine. You can hire punts either at Magdalen Bridge or Folly Bridge and you don't need any experience to give it a go. The boat hire hut will give you a few tips, but basically it's about balance and using the long wooden pole to move you along. The key thing is not to get the pole stuck in the mud on the river bed – so don't push down on it too hard. If it does get stuck, you have two choices. Hold on to the pole and get wet, or stay on the boat and have no way to get back! It's not unusual to see very wet people, but most of the time things go smoothly. If you don't want to take the risk, you can hire a rowing boat instead. Punts and rowing boats generally cost around £20 per hour (2013 prices).
If you'd prefer to sit back and let someone else navigate the river, you could opt for a river cruise. A 40 minute round trip with Salter's Steamers taking in some of the sights of Oxford from Folly Bridge costs around £7 for adults (2013 prices). These depart regularly in the summer months – look for the sign board by the bridge for latest cruise times. There are a number of other cruise options too, including a 2.5 hour picnic cruise which includes a gourmet picnic lunch.
If you want to watch some impressive rowing, the university boathouses all line the River Thames. From Folly Bridge, take the riverside path towards Christchurch Meadows and you'll see the boathouses after a 5 minute walk. Most times of the day, there are rowing teams on the water and it's a pleasant walk on a nice day along the path. Watch out for cyclists on the path though who are usually in a hurry to get where they want to go. You may also see some of the rowing coaches who cycle or run along the path shouting instructions to their rowers.
LOCATIONS & CONTACT
Magdalen Bridge Boat House (Punting & Rowing)
Address: Magdalen Street, Oxford, Oxfordshire
Tel: +44 1865 202643
Salters Steamers (punting, Rowing and River Cruises)
Address: Folly Bridge, Oxford OX1 4LA
Tel: +44 1865 243421
Oxford River Cruises
Address: 1 Folly Bridge, Oxford OX1 4JU
Tel: 0845 226 9396 (within the UK)
This map shows the location of boat hire at the bridge near Magdalen College, but you can zoom in and move it around to see the other hire locations like Folly Bridge…
MORE ON BOATING IN OXFORD
Magdelen Bridge Boathouse – Punting & Rowing boats
Salter's Steamers – River Cruises, Punts & rowing Boats
Oxford Hop-on, Hop-off Bus Tour – Stops near the punt hire boathouses
Hotels in Oxford – We recommend Hotels.com
Oxford Guide Books – Amazon.co.uk
Travel Through Oxford Guide Book – Amazon.com