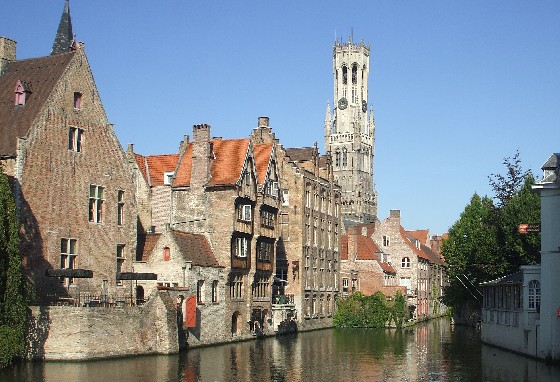 This is your free Bruges City Guide!  It's one of Europe's most beautiful and unspoilt cities and in our view is the gem in Belgium's crown.  There's plenty to see of course, plus great food and drink.  Here are our personal recommendations to you…
WHAT TO DO IN BRUGES
Walk the streets and canals – The city is ringed by a busy dual carriageway, but inside that, you'll find mile after mile of beautiful chocolate-box style traditional houses, many lining canals.  Every so often, you'll come across something a bit different too like the windmills on the outskirts of the city, an unusual church, or the old fashioned gatehouses on some of the roads.  Within the main city boundary, traffic is kept to a minimum and even the new buildings are built in the same style as the old, meaning you often can't tell what's new and what's not. The whole area is a World Heritage Site. It's all very pretty and we spent hours walking around the streets of Bruges and walking along the canals.  If you don't fancy the walk, you can take a canal boat trip in the warmer months of the year. More info, pics, links & map…
Bruges Market Place (Brugge Markt) – This attractive area is the centre piece of the city and at many times of the year you'll find some kind of small market here.  We last visited at Christmas when a festive market is built surrounding an outdoor ice rink. The square is a great place to get a feel for the city and it's lined with the huge Belfry tower on one side, town hall on another side and then dozens of restaurants, shops and bars. More info, pics, links & map…
Burg Square – Right next to the Market square is another smaller, but prettier one called the Burg. This area is the administrative centre and is surrounded by more beautiful buildings and the tourist information centre is here too.  Highlights in the Burg include the old Town Hall (see Our Top Tip below), the Old Civil Registry with its gold statues, the Basilius church and the chapel of the Holy Blood which claims to have a vial of Christ's blood. More info, pic, links & map…
The Belfry (Brugge Belfort) – This bell tower dominates the Bruges skyline so you can see it almost everywhere within the old city boundaries.  As such, when you climb it you get a terrific view of Bruges.  You can see out of the tower on all sides and we'd recommend doing this at the start of your break so you can see just how compact the city is.  You can also see from here how much effort has gone into keeping all the buildings as unspoilt as possible. There are a lot of stairs by the way, so take a deep breath before climbing! More info, pics, links & map…
The Gruuthuse Museum – We thought this museum was interesting but a little bizarre.  It's basically the former house of one of the richest families in old Bruges.  The family made its money from ingredients for beer and their house is more of a palace. Much of the structure of the house remains as it was then, and as an insight into how the rich lived it's fascinating.  We especially liked the private chapel in the house which has a window into the church next door.  This allowed the family to attend services without leaving home and without mingling with the poorer people!  For us the house was the star here, but you'll find that its rooms are treated as general museum space and are filled with a whole variety of museum exhibits about Bruges in general.  The museum is at Dijver 17 next to the Church of Our Lady.  More info, pics, links & map…
Church of Our Lady (Onze Lieve Vrouwekerk) – Want to see a genuine Michelangelo sculpture?  This church is truly striking on the outside with its huge brick tower, but the inside is striking too.  Michelangelo's "Madonna and Child" sculpture always draws the crowds, but there's plenty more to see in here too.  There are huge paintings and impressive carvings and it's all free.  There is also a museum here which for a small fee takes you into the excavated tombs under the church and shows you more of the church's treasures.  The church is just off Mariastraat near the Gruuthuse Museum. More info, pics, links & map…
Lover's Lake – This lake is also known as Minnewater and you'll find it on the southern edge of Bruges.  The lake itself and the buildings and park surrounding it are so picturesque, that you can see where the name has come from – it's a great place to be with someone you love!  The lake is actually a reservoir and is joined to the canal system of Bruges so you will see boats on it from time to time.  To be honest, there's not a lot more to do at Minnewater, other than just walking around and crossing the bridges, but you have to see it!  More info, pics, links & map…
The Chocolate Museum (Choco-Story) – If you love chocolate, you'll enjoy a trip here and Belgium is famous for it after all!  There's loads of background about the origins of chocolate which does go on a bit, but the best bit is the demonstration of making it.  There was hardly anyone there on the day when we went, so it was easy to watch in detail how fancy chocolates are made and then you get to taste them too. You could perhaps do with a bit more chocolate along the way, but maybe that's our addiction talking.  The museum is on Wijnzakstraat 2, Sint-Jansplein.
The Windmills – Take a walk to the outskirts of the city along the canal path Kruisvest (between Bapaumestraat and Sasplein) and you'll come across a series of windmills. Originally there were 25 all around the edge of Bruges, but now only a handful remain.  There is a small museum inside the Sint Janshuysmolen mill which was built by a group of bakers in 1770.  It took a while to walk here, but we enjoyed how peaceful and open it was in this area and we enjoyed walking on some of the old city walls around here too. More info, pics, links & map…
OUR TOP TIP IN BRUGES
Don't miss the old gothic Town Hall in the Burg square.  It dates back to the 1300s and although just a single hall, it is truly beautiful inside with paintings on the wall depicting important events in the history of the city. More info, pics, links & map…
RECOMMENDED HOTEL
We stayed at the Aragon Hotel in Bruges and really liked it!  It's just a couple of streets from the Markt, so everything is close by and the rooms were clean, comfortable and of a high standard.  Breakfast was good and the staff were friendly.  Bear in mind that most hotels in Bruges are in old buildings, so don't expect lots of space anywhere, but there was plenty of room for us here.
GETTING AROUND BRUGES
We found no need to do anything other than walk.  The heritage part of the city is compact and easy to see on foot.  If you do fancy a trip further out, there are a few places that hire cycles.
Bruges does not have an airport and most visitors arrive by train.  The Railway Station is just the other side of the busy ring road and if your hotel is in central Bruges, again it's easy to walk from the station.
MORE ON BRUGES
Bruges Hotels - Best price guarantee from Hotels.com
VistFlanders.co.uk - Bruges Guide
Guide books on Bruges - Amazon.co.uk