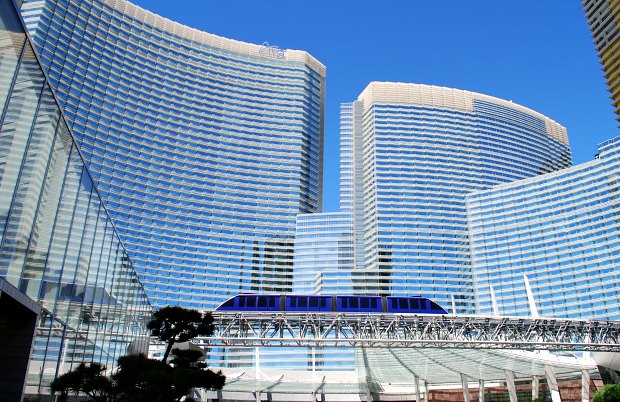 Aria Hotel & Casino is a striking property on the Las Vegas strip. It's one of the city's newer hotels and is part of the "City Center" development opposite Planet Hollywood. There are a number of thing to see here apart from the architecture. Firstly, don't just walk by the fountain at the main entrance. Sit and watch a while and you'll see bursts of water do battle with each other.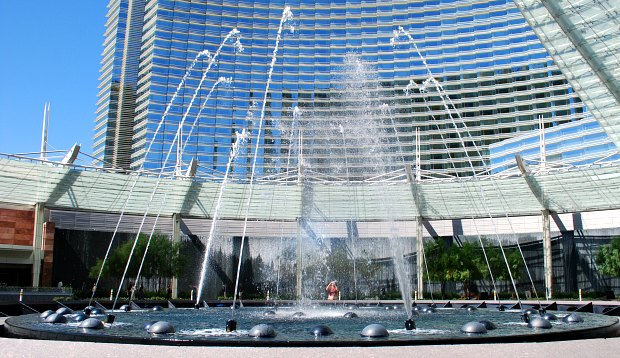 In addition to the fountain at the front of the hotel, there is also a waterfall which flows down the wall which encircles the drop off area. The impressive outside architecture and design of Aria continues inside the hotel and we were particularly impressed with area surrounding the theatre. Through the theatre doors, Cirque du Soleil have created a show called Zarkana which is set in an abandoned theatre.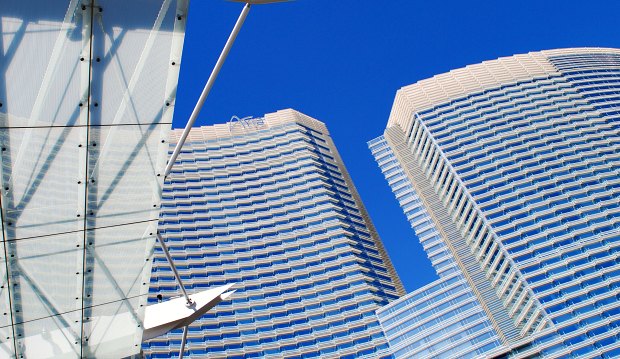 The other notable attraction here is the City Center Tram, which passes the front of the building. To ride it, call at one of the three stations. The first is at the south end of Aria where it joins onto the Monte Carlo Hotel & Casino, the second stop is at the other end of Aria and gives access to the shopping centre, and the third stop is at the rear of the Bellagio. The City Center Tram operates 24 hours and is free. If you want to eat at Aria, The Las Vegas Strip Afternoon Food Tour calls in here.
LOCATION & CONTACT
Address: Aria Resort & Casino, 3730 Las Vegas Blvd, Las Vegas, NV 89109, United States
Tel: +1 866 359 7111
Aria is set back off the strip on a road which is opposite the Harley Davidson Cafe. You can also reach the hotel by walking through the City Centre shopping centre which has a frontage on the strip.
MORE ON ARIA
Stay at Aria – Best rates from Hotels.com
Aria – Official Website
Airport Transfers to Aria
City Center – Wikipedia
Top 10 Free Things To Do In Las Vegas