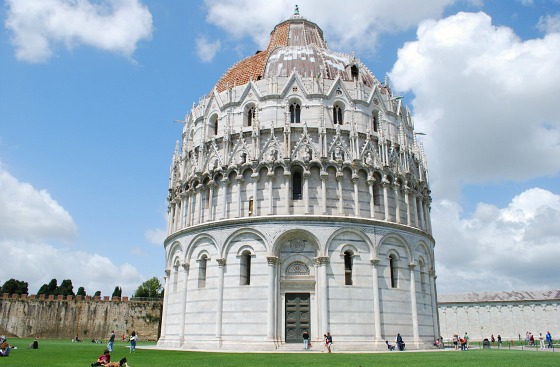 This is Italy's largest Baptistry and it was founded in 1152. The whole town was involved in the construction of the building and inside you'll see the font where many people in Pisa were consecrated as Christians. The other significant feature inside is a huge Gothic pulpit that depicts religious scenes based on pagan beliefs. On the outside, look for the roof tiles that have only been added on some of the aspects of the building. We have no idea why! This is an extract from our free Pisa City Guide.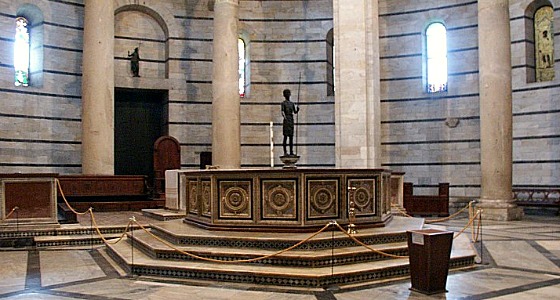 Tickets for the Baptisry can be bought from either of two dedicated ticket offices run by Opera Della Primaziale Pisana. The main office is located in the building near the shop stalls – the entrance is under the clock. The other office is near to the leaning tower. Both are well signed. Adult admission is 5 Euros although you can buy combination tickets to see more sights and reduce the overall cost (2019 prices).
The Baptistry is open daily but times vary throughout the year as follows…
November, December, January & February: 10am to 5pm
March: 9am to 6pm
April to September: 8am to 8pm
October: 9am to 7pm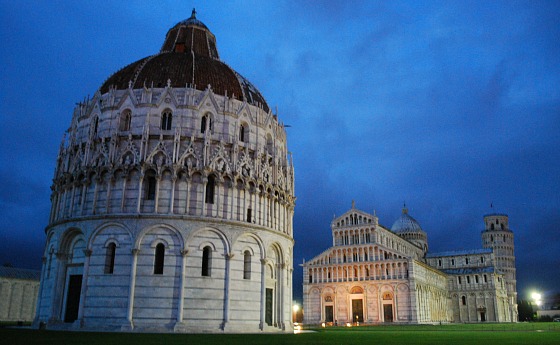 LOCATION & CONTACT
Address: Pisa Baptistry, Opera Della Primaziale Pisana, Piazza Duomo, 17 Pisa
Tel: +39 050 835011
Email: info@opapisa.it
Busses 1, 3 or 11 will get you to the piazza dei Miracoli from Pisa Centrale station.
MORE ON PISA BAPTISTRY
Hotels near Pisa Baptistry/Piazza dei Miracoli – Lowest prices Guaranteed from Hotels.com
Pisa Baptistry – Official website
Piazza dei Miracoli & Baptistry – Wikipedia
Pisa Segway Tour
Pisa Travel Guide Books – Amazon.co.uk (UK)