Bellagio has the reputation of being the prettiest town on Lake Como and it doesn't disappoint.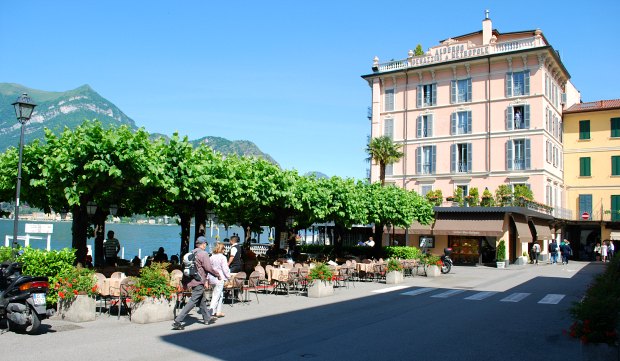 It's located on the fork in the lake and as such has beautiful views of the surrounding mountains, but the town itself could win a beauty pageant too. The network of cobbled streets here is just gorgeous, most climbing up the hillside with a cascade of steps. The little streets are crammed with shops, selling just about everything but most common are ceramics, clothing, gifts, and art etc. Although most of the cafes are located on the lakeside, you'll find more as you ascend the streets, especially around the church where there is a tiny square. If the church is open, it's worth a look inside, otherwise continue your journey.
Apart from the streets of Bellagio, another thing that you should not miss on a trip here is the lake-side gardens. They stretch from the car ferry right the way to the 1930's Lido. The edge of the lake is lined with trees and then a range of formal flower beds. There are plenty of benches to sit and enjoy the tremendous view, but many prefer just to wander along the walkway here and soak it up from different angles.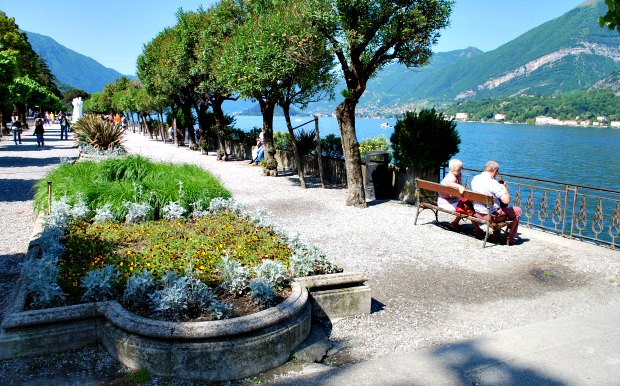 If gardens are your thing, you're sure to enjoy the grounds of nearby Villa Melzi, located just the other side of the Lido. A small iron-gated entrance, opens up to a sumptuous array of landscaped areas, tree-lined walkways, exotic plants, pools and fountains. This was the most attractive garden we saw anywhere around the lake and the villa and its surrounding buildings set it off beautifully. The gardens are open March to October each year and adult admission is 8 Euros (2015 prices). Sadly the villa itself is not open to the public.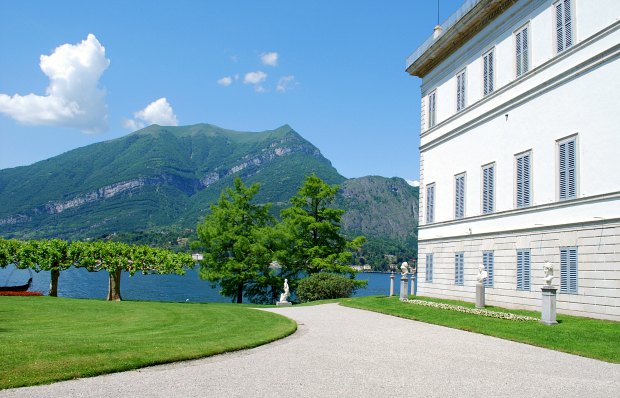 One other highlight in Bellagio – walk along the harbour front in the opposite direction to the gardens, once you past Grand Hotel Serbelloni, turn left, walk under the bridge and follow the road. It leads to a mini-harbour which sits right on the fork of the lake allowing you to see in three different directions. The views on a good day are superb! If you want to eat here, we can recommend the food at Hotel Metropole Bellagio which has an outdoor eating area right on the lake.
BELLAGIO LOCATION MAP
This map shows the location of the church in Bellagio but you can move it around and zoom in or out to see other locations…
MORE ON BELLAGIO
Lake Como Day Trip From Milan – Latest reviews and prices in US Dollars
Lake Como Day Trip From Milan – Latest reviews and prices in UK Pounds
Bellagio – Wikipedia
Hotels in Bellagio – We recommend Hotels.com