This is your free Brussels City Guide! These days the city is best known as the home of the European Parliament, but there's much more than just that to see in the Belgian capital. These are our personal recommendations of what to see.
WHAT TO DO IN BRUSSELS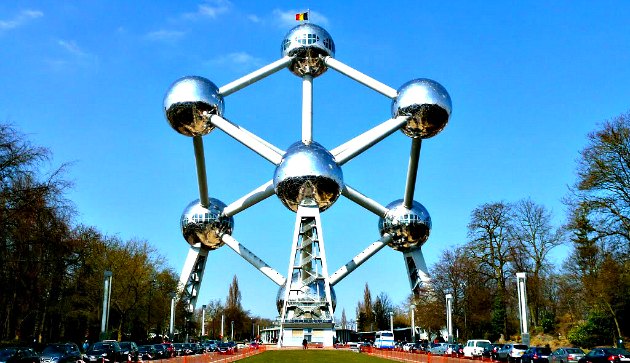 The Atomium – This bizarre monument dates back to 1958 and is open daily to visit. It's over 300 feet tall and has nine large spheres which are connected by tubular passageways making the shape of a giant iron crystal cell. In the inside of the spheres you'll find exhibition space, a restaurant and public areas with the top one having a lovely view of Brussels. We thought the Atomium was fascinating to visit and we'd thoroughly recommend it. It doesn't really matter what's inside really, as it's the structure itself that's the big highlight. The Atomium is in Heysel Park next to Mini-Europe. Nearest metro station is Heysel/Heizel and the open top bus tours stop here too.
Brussels Atomium: Read more, links & map…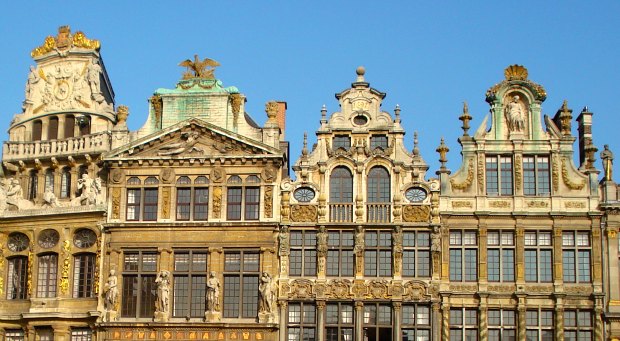 Grand Place – This large cobbled square is the heart of the old centre of Brussels and the architecture here is impressive. The old town hall is the building that really stands out, but all of the others are worth seeing too. You'll find a nice atmosphere in the square on a busy day too and it's surrounded by restaurants and bars. Make sure you come back at night to see the lights of the square too. The Grand Place is also a World Heritage Site. Nearest Metro stop is Bruxelles Central/Brussel-Centraal but if you're in the city centre anyway, just follow the crowds!
Brussels Grand Place: Read more, links & map…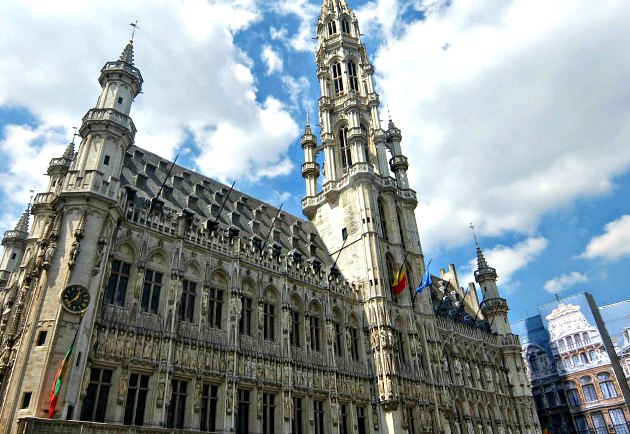 Town Hall (Hotel de Ville) – The gothic tower of the town hall is the thing that grabs your attention as soon as you enter the Grand Place. The building is almost as impressive inside too and is a bizarre mix of local council offices and works of art, particularly tapestries.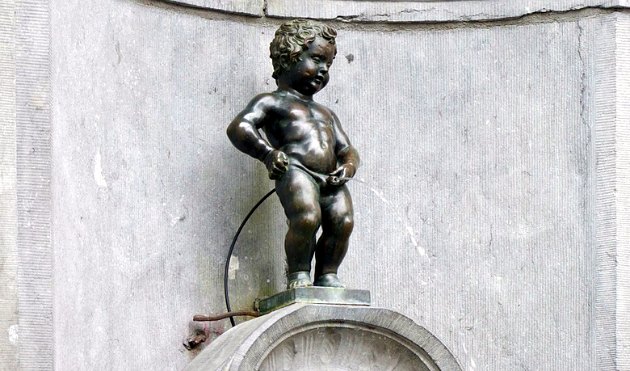 Manneken Pis – This is a tiny statue of a little boy urinating. That's pretty much it, but bizarrely it has become one of the most famous landmarks in Brussels! You have to go to say you've seen it, but it's not worth spending a lot of time to do it. Occasionally you'll find he's been dressed in a costume which can make him a bit more interesting. The Manneken Pis is at the junction of Rue de l'Étuve/Stoofstraat and Rue du Chêne/Eikstraat and is only a short stroll from the Grand Place.
Mannekin Pis: Read more, pics, links & map…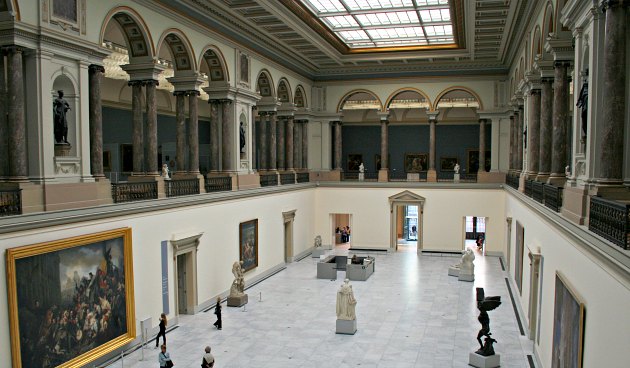 Visit the Museums – There are lots of museums in Brussels dedicated to everything from modern art though to musical instruments. We'd recommend the following museums….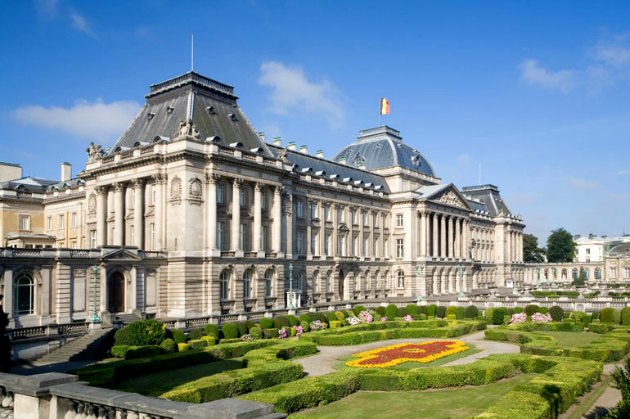 The Royal Palace – This palace is the home of the Belgian Parliament and is also used for state receptions, royal audiences and court ceremonies. It's only open from July to September each year, but if you happen to be in Brussels at this time, it's worth a trip and admission is free. The Royal Palace is on the edge of the Parc de Bruxelles on Place des Palais.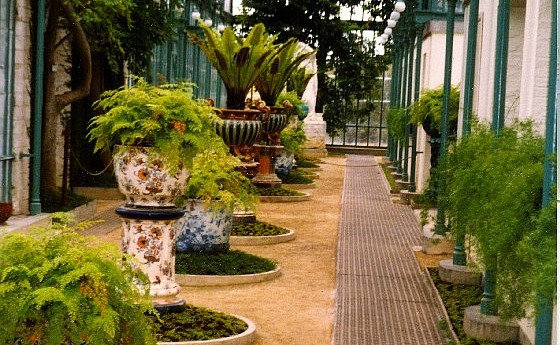 The Royal Greenhouses – You'll find these huge greenhouses next to the Palace of Laeken where the royal family actually lives. Once again, the glasshouses are only open for a short time each year – usually late April and Early May, but they are stunning. There are so many in the grounds of the Palace that it's like a huge glass city and the plants inside are meticulously looked after. We stumbled on the glasshouses being open by accident, but they turned out to be one of the highlights of our city break. Admission is cheap and the Palace and glasshouses are on the Avenue du Parc Royal. They are within walking distance of the Atomium and it's a lovely walk too.
Royal Greenhouses: Read more, links & map…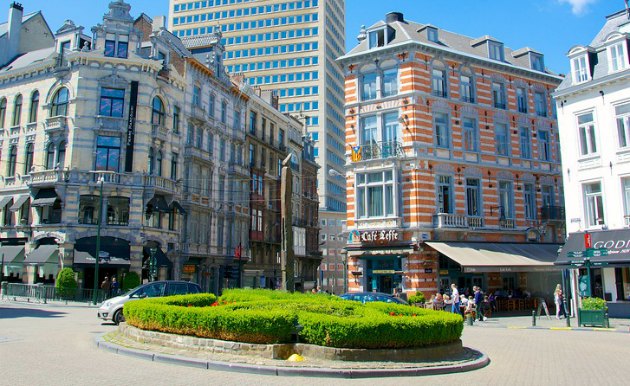 Place du Grand Sablon – Another of the beautiful squares of Brussels. It's surrounded by antique shops and upmarket stores and it's worth exploring the small streets that lead from the square as they're filled with unusual shops and boutiques. The square is a short walk from Brussels Central Metro stop.The European Union Buildings – Everyone knows Brussels as the home of the EU these days, but most of the buildings are just faceless offices so there's nothing really to recommend that you see. A good introduction to the buildings though is the open top bus tour which tells you what some of the buildings are as you whizz past.
Food and Beer – Brussels is famous for both and in our eyes, eating out and drinking local beers is as much a part of visiting the city as seeing the sights. When had some lovely meals in Brussels, but they were expensive! As a general rule of thumb, the food gets cheaper, the further you move away from the Grand Place.
MORE THINGS TO DO IN BRUSSELS
OUR TOP TIP IN BRUSSELS
Beware of taxi drivers trying to rip you off! Sadly, our first experience in Brussels was a negative one after a taxi driver overcharged us on arrival. The bill seemed expensive for a short trip from the station to the hotel, but when you're new in a city you can't be sure it's not right. It was only when we walked around the city the next day that we realised he'd taken us on a very long detour and had somehow added extra fees to the meter. It was too late to do anything about it then as we didn't have his licence number, so all we can do is warn others travellers. The vast majority of taxi drivers in Brussels are honest and reliable, but it only takes one to cloud your opinion. Our basic message is to ask before you get in roughly how much it will be. We are experienced travellers, but we were still taken in.
ACOMMODATION IN BRUSSELS
There are lots of hotels in Brussels to cater for the European Union HQ, but unless there are big events on, they are rarely full and they need to fill their rooms with tourists like you! We found that even the really luxurious hotels in Brussels were really quite reasonably priced and there are often good deals for staying longer like money off, or free nights. We stayed at the NH Brussels City Centre which was under 100 Euros and provided perfectly pleasant accomodation. However, next time we go, we've heard very good things about the Sofitel Brussels Le Louise Hotel, so we plan to stay there.
GETTING AROUND BRUSSELS
The Metro system is fast and efficient, but if you're only in Brussels for a couple of days you could also consider the open top bus tour. Tickets last two days and the bus takes you to all the major sights including the Atomium. After you've done the whole tour, you can just use you bus pass to get around!
Getting from the airport depends on which airport you have flown into. We wouldn't recommend Charleroi (Ryanair call this Brussels) as it's a long way away and the coach transfer is expensive. We used the trains from the airport station last time we flew to Brussels and found it simple and efficient. If you'd prefer a shared or private transfer, we've found reasonable prices here
Brussels Airport Transfer Options (US Dollars)
Brussels Airport Transfer Options (UK Pounds)
MORE ON BRUSSELS
Hotels in Brussels – Best prices from Hotels.com
VisitBelgium.com – Belgian Tourist Office for USA & Canada
Lonely Planet guide to Brussels
Brussels Guide Books – Amazon.co.uk