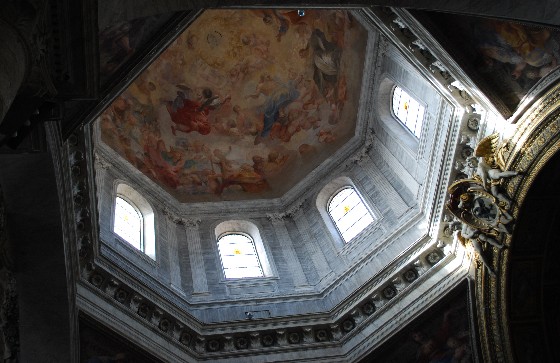 Bernini has left his stamp on this attractive small church on the edge of Piazza del Popolo. He deisgned part of the facade and interior and there are two statues of his to look out for too. You'll find Habbakuk and Daniel in the recesses of the Chigi chapel. Other works to see are in the Cerasi Chapel where two paintings are of note. Firstly, Carvaggio's Conversion of St Paul and secondly Carracci's Assumption of the Virgin from 1601. Then throw into the mix the fresco's and the gorgeous painted ceiling (pictured above) and you have a lot of masterpieces in one small space. This church is featured in the Dan Brown book Angels & Demons.
The church of Santa Maria del Popolo is open Monday to Saturday from 8am until 1.30pm and 4.30pm until 7.30pm, Sundays from 8am to 1.30pm. Admission is free but donations are encouraged and photographing some of the paintings is prohibited.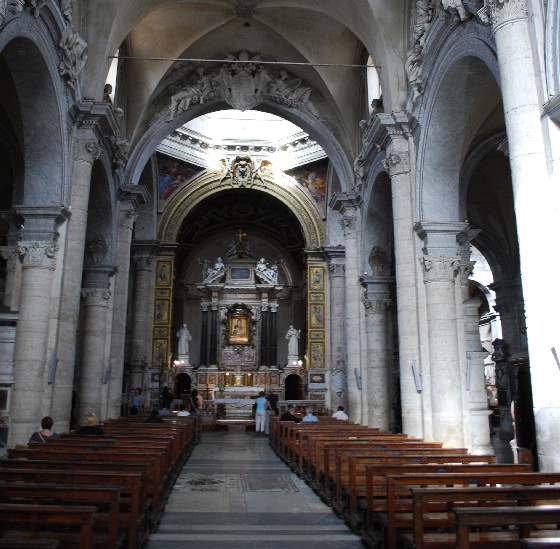 There are a number of organised tours you can take which call in at Santa Maria del Popolo including the Best of Rome Walking Tour and the Angels & Demons Half Day Tour. You can see details of all the tours available in Rome and get latest prices in US Dollars here.
LOCATION & MAP
Address: Church of Santa Maria del Popolo, Piazza del Popolo, Rome, Itlay
The church is nestled against the old Roman wall of the city just near the entrance to the Flaminio metro stop.
SANTA MARIA DEL POPOLO LINKS
Hotels near Santa Maria del Popolo – Great rates from Hotels.com
Santa Maria del Popolo – Wikipedia
Rome Guide Books – Amazon.co.uk