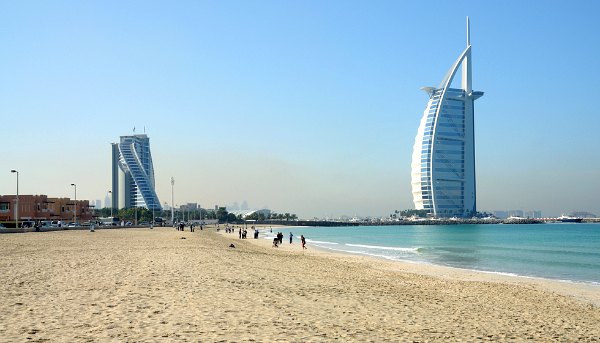 Dubai has some fantastic beaches and most of them are free to use. It's quite possible that your hotel will have its own beach that you can enjoy as part of your stay, but if not, there are plenty of public ones too. Beaches here are generally long and sandy, in part because most of them are man-made. We stayed near the public beach at Jumeirah Beach Residence (pictured below), which is the coastal area near Dubai Marina. Here you'll find lots of modern toilet facilities and a good selection of restaurants and cafes to enjoy along a new promenade style walkway called 'The Walk'. There's also an outdoor cinema here showing films and football.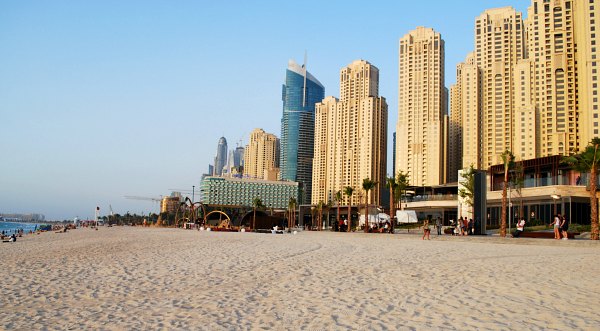 Dubai's public beaches are all safe and packed with amenities, but some have a small charge to use them. Jumeirah Beach Park (below) is one of them, but the advantage here is that you also get some lush green surroundings and plenty of palm trees for shade. There's also a cafe, clean toilets, showers and towel/sunbed hire. The entrance fee is only 5 AED per person but this also tends to mean that any undesirables go elsewhere. One other thing to remember about this beach is that Mondays and Wednesdays are for women only! There is a dress code here too and bikinis are only allowed on the beach section.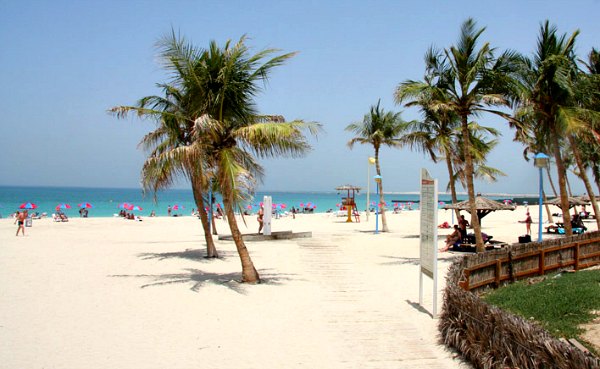 A lot of people are concerned about what to wear around the beaches when visiting Dubai. The basic message is to be sensible. In general, hotel owned beaches will be more liberal than public beaches. No nude sunbathing is allowed, but beach wear is fine when you're on the beach. You'll need to cover up a little when you leave the beach however. Most public beaches have signs which list the rules. Stick to them and you'll be fine. To be honest, you'll see lots of people breaking them too and no-one seems to bat an eyelid most of the time.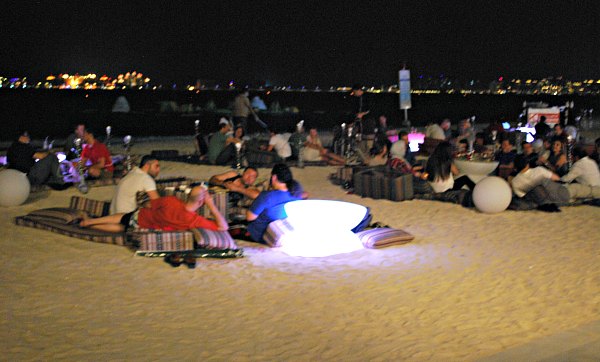 The beaches are nice places to visit at night when it's a little cooler. Many have a lovely atmosphere with entertainment nearby. You'll find Shisha cafes and sand sculptures to enjoy. The picture above is of the beach next to 'The Walk'near Dubai Marina.
LOCATION & MAP
Dubai's beaches stretch for miles, normally under the name Jumeirah Beach. This map shows the beach area near the Marina, known as Jumeirah Beach Residence, which is described above and is packed with places to eat and be entertained. However, you can zoom in and out and move it around to see the other beach areas in Dubai.
MORE ON DUBAI'S BEACHES
Jumeirah Beach Park – Official Website
Jumeirah Beach 'The Walk' – Wikipedia
More Things To Do In Dubai
Dubai Hotels – Latest offers from Hotels.com with customer reviews
Dubai Guide Books – Amazon.co.uk
Dubai Guide Books – Amazon.com