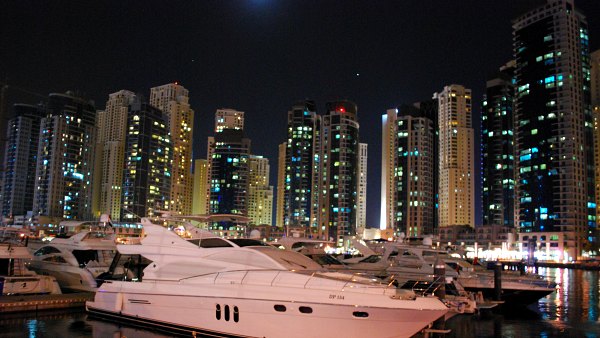 Dubai Marina is a huge residential complex, set around several water areas for mooring boats. It's a great place to walk around, with walkways on both sides, whilst looking at the impressive yachts. It's a quiet area and although there are a handful of shops and restaurants, it's very relaxed. In fact, because of the heat, this area is generally busier at night than in the day. The Marina is one of the newer parts of Dubai, and some construction is still taking place.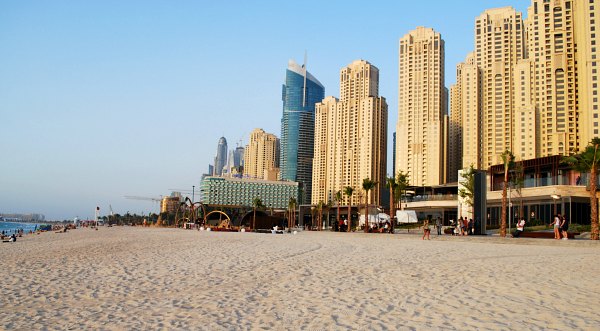 If you want hustle and bustle, just walk a couple of blocks to the nearby coastline where there are plenty of shops and restaurants and a nice beach walkway too. We liked the public beach which has been created on the coast in the Dubai Marina area (pictured above) known as Jumeirah Beach Residence, which has frequent, modern toilet facilities and lots of restaurants and cafes to enjoy along a new promenade style walkway called 'The Walk'. There's also an outdoor cinema here showing films and football.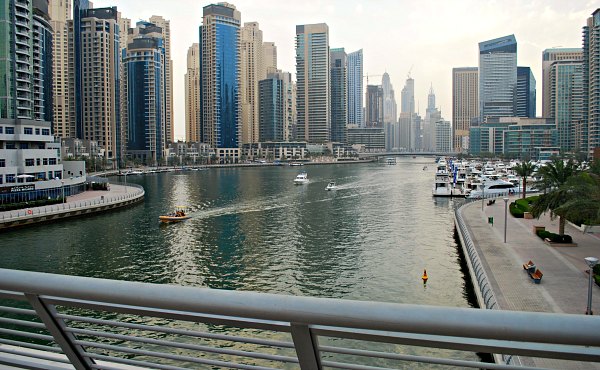 There are plenty of shops in the Dubai Marina area in two main locations. You'll find restaurants and boutiques along the the beach front, but there is also a dedicated Marina Mall shopping complex with 140 stores and a supermarket. It's located on the main road near the Jumeirah Lakes Towers metro stop.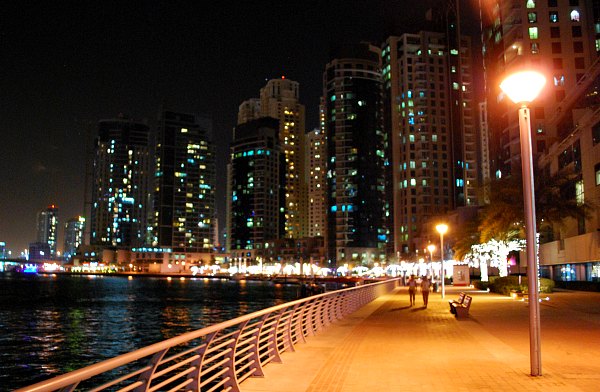 The Dubai Metro is being extended into the Marina district with a new 'tramway'. This will make access here much easier as the metro red line is a ten minute walk from the beach front. The tramway will link up with the monorail on the Palm Jumeirah.
LOCATION & MAP
Dubai's Marina stretches for several kilometers from Palm Jumeirah to Jumeirah Lakes Towers.
MORE ON DUBAI MARINA
Dubai Marina Mall – Official Website
Dubai Marina – Wikipedia
More Things To Do In Dubai
Dubai Hotels – Latest offers from Hotels.com with customer reviews
Dubai Guide Books – Amazon.co.uk
Dubai Guide Books – Amazon.com