This is your free Barcelona City Guide! It's a city which has everything from fantastic architecture to impressive beaches. You can't fail to like it, as Barcelona has something for everyone. Here are our personal recommendations…
WHAT TO DO IN BARCELONA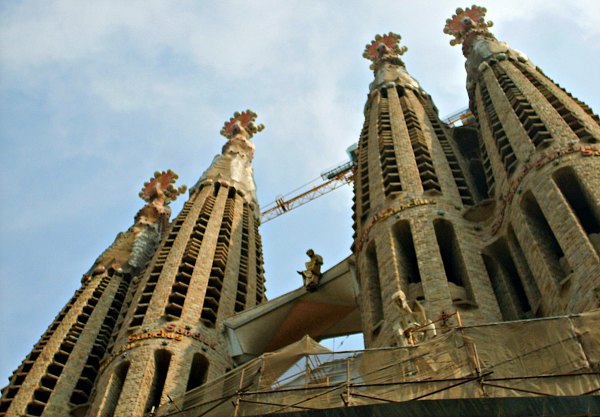 Sagrada Familia – It's Gaudi's grand church and despite being started in 1882, it still isn't finished although much work has been done in recent years. No trip to Barcelona would be complete without seeing this building's crazy curves and mosaic topped towers. There is often a queue to get in, but it's worth it. Inside, you'll find another queue and charge for the lift up the towers and this is usually a long wait. Make no mistake, the view from the top is stunning, but you have to weigh that against the time you have to wait to get in the lift. In peak times it's not unusual to be in line for 2 hours! Metro stop: Sagrada Familia.
See our Sagrada Familia page with more info, pics, links & map…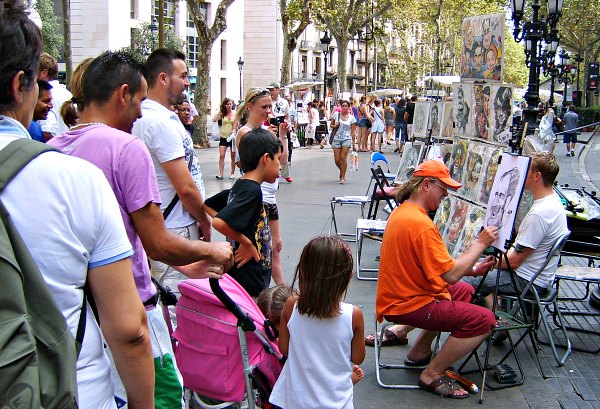 La Rambla (Las Ramblas) – This is simply a street, best walked from Placa Catalunya down to the harbour. It's a street like no other though with traders selling everything along the way from souvenirs to live chickens!
See our La Rambla page with more info, pics, links & map…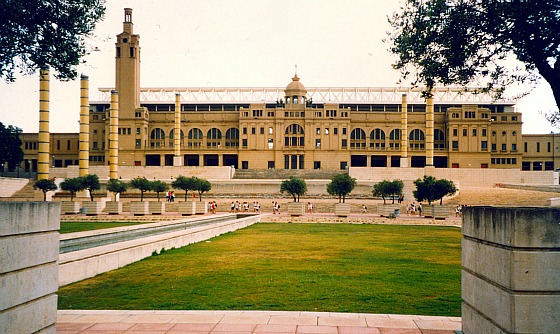 The Olympic Park – Barcelona held the Olympic Games in 1992 and all the facilities are still there to see. Most impressive is the Olympic stadium, but the whole area around it is known as Parc Montjuic and is nice to walk around as it's pleasant, slightly out of the city and less busy with tourists. The best way to get to the stadium area is to walk – the nearest Metro stop is Placa Espanya which is still 20 minutes away although there is also a fenicular which can be accessed from the metro.
See our Olympic Park page with more info, opening times, pics & map…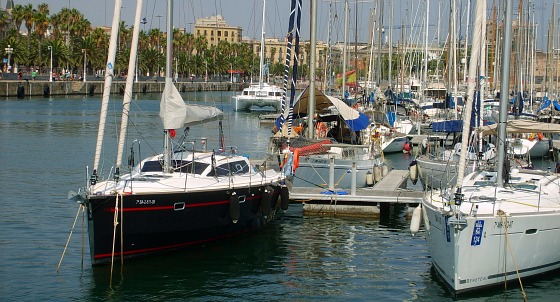 The Harbour – This is one of the areas that draws a real mix of people in Barcelona from locals to tourists. It's nice to walk around and there's a lot to see. In the traditional port area there is a huge walkway which crossses the harbour to the large Maremagnum shopping centre. On one side of the walkway there are hundreds of sailing boats moored and on the other side, the larger ships can be seen. Further along the harbour promenade you will find the Olympic Port which was used in the 1992 Olympic Games for the sailing activities but is now a thriving area with restaurants and bars.
See our Barcelona Harbour page with more info, pics, links & map…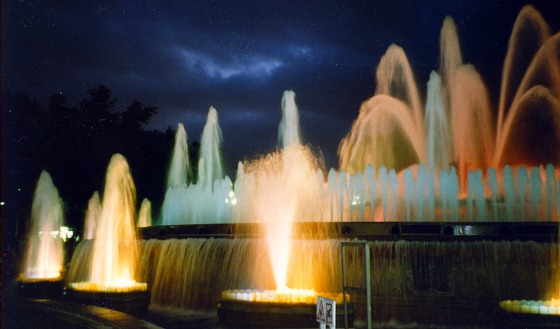 Magic Fountain – You have to see this! It's free but very busy when it "performs". The fountain is basically a music, light and water show. Shows don't happen every night, so check out the days and times before heading to the fountain. There is a big flight of steps which everyone sits on to get a better view. Nearest Metro is Placa Espanya.
See our Magic Fountain page wit more info, show times, pics & map…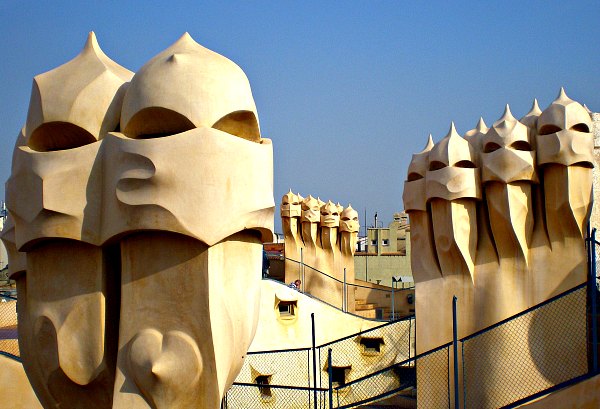 La Pedrera/Casa Mila – We became somewhat obsessed with Antoni Gaudi's buildings when we last visited Barcelona. Even if you're not into architecture, this one is certainly worth seeing. This weird shaped building was created as offices and apartments and now houses a museum. The best bit by far is the roof top. Nobody designs chimneys like Gaudi! The building is at 92 Passeig de Gracia – nearest Metro stop is Diagonal.
See our La Pedrera page with more info, pics, links & map…
The Gothic Quarter (Barri Gotic) – This is the Old Town of Barcelona and has cobbled streets lined with many old and unusual buildings. The area is on the right as you walk up La Rambla towards Placa de Catalunya.
See details of the Gothic Quarter Walking Tour…
Nou Camp (Barcelona FC) – There are stadium tours and visits to the museum here. If you like football, you're sure to get something from a visit to one of the best known clubs in the world but it's not recommended if you don't! It's quite a way out of the city – metro stop: Collblanc or get there using the Barcelonla Hop-on Hop-off Bus Tour in the 'MORE ON BARCELONA' section below.
See details of the Nou Camp organised tour…
OUR TOP TIP IN BARCELONA
Most of the costal resorts in Catalunya are on the direct railway line to Barcelona, so think about incorporating your "city break" into your "beach" holiday. The trains are reasonable and fast and you could even book a hotel in Barcelona for an overnight stay. We've done Barcelona both ways, but travelling from Salou on the Costa Dorada was certainly the cheapest and the journey time was only an hour.
RECOMMENDED HOTEL IN BARCELONA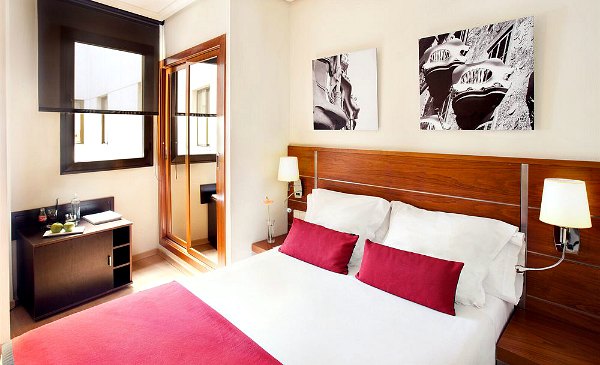 We stayed at hotel H10 Montcada when we were last in Barcelona. We thought it was lovely! It's in a great position close to all the main sights, and right next to a Metro station. Our room was modern, comfortable and tasteful and there's even a terrace on the roof with a hot tub and sunbathing area. We would thoroughly recommend it. For more hotel advice, go to Hotels.com where you can see insight from previous travellers, hotel rankings and pictures.
BARCELONA TOURS
One of the best ways to see all that Barcelona has to offer is to take one of the many organised tours. There's something for everyone including the top-rated tour to Montserrat and the Half Day Bike Tour. We're working with Viator to hand-pick only excursions that get fantastic reviews so you can buy with confidence. See all of the options at our Barcelona Tours & Activities pages.
GETTING AROUND BARCELONA
Central Barcelona is fairly compact and you'll find most sights within walking distance. The Metro system is very easy to use though and you will need it to get to places like the Sagrada Familia. You can also use the Barcelona Hop-on, Hop-off Tour Bus to get around.
We think the easiest and cheapest way to get to the city from the airport (El Prat) is by train. For more Barcelona Airport Transfer options, we've found reasonable prices here:
Barcelona Airport Transfer Options (US Dollars)
Barcelona Airport Transfer Options (UK Pounds)
MORE ON BARCELONA
Barcelona Hop-on Hop-off Tour
Barcelona Hotels – We recommend Hotels.com
More Things To Do In Barcelona
Barcelona Card – Free entry to 16 of Barcelona's top attractions
Preplanned Barcelona City Guides – 1, 3 and 5-day Itineraries from PromptGuides.com
Bcn – The official Barcelona city website