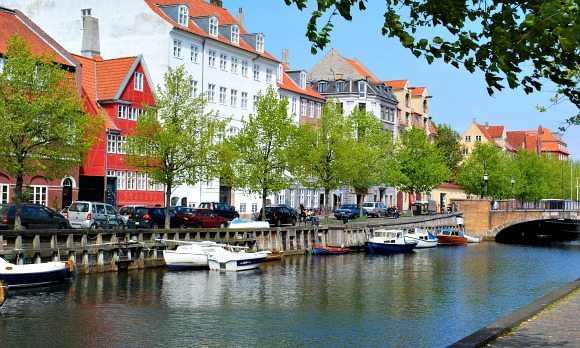 Christianshavn is a district of Copenhagen, just a short walk from the city centre. Here you'll find attractive canals, striking churches, trendy cafes and the large homes of the wealthy. Also here though is an area frequented by visitors which is known as the Green Light District, Christiania. There are no restrictions on entering, apart from lots of signs telling you not to take photos. Once inside, you are transported to a strange alternate time-line, where the hippy lifestyle lives on and cannabis is openly sold. There are market stalls selling psychedelic t-shirts and crafts, but we found the atmosphere here to be unfriendly and far from laid-back.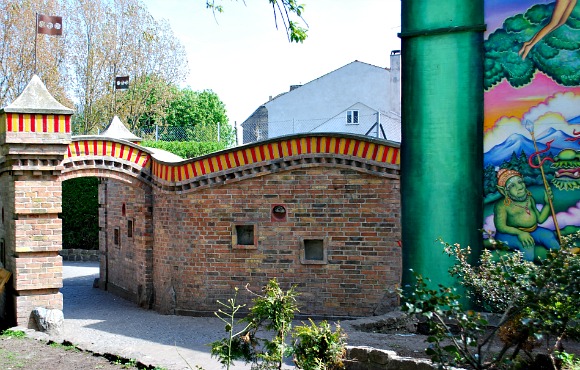 The picture above shows the entrance to Christiania right next to a giant painted wall mural on Prinsessegade. Under the archway, you'll find a children's play area and then the start of the 'Green Light District'. If you're not interested in visiting this area, don't let that put you off the rest of Christianhavn. Away from Christiania, we found a welcoming and relaxed atmosphere with cafes to sit at and enjoy Danish pastries and coffee.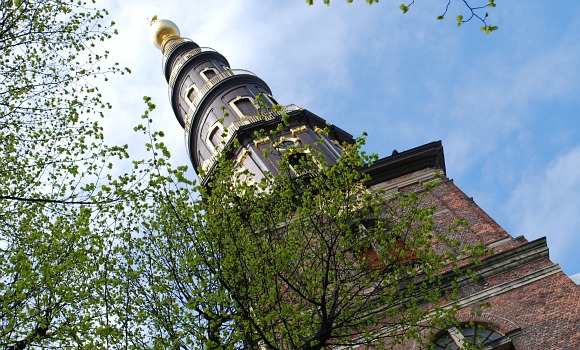 There are many striking features of Christianshavn and we particularly liked the Marina near the Royal Danish Naval Museum and two beautiful churches. The Church of Saviour (pictured above) has a unique spire which can be seen across much of Copenhagen and the Christians Kirke is a yellow brick church dating back to the 1750s which resembles a kind of theatre inside. The other more modern feature to mention on this side of Copenhagen is the huge new Opera House, but this is quite a walk from central Christianshavn and is better accessed by boat from Nyhavn.
LOCATION & MAP
Address: Christianshavn, Copenhagen, Denmark
Christianshavn is best accessed by foot on the Borsgade/Torvegade road bridge or by using the Christianshavn Metro stop. The map below shows the location of Christiania and the Green Light District, but you can move it around and zoom in to see the other features mentioned above.
MORE ON CHRISTIANSHAVN
Christianshavn – VisitCopenhagen.com
Christianshavn – Wikipedia
Christiania – Wikipedia
Hotels near Christianshavn – We recommend Hotels.com for the best rates
Hop-on, Hop-off Bus Tour – A great way to get around Copenahagen
Copenhagen Grand Tour – passes Christianshavn
Copenhagen Card – Free access to Copenhagen's top attractions
Copenhagen Travel Guide Books – Amazon.co.uk (UK residents)
Copenhagen Travel Guide Books – Amazon.com (USA residents)