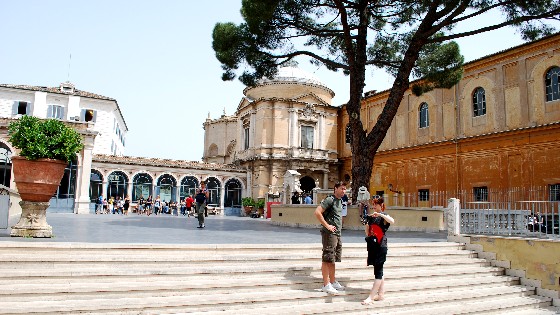 No trip to Rome would be complete without seeing the Sistine Chapel, but you can only do this by visiting the Vatican Museums.  We simply wanted to see the chapel and get a feel for the museums and as such our visit took around 2 hours.  If you take the audio tour, you'll get more out of your visit, but it will also take you a lot longer.  You could easily spend all day in the Vatican Museums if you wanted to, but after a while the ornately decorated rooms, statues, busts and works of art start to blend into one.  If you head to the Museums around opening time, you will find a very long line to get in.  It's normal for this to stretch right down 2 whole sides of the Vatican walls.  From the moment you join the queue, you'll be hassled by people trying to sell you guided tours so you can "skip the line".  The line took around 50 minutes when we last visited, so don't believe anyone who tries to sell you a tour saying you'll be waiting 3 hours!  The tours are expensive and they're probably only worth taking if you really want a guided tour rather than just to beat the line.   The easiest way to "beat the line" is to book tickets in advance online at the official Vatican website here.  Nearest Metro stop is Ottaviano.  This is an extract from our free Rome City Guide.
There are lots of sections to the Vatican Museums and it can be quite difficult to navigate your way around at times.  Look out for the signs pointing to places like the Sistine Chapel, the Egyptian Museum, the Etruscan Museum, the picture gallery (Pinacoteca) and the former Papal apartments.   The Vatican Museums are open from Monday to Saturday.  The Ticket Office is open from 9 am to 4 pm. The Museums close at 6 pm and admission is 15 Euros per person (2012 prices).  Closed Sundays except on the last Sunday of each month when the Vatican Musuems open for FREE but the queues are always much longer too!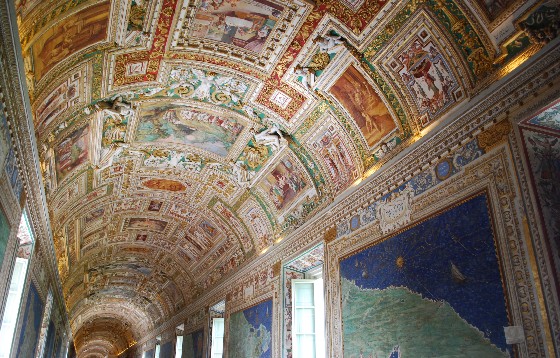 There are a number of organised tours you can take which cover the Vatican Museums.  Most popluar is the St Peter's Basilica, Vatican Museums & Sistine Chapel Half Day Walking Tour which gives "Skip The Line" entry.   You can see details of all the tours available in Rome and get latest prices in US Dollars here.
LOCATION & CONTACT
Address: Musei Vaticani, Viale Vaticano, 00165  Rome, Italy
Tel: +39 06 69884676 or +39 06 69883145
MORE ON THE VATICAN MUSEUMS & SISTINE CHAPEL
St Peter's Basilica, Vatican Museums & Sistine Chapel Walking Tour – Our Most Popular Tour
An Audience with the Pope – Book here
Vatican Museums – Official Website
Hotels near the Vatican Museums – Great deals from Hotels.com
More Hotels in Rome – Massive discounts from Expedia
Books on the Vatican – Amazon.co.uk
Vatican Museums – Wikipedia
Sistine Chapel – Wikipedia
What to see in the Sistine Chapel – Sacred-Destinations.com
BACK TO…ROME CITY GUIDE
BACK TO…ROME'S BEST CHURCHES
BACK TO…ANGELS & DEMONS TOUR