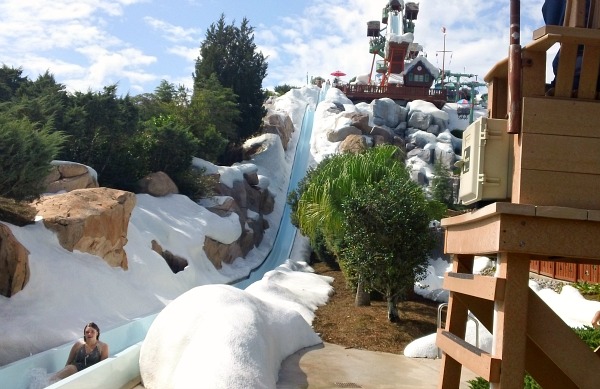 If water rides are your thing, then choose this park over Typhoon Lagoon. There are loads of them to enjoy surrounding a choppy wave pool. The whole place is built to resemble a ski resort complete with chalets, a mini mountain and ski lift.Top of the list for scariness is Summit Plummet, a super-steep slide that drops you 120 feet down in just 5 or 6 seconds. You'll have to be brave to try it, but if you keep your legs crossed, it's a brilliant experience. Even my 12 year-old did it! Next along is Slush Gusher which isn't quite as high, but has 'jumps' along the way. A great family ride is Teamboat Springs with up to 6 people in a rubber raft on a toboggan course and the Downhill Double Dipper is another inflatable ride which is so fast, they clock your time at the end. There are plenty more slides too, along with a circular river-style ride where you float around the park in a rubber ring. One word of warning, the ski-lift here is notorious for breaking down. If you use it, bear in mind that if it stops working you could be trapped on it for 20 or 30 minutes while they sort it out. It broke down twice on the day we visited and one Disney staff member said it was a "known problem".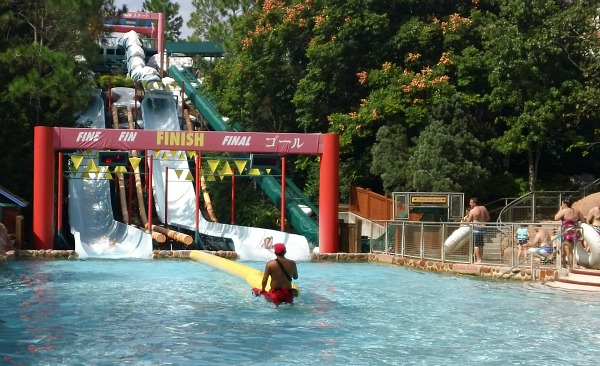 The slides and rides at Blizzard Beach are split up into different zones or areas. The Green slope has the highest rides, the Purple slope has racing slides and the Red Slope at the rear of the park has only one attraction, the run-off Rapids which contains 3 slides – two of them open-air and one enclosed.
At ground level the main attractions are the wave pool, called Melt-Away Bay and the Cross Country Creek with is the lazy-river style ride which circles the park. However, there are also special areas for children. We didn't spend any time in Tikes Peak as our children were too old for it, but it contains smaller versions of the main rides at Blizzard Beach. Children must be under 48 inches to play here (122 cms). One of our children did try out the pre-teen area called Ski Patrol though and particularly enjoyed the Fahrenheit Drops ride which is a T bar slide that suddenly drops you into a pool of water.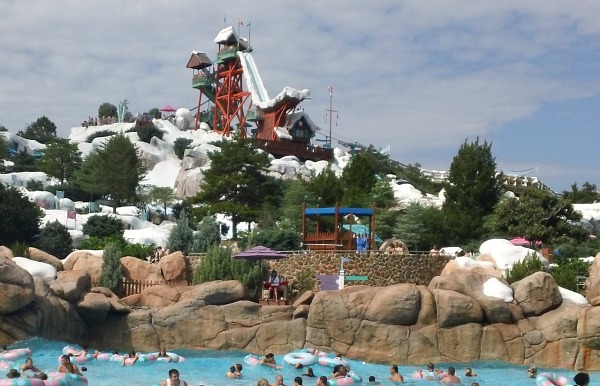 If you take an valuables into the park, you will need to pay for a locker to keep them safe. As a 3 generation family ranging in age from 12 to 59, we all had an enjoyable time at Blizzard Beach, but we did feel that the younger members of our party got more out of it than the older ones. This is because the focus was definitely on the rides here, which were all brilliant, but if you don't want to spend your time on the rides, there was only really the wave pool and lazy river to enjoy. We felt that Typhoon Lagoon was a better option for families with a wide range of ages. Take a look at the video below, which shows you the ski lift and Summit Plummet slide…
Blizzard Beach water park has a range of opening hours depending on the time of year, but it typically opens at 9am  and closes at 5pm.  In the summer months, make sure you arrive at the park before 10am as the park is closed to further visitors once its capacity is reached. Adult admission on the day is around $69 (2018 prices), but buying in advance or purchasing multi-park tickets can save you a lot of money, so make sure you check out the various Disney ticket options. Also, see our pages on the other Disney Attractions in Orlando…
Disney's Magic Kingdom
Disney's Animal Kingdom
Disney's Hollywood Studios
Disney's Epcot
Disney's Typhoon Lagoon Water Park
LOCATION & CONTACT
Address: Disney's Blizzard Beach, 1534 East Buena Vista Drive, Lake Buena Vista, Florida 32830, USA
Tel: +1 407 939 6244
Walt Disney's Blizzard Beach is sign posted from the main access roads to the Disney Parks like World Drive. Look for signs for Walt Disney World from the I-4.
MORE ON DISNEY'S BLIZZARD BEACH
Walt Disney World Tickets – See best prices in GB pounds
Disney's Blizzard Beach – Official Website
Blizzard Beach – Wikipedia
More Things To Do In Orlando
Orlando Hotels – We recommend Hotels.com for the best service and prices
Orlando Guide Books – Amazon.co.uk
Orlando Guide Books – Amazon.com