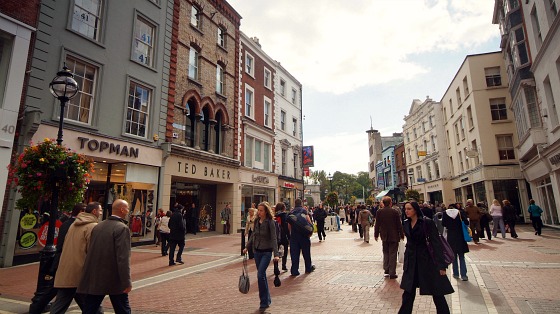 Dublin has lots of options for shopping, mainly centred around Grafton Street (pictured above) and Henry Street. The side streets around here are also packed with shops, but Dublin's shopping experience doesn't end there. Firstly there are the markets. Blackrock Market is a weekend delight with crafts, furniture, antiques and collectables. There's also Cow's Lane Fashion & Design Market in Temple Bar (pictured below). There are also many little shopping precincts or arcades to discover. Top of our list is Powerscourt Town House on South William Street which is packed full of boutique and independent shops, restaurants and galleries with jewellery a speciality.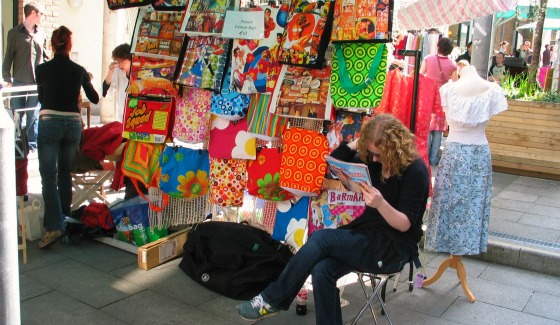 Whilst shopping on Grafton Street, look out for a couple of Dublin's landmark statues. There's one of Molly Malone with her cart near College Green which is a popular meeting place and there's also a statue to musician Phil Lynott on nearby Harry Street. Other shopping areas you may wish to visit include…
Temple Bar – Aside from the fashion market mentioned above which operates on Saturdays from 10am to 5pm, this area is packed with arty shops, restaurants and bars. Look out for the Crown Arcade near the Ha'penny Bridge which is lovely.
South Great George's Street – This is where you'll find the George's Street Arcade, home to a range of outlets selling market style goods. The shops in this street stretch into Camden Street where the daily outdoor food market takes place. Powerscourt Town House is in between this street and Grafton Street.
Nassau Street – Home to Irish heraldry and Irish design shops. If you want tweed, this is the place to be!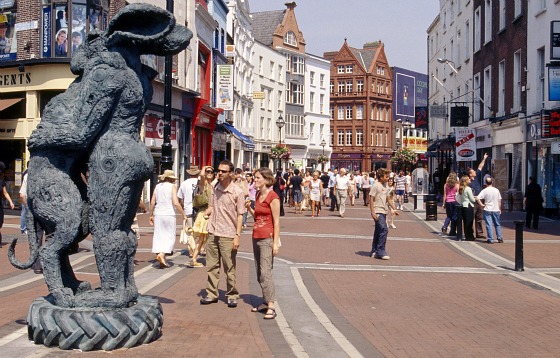 HOW TO FIND GRAFTON STREET
Grafton Street is easily accessible along its entire route as Dublin's main shopping street. It starts at the lovely St Stephen's Green and curves up to the entrance to Trinity College. The Dublin Hop-on, Hop-off Bus Tour stops at the top of Grafton Street.
MORE ON SHOPPING IN DUBLIN
Dublin Shopping – VisitDublin.com
Grafton Street – Wikipedia
Dublin City Walking Tour – Winds through the main shopping streets and historic areas
Dublin Hop-on, Hop-off Bus Tour – Stops at Grafton Street
Hotels near Grafton Street – Lowest price guarantee from Hotels.com