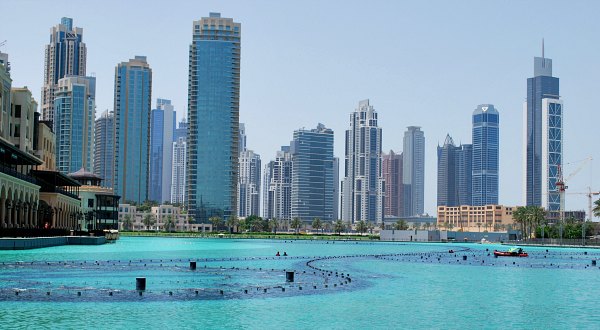 Dubai Fountain sits in a 24-acre lake next to Dubai Mall, in the shadow of the world's tallest building, Burj Khalifa. Every half an hour during the evening the fountain 'performs' to different kinds of music. You can expect pop songs, Arabian melodies and film themes. The way in which the water is choreographed to the music, is impressive and when the fountain starts projecting jets of water 450 feet into the air, there's often a reaction from the crowd. If you want to go and watch, there's plenty of space, but people tend to congregate near the Dubai Mall entrances where the cafes and restaurants are located. As such, you'll need to get your place 5 or 10 minutes before each performance begins.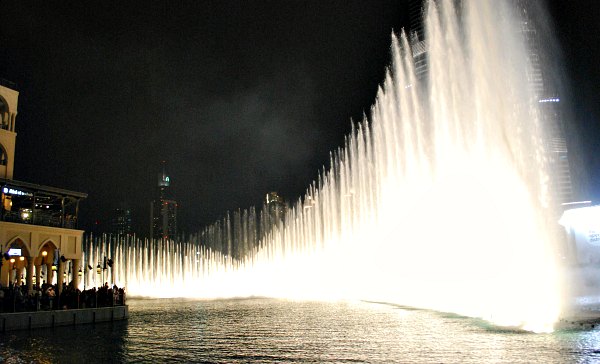 The fountain performs twice in the daylight too at 1pm and 1.30pm although it seems more spectacular at night. It's also much cooler to be outside at night too. The evening performances begin at 6pm and occur every 30 minutes until a final show at 11pm. The first thing you notice when you arrive is just how big the lake actually is. You understand why when the fountain gets going because it uses a lot of water – 22,000 gallons for each performance, and the spray spreads over a large area. 25 colour projects add to the spectacle. It's the world's largest dancing fountain.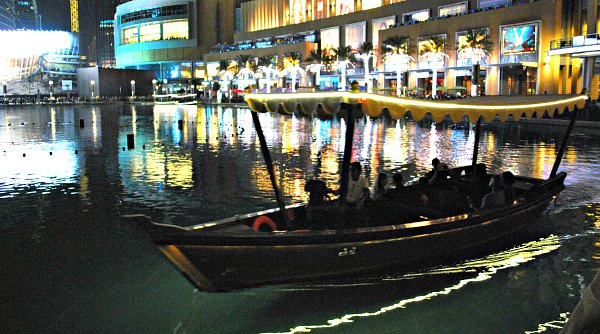 The lake has another attraction too. You can hop aboard traditional wooden Abra boats, like those in the Dubai Creek, and take a trip around the edge. This is particularly enjoyable when the fountain is in action as you're closer than anyone else. You might also get a little wet! The Abras operate from 5.45pm to 11.30pm and cost 65 Dirhams per person (2016 prices).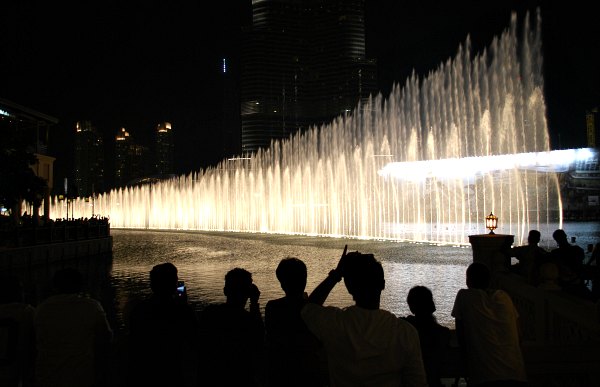 Dubai Fountain is similar to the Bellagio Fountains in Las Vegas, USA. The fountain is included in the Dubai Development and Architecture Tour.
LOCATION & CONTACT
Address: Dubai Fountain, Dubai Mall, Dubai, United Arab Emirates
Tel: 800-DUBAI-MALL (800 38224 6255)
Dubai Fountain is in the shadow of the Burj Khalifa, the world's tallest building, and is accessed via Dubai Mall which has its own stop on the Dubai Metro. There is a covered air-conditioned walkway from the metro station to the mall. The Dubai Hop-on, Hop-off Bus Tour stops here too.
MORE ON DUBAI FOUNTAIN
Dubai Fountain – Official Website
Dubai Fountain – Wikipedia
Dubai Development and Architecture Tour – Stops at Dubai Fountain
Dubai Hop-on, Hop-off Bus Tour (prices in US Dollars) – Stops at Dubai Mall
Dubai Hop-on, Hop-off Bus Tour – Stops at Dubai Mall
More Things To Do In Dubai
Dubai Hotels – Latest offers from Hotels.com with customer reviews
Dubai Guide Books – Amazon.co.uk
Dubai Guide Books – Amazon.com