This is your free Dubai City Guide! Dubai is a thriving metropolis where everything has to be bigger and better than anywhere else. It's a beach resort combined with an international trade hub and as the city grows there's more and more to enjoy here. These are our personal recommendations of what to see…
WHAT TO DO IN DUBAI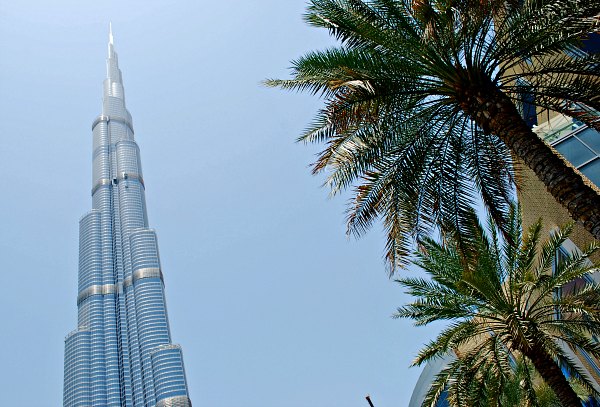 Burj Khalifa – It's fitting that a city which wants the biggest of everything is home to the tallest building in the world. The futuristic, rocket shaped structure was completed in 2010 after 6 years of construction. It has 160 floors and stands at a height of 828 metres. To be honest, it's hard to get a sense of just how tall it is from the ground, so the best thing to do is pay the fee to head to the top and look down instead. You'll need to book in advance though as tickets are generally sold out for several days ahead unless you want to pay a hefty premium.
Burj Khalifa: Ticket Prices, Booking, Map & Pictures…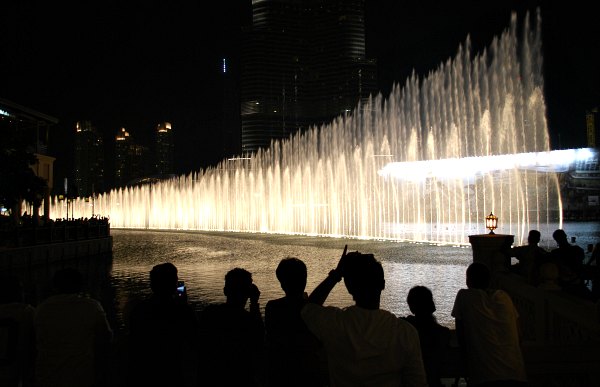 Dubai Fountain – In the shadow of Burj Khalifa, is a huge pool with the most incredible dancing water fountains. They're in the style of the Bellagio fountains in Las Vegas and every half an hour during the evening they 'perform' to music. Sometimes it's a film theme, sometimes a pop song and sometimes an Arabian influenced tune. You'll need to secure your viewing place around the lake with 5 or 10 minutes to go as the crowds can be several people deep at times. Some of the water is projected up to 500ft in the air, so it really is an impressive sight.
Dubai Fountain: Performance Times, Location Map & Pictures…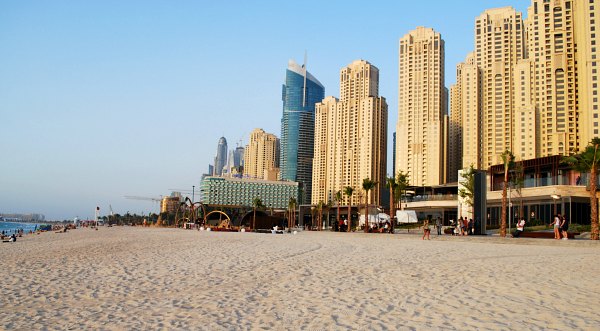 Dubai Beaches – Dubai is renowned for its beautiful beaches and although many are privately owned by the hotels, there are plenty of public ones too. They're all perfect in every way, packed with sand and stretch for miles along the coastline. This is partly because most have been man-made! If your hotel does not have a private beach, don't worry about using the public ones as they're all safe and packed with amenities. We liked the public beach which has been created on the coast in the Dubai Marina area (pictured above) known as Jumeirah Beach Residence, which has frequent, modern toilet facilities and lots of restaurants and cafes to enjoy along a new promenade style walkway called 'The Walk'.
Dubai Beaches: Full List, Location Map & Amenities…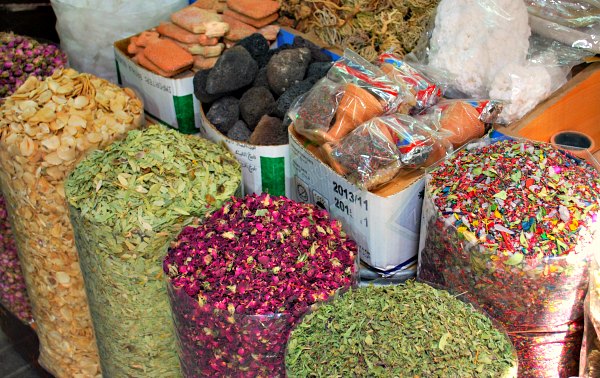 Dubai Souks – To be honest, with the city being developed everywhere you look, there's not much of old Dubai left. There are a couple of heritage villages, but even though one of them is genuinely old, they still look like they've been recently manufactured. It's because of this that we really liked the traditional souks or markets. There are two main ones to visit, the Gold Souk and the Spice Souk and they're both within walking distance of each other. The Spice Souk in particular feels like Dubai of years gone by. You walk up darkened, covered alleys crammed with tiny shops selling not just spices but everything you can imagine from fabrics to shoes to home wares.
Dubai Souks: Location Map, Advice & Directions…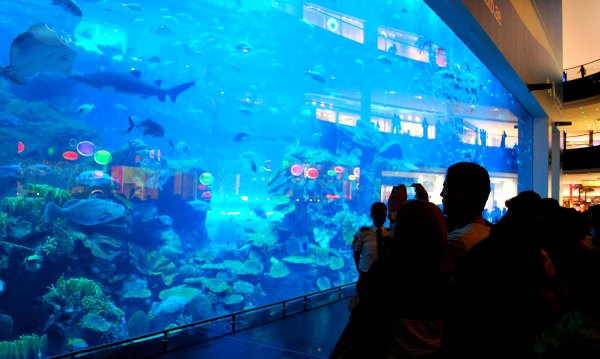 Dubai Aquarium & Underwater Zoo – Dubai is home to the one of the world's biggest aquaria with a 48 metre walk through tunnel at the bottom. You can see the fish and sharks for free at the aquarium's home in Dubai Mall, but there's much more to see if you pay to go inside the attraction. Once you've walked through the tunnel, you ascend two floors to the zoo area where you'll find all kinds of underwater creatures including penguins. Even the basic ticket also includes a 'behind the scenes' tour and although it's only a 10 minute introduction, it's still worth doing.
Dubai Aquarium: Tickets, Opening Times & Full Review…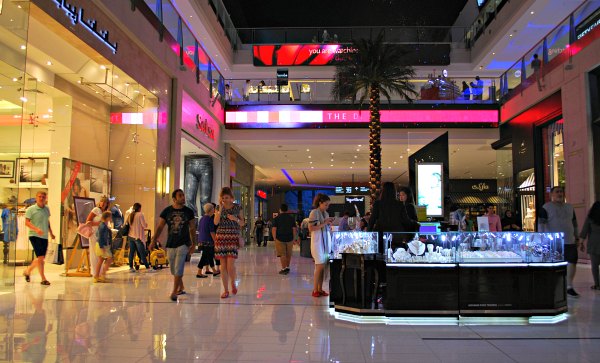 Dubai Mall – Dubai has two huge shopping malls and Dubai Mall is the largest. There are hundreds of stores inside including all the world's big brand names in both high street and designer fashion. Whatever you want, they'll sell it here, but the mall also has a number of Dubai's top attractions too. You'll find the entrance to the Burj Khalifa here, it's the home of Dubai Aquarium and outside is the Dubai Fountain. If that wasn't enough, there's also a large ice rink, a dinosaur exhibit, kidzone and even an A380 flight simulator.
Dubai Mall: Location, Directions & Top Stores…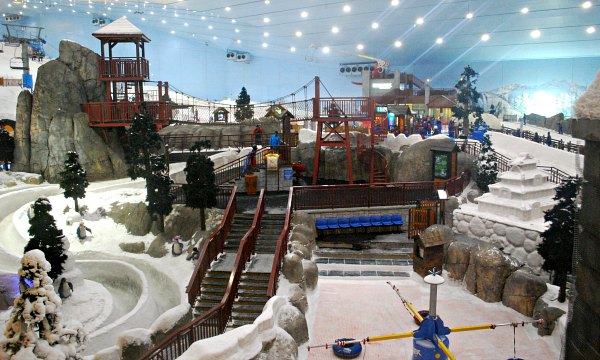 Mall of the Emirates – This huge shopping mall is the smaller of the two main complexes in Dubai, but you wouldn't know it when you walk around because it's still one of the biggest in the world. So big, in fact, that it includes an indoor ski slope complete with real snow, toboggan run and penguins! Of course, there are all the shops you'd need here too with the world's biggest brands, but also an amusement zone with bowling and fair rides on the top floor.
Mall Of The Emirates: Ski Slope Prices, Location & Stores…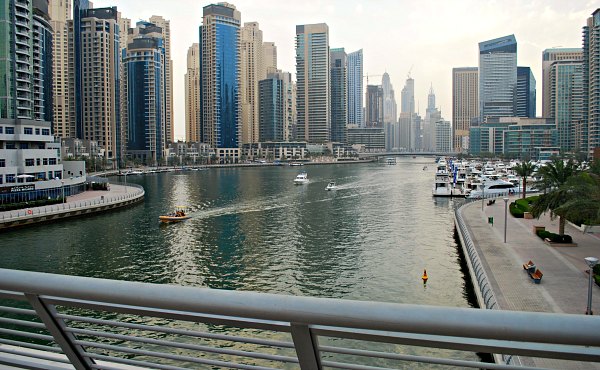 Dubai Marina – The Marina area is a relatively new part of Dubai, and many apartment blocks are still being constructed here, but it's well worth a trip to walk around and look at the impressive yachts. There are walkways on both sides of the Marina lined with a handful of restaurants and shops. It was never very busy when we walked here, but that helped to make it feel a relaxed place to be. If you want hustle and bustle, just walk a couple of blocks to the nearby coastline where there are plenty of shops and restaurants and a nice beach walkway too.
Dubai Marina: Location, Map & Pictures…
OUR TOP TIP IN DUBAI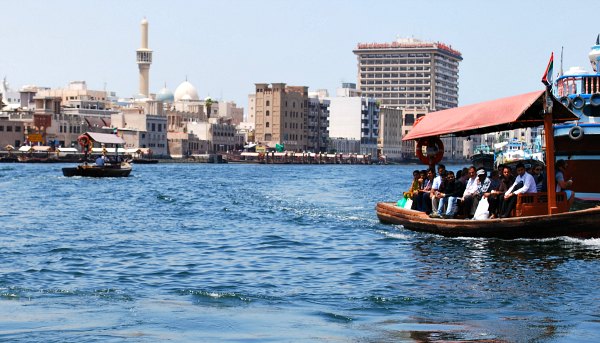 Dubai Creek – This waterway is a the natural creek around which Dubai had its first beginnings as a city of trade. It's in this area therefore that you'll find the older parts of the city like the souks. For hundreds of years, locals have taken little wooden 'Abra' ferry boats from one side of the creek to the other and they're still doing it today. For us, it was one of the most satisfying experiences of our city break. When you're out on the water, you get a real feel for how busy this creek would have been as Dubai grew in size. The crossing only lasts about 5 minutes and costs only 1 Dirham per person, but it's a lovely experience.
Dubai Creek: Boat Stations, Ferry Tours, Map & Pictures...
MORE THINGS TO DO IN DUBAI
4X4 Desert Safari
You'll be taken to the desert that surrounds the city on this tour which last around 5 hours. First, there's sand boarding on the dunes of Dubai's followed by a camel ride and you'll also get a henna tattoo. Afterwards, there's a barbecue dinner under the stars whilst watching a traditional tanoura dance performance. The desert safari is a 'must-do' experience when visiting Dubai!
Helicopter Flight in Dubai
There's no better way to see Dubai than from the air and this 15-25 minute helicopter flight ticks all the right boxes. You'll fly in a 5-seater helicopter with clear glass sides and you'll get to see man-made sights like the Palm Jumeirah and The World, and then head past the Burj Al-Arab hotel to the city's skyscrapers including the huge Burj Khalifa.
Full List Of Things To Do In Dubai – Prices in US Dollars
Full List Of Things To Do In Dubai – Prices in UK Pounds
DUBAI HOTELS
Dubai is renowned for its luxury resort hotels, and if you can afford to stay at places like Atlantis on the Palm, then you will have an amazing time there. Don't worry though if your budget is more limited because there are still lots of fantastic options which still bring luxury with them.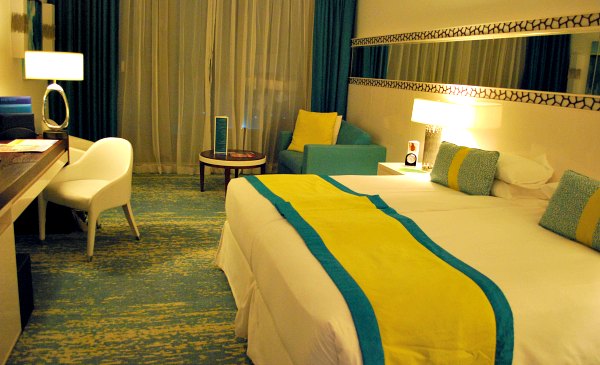 We stayed at the JA Ocean View Hotel at Dubai Marina which we thought was superb. It's just across the road from the beach and the new walkway and shopping centre that's been constructed there, the food was lovely and the service was great. You can see the full range of hotel options in Dubai with customer reviews here.
GETTING AROUND DUBAI
The first thing you need to know about Dubai is that it's much bigger than you think it is! Consequently walking is not an option for getting around. The good news is that taxis are generally safe, reliable and cheap. Don't book an airport transfer, because a taxi will be much better value. The golden rule is always to get into an official metered taxi and they're easy to spot as they are all beige with a coloured roof – The roof colour depends on which company they are. You will need to tip around 10% on top of your fare. There's also a Dubai Hop-on, Hop-off Bus Tour which you can use to get around the main sights of the city.
Another option for getting around in Dubai is the Metro system. It's very cheap, simple to use and easy to spot the stations as they look like space ships! Make sure you buy the correct ticket though as there are penalties for having the wrong ticket. Many hotels have their own shuttle bus services too which will take you to major sights and beaches. If you would prefer an airport transfer, you can see prices here: Dubai Airport Transfers
MORE ON DUBAI
More Things To Do In Dubai
Dubai Hotels – Latest offers from Hotels.com with customer reviews
Dubai – Wikipedia
Definitely Dubai – Official Tourism website
Dubai Guide Books – Amazon.co.uk
Dubai Guide Books – Amazon.com