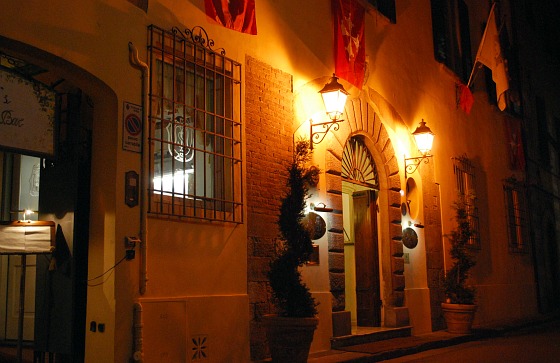 We stayed at the Hotel Relais dell'Orologio, which is full of character!  The building has 21 rooms which are all different.  Many contain original beams and are squeezed into unusual spaces as the building is so old.  We stayed in Room 308 which was tiny but had a great view over the terrace at the back of the hotel.  The bathroom was built into the roof space and had a huge beam across the bath.  The location was great, on a quiet street, just a few hundred yards from the Piazza del Duomo.  The staff were helpful and friendly, and the complimentary welcome drink on the terrace was a nice touch.  If you're looking for lots of space, this probably isn't the hotel for you, but if you're after character and history, we're sure you'll like it as much as we did. You can get guaranteed lowest prices for the hotel at Hotels.com.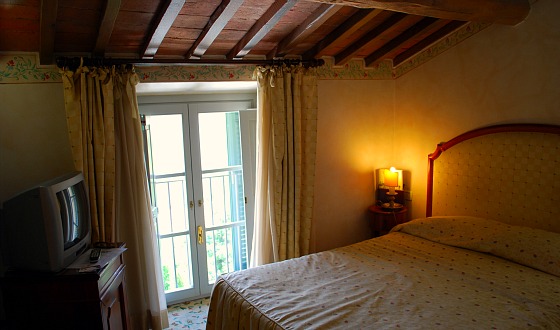 As you can see, there's barely enough room to walk around the bed in this room, but we found it comfortable and the view out of the window made up for the inadaquacies of size.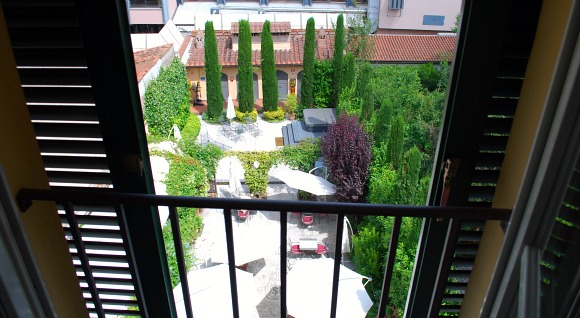 The bathroom was also rather small, but was well cleaned and had bags of character with the  huge beam mentioned earlier.
We had breakfast the following morning out on the terrace and the food was lovely.  The communal areas of the hotel were laid out like a mansion house, so it all felt comfortable and classy.  As mentioned above, the hotel location was great – see the map.  For latest prices for the hotel, click the link below.
Hotel Relais dell'Orologio Room Rates: Hotels.com
ADDRESS & LOCATION
Hotel Relais dell'Orologio, Via Uguccione della Faggiola 12-14 Pisa, PI 56126, Italy
MORE ON PISA
Hotels near Piazza dei Miracoli – Lowest prices Guaranteed from Hotels.com
Pisa Segway Tour
Pisa Travel Guide Books – Amazon.com (US & Canada)
Pisa Travel Guide Books – Amazon.co.uk (UK)