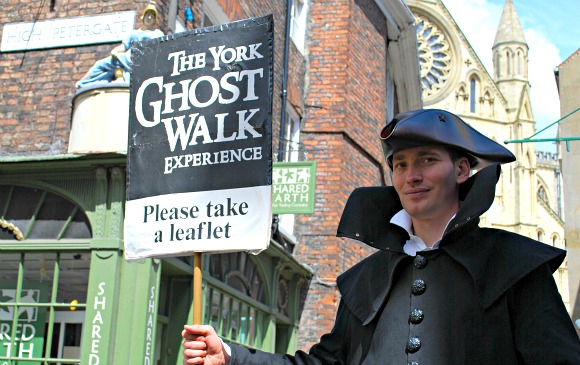 Evenings in York are about two things. Eating and drinking or walking tours. The most common tours are the ghost walks and there are lots to choose from, but there are plenty of other options too. The Guy Fawkes Trail, The Historic Toilet Tour and the Graveyard, Coffin & Crypt Tour are all available under the banner of "YorkWalk". The ghost walk we took was led by an excellent guide who looked and played the part and over the course of an hour introduced us to 3 ghosts in the major tourist streets of York. This is an extract from our free York City Guide.
Here are some of the main regular walking tours in York plus the meeting point you will need:
Ghost Creeper – A ghost detective leads this walk. 7.30pm every night from July through to Hallowe'en then every Friday, Saturday and Sunday from November to June. Meet outside Jorvik in the Coppergate Shopping Centre.
Ghost Walk Experience – A tour which includes York's walls and Monk Bar gate. 7pm every night meeting at the Roman Column outside York Minster.
York Horror Tour – Hear about the dark stories from York's streets.  6.45pm from York's most haunted pub The Golden Fleece, latecomers can join at 7pm from the Guy Fawkes Inn.
York Walls Audio Tour – An audio tour that takes you around the 2 mile circuit of the walls. Available from the Visitor Information Centre, The Punchbowl Inn (Stonegate – open daily 10am-11pm) and the Richard III Museum (Monkbar – open daily 9.30am-4pm).
The Original Ghost Walk of York – Explore the history, mystery and folklore of York. 8pm from the Kings Arms,  Ouse Bridge.
York Terror Trail – A history of the horrors of York. Running Monday to Sunday 6.45pm at the Golden Fleece
YorkWalk – Entertaining, historical guided walks. Special walks also operate on selected days throughout year; these incclude the Choccy and Sweetie tour, Inaccessible York, Jewish Heritage, Historic Toilet Tour, Bloody Execution Tour and many more. See signboard at the meeting point  – the Museum Garden gate.
York Viking Walk – See where the battles took place and learn how the Vikings overcame the brave Saxon resistance. Walks start every Friday, Saturday and Sunday at 6pm. The meeting point is behind All Saints Church on Parliament Street, opposite Marks & Spencer's.
Haunted Walk of York – A no-gimmicks historical ghost tour. Tours run on Fridays and Saturdays at 8pm all year and every night from Easter until the end of October. Meet outside York City Art Gallery on exhibition square.
Association of Voluntary Guides Free Walk – Free guided walking tours of the city. Leaving from Exhibition Square at 10.15 am, 2.15 pm & 6.45 pm in the summer and 10.15am in the winter.
York Historic Pub Tour – An informative guided tour round York's ancient streets and hidden alleys whilst visiting 4 of England's finest inns.  Pre-booking only for this one. Call Bruce Murray on 01904 795950.
Ghost Trail of York – A short walk featuring ghost stories and historic locations. Meet at 7.30pm at the Minster (West Doors), every night.
Ghost Hunt of York – A Victorian guide will introduce you to the ghost and ghouls. 7.30pm from the Shambles
The World Tour of York – The story of York both in the past and today. Tours run Every Saturday and commence at both 11.00 and 14.00. The  walks last between 1.5 to 2 hours. Meet in St Helen's Square near Betty's. Book on 07981 242764.
York Photo Trek – A one hour photo tour around York centre with a professional photographer. Tours leave 10am & 4pm Museum Gardens entrance, Museum Street.  Book on 07530 157132.
This list is by no means exhaustive and other walks spring up from time to time. For the latest walks available, see the VisitYork.org website.
YORK MAP
All of the meeting points for the walks are mentioned above. You can move this map around and zoom into see where they are in relation to other York landmarks:
MORE ON YORK WALKING TOURS
York Pass – Discounts on many of York's walks and free entry to attractions
York Hotels – We recommend Hotels.com with their lowest price guarantee
York Insight Guide – Amazon.co.uk
York Pocket Guide – Amazon.co.uk
Rough Guide To Yorkshire – Amazon.co.uk
Yorkshire Travel Guides – Amazon.com (USA)