This is your free Amsterdam City Guide!  Famous for it canals, museums and tulips, Amsterdam is an attractive city to visit at all times of the year.  Despite the infamous coffee shops and red-light district, it's also a family destination and is great for couples of any age. Here are our personal recommendations…
WHAT TO DO IN AMSTERDAM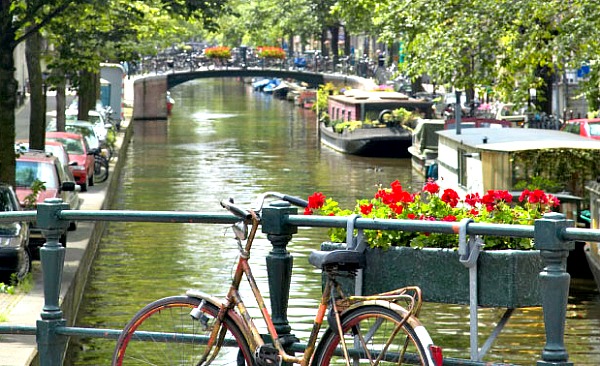 The Canals – They're the real star of Amsterdam and we spent hours just walking the canal paths. Each canal has similarities to the next, but they're all different. Walking along the cobbled paths, you get to see some stunning buildings and get a taste of what life in Amsterdam is like. Watch out for the bikes though, they have no mercy if you're on the bike path! There are loads of canal cruises you can do to get your bearings, but we preferred just to walk.
Amsterdam Canals: Read more, pics, links & map…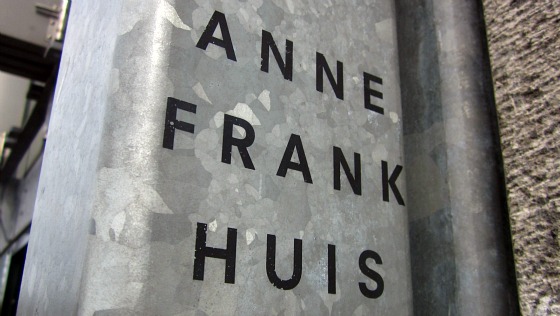 Anne Frank House – When you're on holiday having a great time, it might not seem like the kind of place you'd want to visit and there's no doubt that it's upsetting. The fact that the building still remains though and the fact that Anne Frank's story of hiding from the Nazis here is still as powerful today as it ever was, make this a must-see museum in Amsterdam.  It's at 267 Prinsengracht, just around the corner from Westermarkt.
Anne Frank House: Read more, opening times, admission prices, pics & map…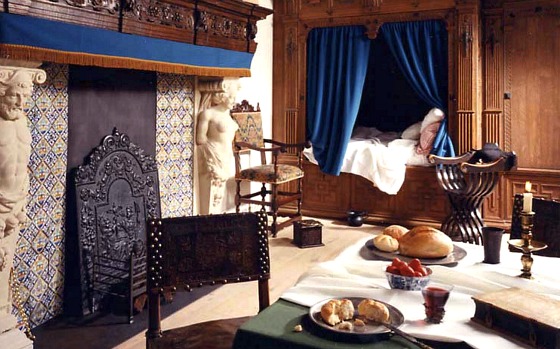 The Rembrandt House Museum (Rembrandthuis) – The painter wasn't originally from Amsterdam but lived and worked in this house for 20 years.  It's a fascinating insight into how he lived at the time and has been restored to how it would have been when he lived there thanks to records that were kept when his belongings were sold off.  Inside, you see all the main rooms including his studio and it's well worth a visit.  Its at Jodenbreestraat 4 near the Waterlooplein.
Rembrandthuis: Read more, opening hours, admission prices & map…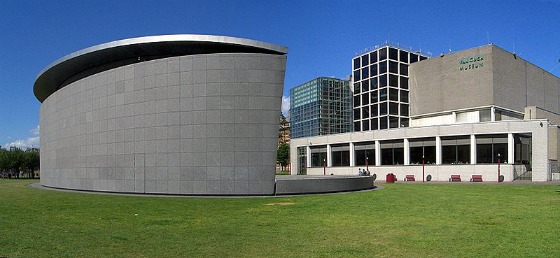 The Van Gogh Museum – There are more than 200 Van Gogh's spread over two buildings here. If you like his paintings, you'll enjoy a trip here but when it's busy, it's sometimes hard to see all the paintings.  You'll find it alongside two other museums on the Museumplein. The entrance is at Paulus Potterstraat 7.
Van Gogh Museum: Ticket prices, opening hours & map…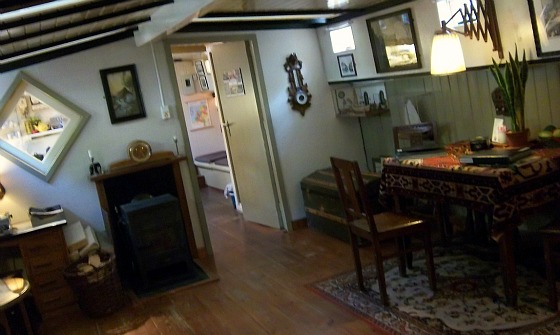 House Boat Museum – Every canal you walk along has house boats. If you want to see what a traditional house boat is like inside, take a trip to this museum. It's basically laid out as it would be if someone lived there! It's at 296 Prinsengracht.
Amsterdam Houseboat Museum: Opening hours, pics & map…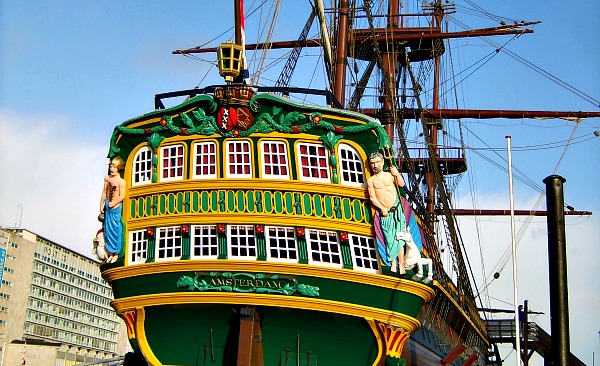 The Amsterdam – This 3 masted sailing ship is a replica of the original which lasted only a year after its launch in 1748 for the Dutch East India company. If you have kids who love films like "Pirates of the Caribbean", they'll enjoy a trip here as you get to explore the full ship. It's moored in the harbour near to the Central Station.
See our Amsterdam VOC Ship page with more pics, links & map…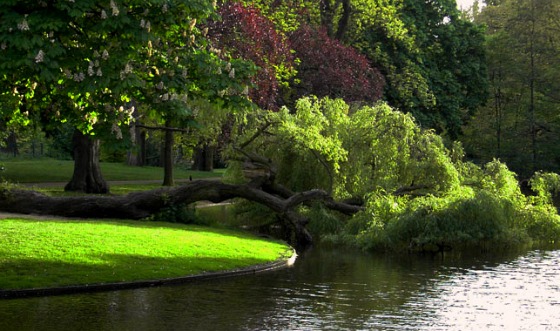 Vondelpark – Vondelpark is the city's largest park and on a nice day, it's a great place to escape.  There are loads of play areas for kids, and it's lovely to walk around.  It's also a great place to see some of Amsterdam's wild bright green Parakeets which began breeding here in the 1970s.  The park is just south of Leidseplein.
Vondelpark: Read more, pics, links & map…
Red Light District – Bizarrely this is a tourist attraction these days. The Red Light area is near to Central Station just off the main tram route through the city centre. It's not somewhere we wanted to spend a lot of time, but we were curious to see what it was like. The area is very busy at night and there are restaurants, bars, clubs and of course the famous red-lit windows with scantily clad women stood in them. Not one for the kids though!
OUR TOP TIP IN AMSTERDAM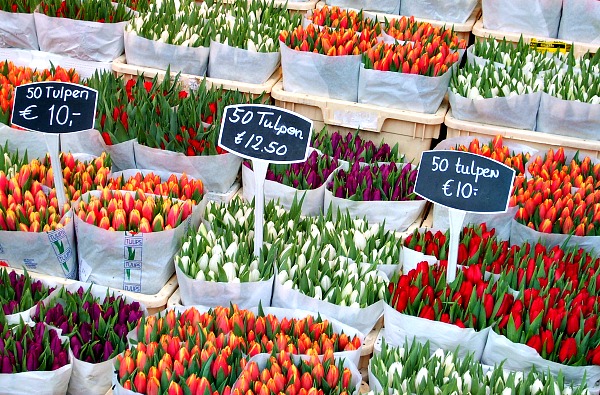 The Flower Market – Take a trip here and you'll be blown away by the sea of colour in all seasons.  You can buy your tulips as souvenirs or just browse around and smell the flower fragrances.  There is no pressure to buy anything, so you can just spend time looking at what's available.  If you do want to buy though, the stall holders are all very knowledgeable and are happy to help – most speak excellent English.  The market is on the Singel canal between Koningsplein and Muntplein.
Amsterdam Flower Market: Read more, pics, links & map…
MORE THINGS TO DO IN AMSTERDAM
One of the best ways to see all that Amsterdam has to offer is to take one of the many organised tours.  There's something for everyone from canal tours to tulips and windmill excursions. The dinner cruises are very popular too. We're working with Viator to offer only excursions with fantastic reviews.  Currently, the most popular activities are…
Amsterdam Canals Dinner Cruise
Keukenhof Gardens & Tulip Fields Tour
I Amsterdam Card
Amsterdam Canals Candlelight Cruise
To see prices in UK Pounds, click here.
RECOMMENDED HOTEL

We stayed at the Inntel Amsterdam Centre Hotel (Formerly the Golden Tulip Hotel) in Amsterdam centre when we last went and we'd thoroughly recommend it.  It's a modern hotel, rather than a period one, but the rooms were attractive and comfortable and the location is perfect, just off the main shopping streets and near to the station and the sights.
GETTING AROUND AMSTERDAM
The centre of Amsterdam is quite compact and it's easy to walk around.  The tram system is very good, but we managed without having to use them.  Another option is the Amsterdam Hop-on Hop-off Canal Bus which stops at the main tourist locations and gives you a canal trip at the same time!
The cheapest and fastest way to get from the airport (Schiphol) is to catch the train to Central Station.  We used the automated machines at the airport station to buy our tickets and the trains into Amsterdam run very frequently. If you'd prefer a shared or private transfer, we've found reasonable prices here:
Amsterdam Airport Transfer Options (US Dollars)
Amsterdam Airport Transfer Options (UK Pounds)
MORE ON AMSTERDAM
Amsterdam Hotels – From Hotels.com
Great Rates on Amsterdam Hotels – Up to 30% off from Expedia.co.uk
More Things To Do In Amsterdam – Prices in US Dollars
More Things To Do In Amsterdam – Prices in UK Pounds
Iamsterdam – Official Amsterdam website.