The Old State House in Boston was constructed in 1713, making it one of the city's oldest buildings. It is a significant building in the story of American independence as it first served as the home of the British Colonial Government, but then became the first Capitol in the free country which followed the revolution. The Old State House is our favourite stop on the Boston Freedom Trail partly because of its history, but also because it's a truly beautiful building. Did you know, the Declaration of Independence was first read to the people of Boston from the building's balcony?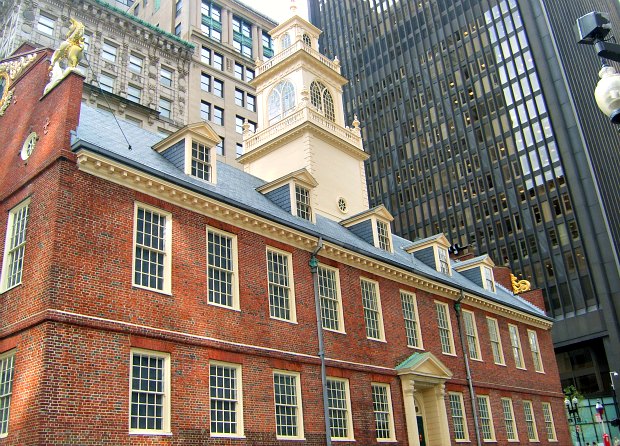 Inside the Old State House is a museum operated by the Bostonian Society. It charts the history of the American Revolution by explaining the significance of the Boston Massacre, the influence of Samuel Adams, John Hancock, and others plus it contains actual artefacts of Boston's past. To be honest, we much preferred the building to the museum! The Old State House is open daily from from 9am to 6pm (May to September) and 9am to 5pm at other times. Adult admission is $10 (2016 prices).
LOCATION & CONTACT
Address: The Old State House, 206 Washington Street, Boston, MA 02109, United States.
Tel: +1 617 720 1713
The Old State House is at at 206 Washington Street. It's across the road from the Faneuil Hall Marketplace which is the home to both Quincy Market and Faneuil Hall. Nearest T stop is State Street.
MORE ON THE OLD STATE HOUSE
More Things To Do In Boston
Hotels near the Old State House – Great deals from Hotels.com
Old State House – Bostonian Society
Old State House – Wikipedia