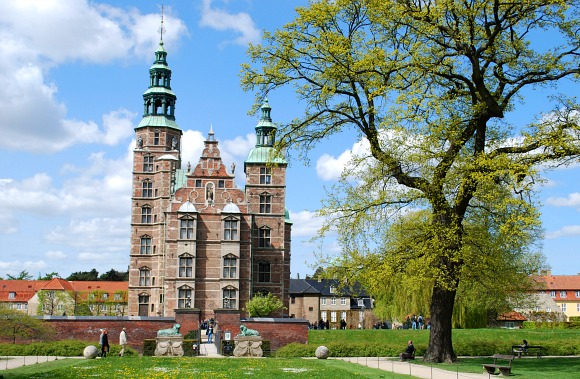 Rosenborg Castle in central Copenhagen is the former home Christian IV although it was originally built as a summer house! It dates back to the 1600s and its turrets have an almost fairytale feel to them. We enjoyed the self-guided tour around the 24 rooms here over 3 levels, in particular the the small rooms on each floor which have become dedicated to unusual collections of things like pottery and bronze figures. Best of all was the collection of glass bottles and assorted glassware on the top floor which fills the room from top to bottom.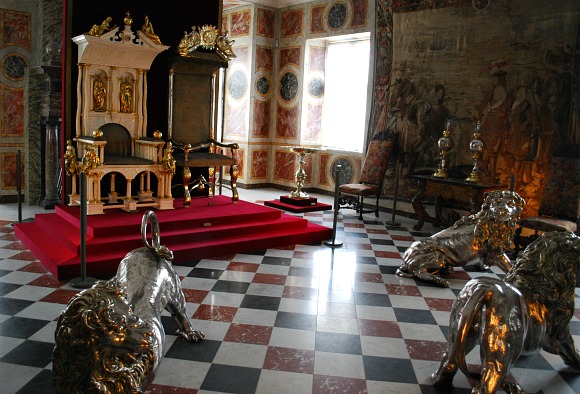 You can choose which part of Rosenborg to see first and we'd recommend going straight into the castle itself. Make sure you pick up a self guided tour leaflet at the door which explains more about each room – they're available in several languages. The first room you enter is Christian IV's "Winter Room" with its tiny writing closet and this really sets the tone for what you will see on the rest of your tour. Exquisitely beautiful rooms laid out as they would have been when the Danish royals lived here. Your journey continues around all the rooms on each of the three floors and most striking of all is the Long Hall on the top floor – a single room that stretches the full length of the castle, part of which is pictured above.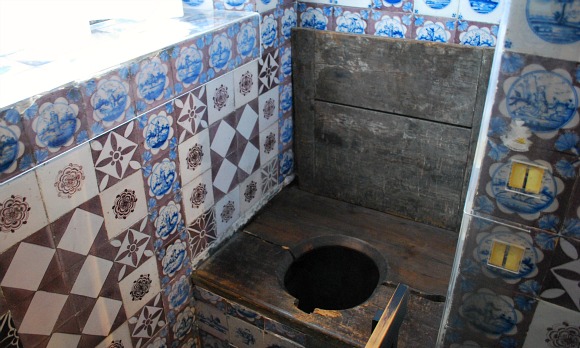 What we really liked about Rosenborg Castle is that you do get see pretty much everything, including the more bizarre aspects of the way it was used as a home. The toilet (pictured above) is one example of this, but so is the glassware room (pictured below) too. In the basement of the castle is the Treasury with ceremonial arms, Rosenborg's wine barrels and riding trappings amongst other things. A passageway then leads to the vault, built underground to house the Royal Jewels.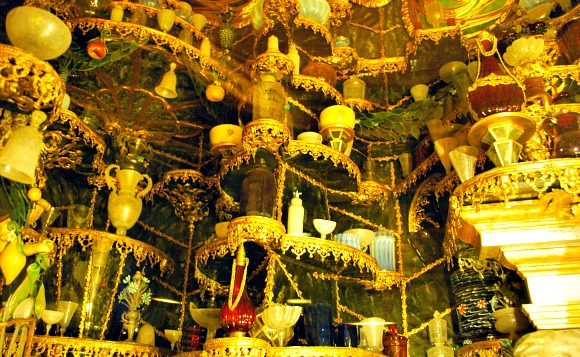 Rosenborg Castle is open every day from May to October between 10am and 4pm or 5pm in peak season. In the winter months, the castle is often closed on Mondays and opening hours are reduced. Adult admission to the castle is 105 KR which includes the Treasury (2016 prices).
LOCATION & CONTACT
Address: Rosenborg Slot, Oster Voldgade 4A, 1350 Copenhagen, Denmark
Tel: +45 3315 3286
Email: museum@dkks.dk
Rosenborg Castle is near the Botanical Gardens in the northern part of Copenhagen city centre. The Hop-on, Hop-off Bus Tour stops here.
MORE ON ROSENBORG CASTLE
Copenhagen Card – Free access to the Rosenborg Castle and many other top attractions
Hop-on, Hop-off Bus Tour – Stops at Rosenborg Castle
Rosenborg Castle – Official Website
Rosenborg Castle – Wikipedia
Hotels near Rosenborg Castle – We recommend Hotels.com for the best rates
Copenhagen Grand Tour – passes Rosenborg Castle
Copenhagen Travel Guide Books – Amazon.co.uk (UK residents)
Copenhagen Travel Guide Books – Amazon.com (USA residents)