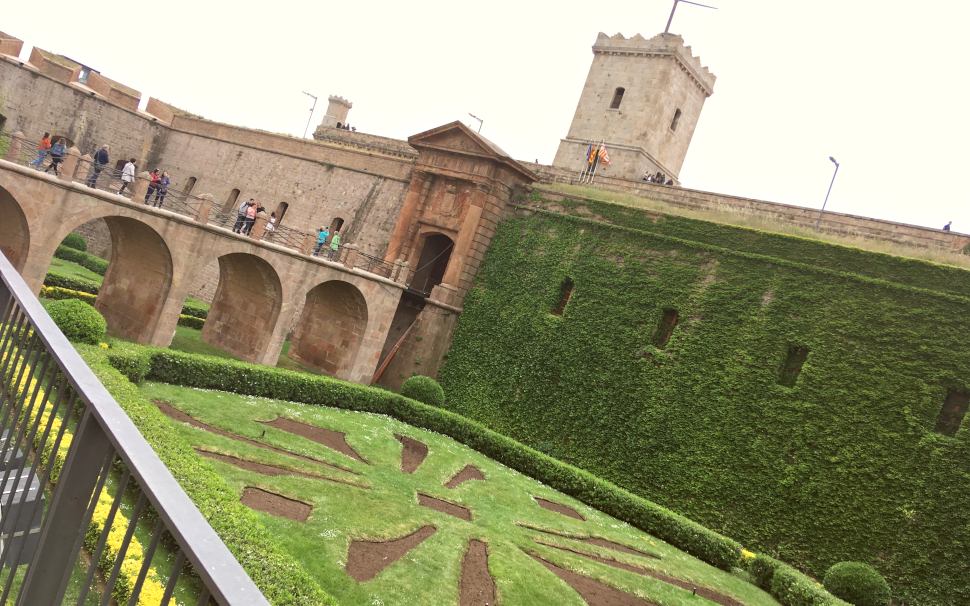 Montjuic in Barcelona is a large hill which has magnificent views of the city. There's loads to see and do in the area and these are just a few of the highlights. Right at the top is Montjuic Castle which dates back to 1751 although there was a basic castle here even before that. It's had many different uses in its lifetime and is well known for it use during the Spanish Civil War. Today it's houses a military museum collection although we found the building itself to be the most interesting bit. Surrounding the castle you'll find a range of huge guns which have been used to defend it from attack.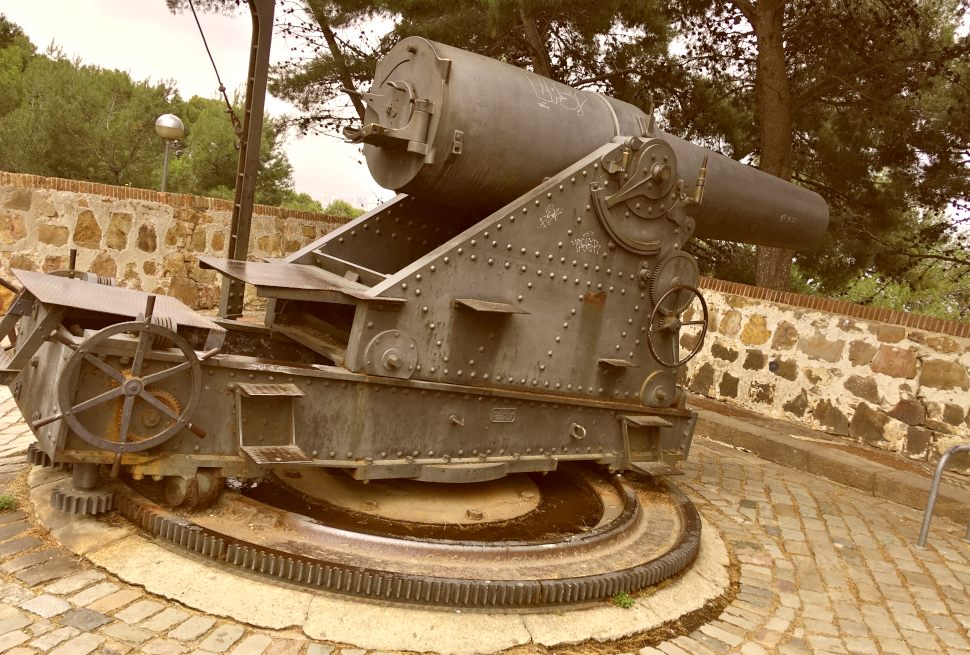 You can get to the castle very easily from the cable car. We'd recommend taking the cable car up the hill and then walking back down using the various pathways through the surrounding park. Along the way there are fantastic views to enjoy and a range of gardens each with their own features.
Read More: Barcelona Cable Car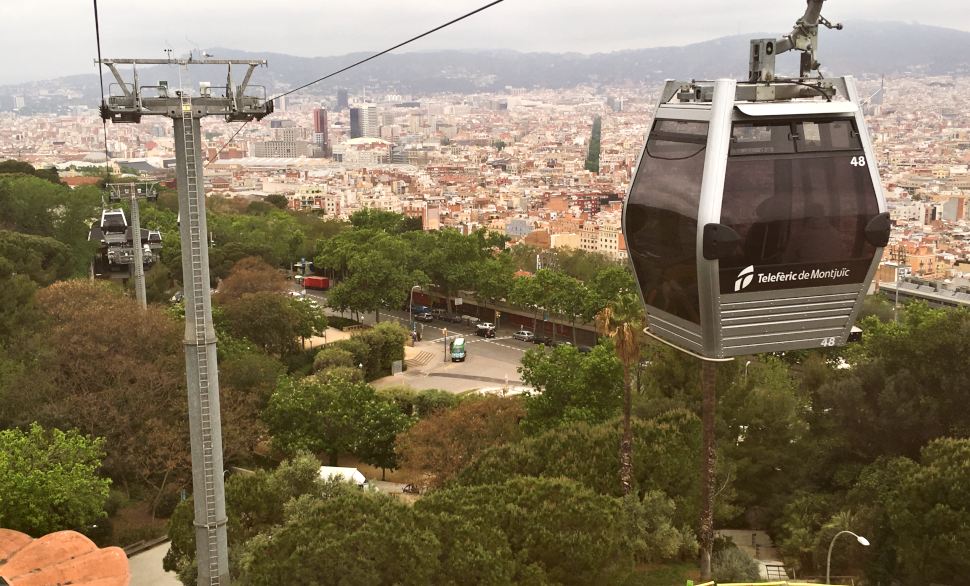 Eventually you will end up on the central level of Montjuic again where the cable car base station is. Next door is the funicular which gives full access to the metro network. Riding the funicular is an experience in itself, especially if you can get a place right at the front. Here's the journey speeded-up – look out for the other funicular car passing at the halfway point….
A short walk from the funicular station and cable car station you'll find the Olympic Park from the 1992 Olympic Games. The area consists of swimming facilities, sports pitches, an indoor arena and the huge Olympic Stadium (pictured below). The stadium's history goes back much further than 1992 though and it's worth a look inside to get a real feel for the scale of the place.
Read More: Barcelona Olympic Park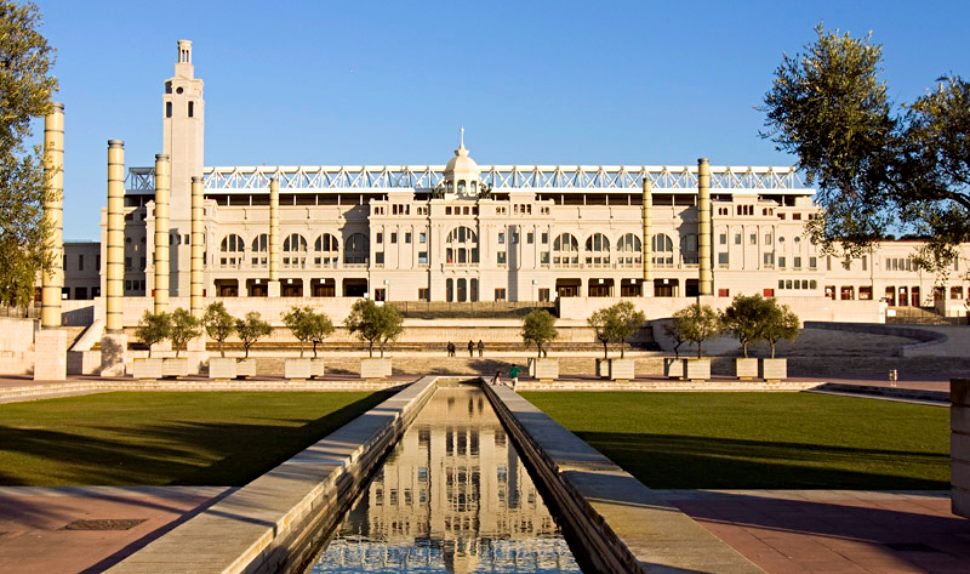 Continue down towards Placa d'Espanya and you'll find the impressive Palau Nacional which houses an art museum (Museu Nacional d'Art de Catalunya) and a range of terraced walkways leading down to the Magic Fountain. This is a really beautiful place to be and if you have time to watch the fountain 'perform', it's well worth it.
Read More: Barcelona Magic Fountain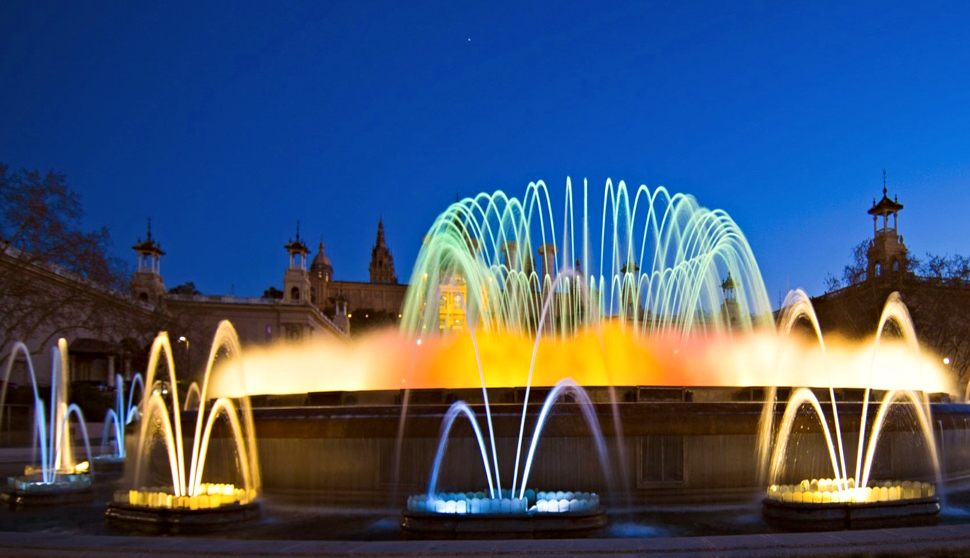 MORE THINGS TO DO IN BARCELONA
LOCATION MAP
Montjuic can be accessed on foot from Placa d'Espanya. Take Avinguda Maria Cristina and enjoy the pleasant water features along the way. Alternatively, hop on the Metro and take the Montjuic funicular. You can also use the Barcelona Hop-on Hop-Off Bus Tour to get to Montjuic. This map shows the cable car base station, but you can move it around to see other highlights sights…
MORE ON MONTJUIC
Montjuic – Wikipedia
Hotels near Montjuic – Lowest price guarantee from Hotels.com
Barcelona Highlights Tour – This recommended tour visits all the sights including Montjuic
More Things To Do In Barcelona – See all tours and choose your currency
Barcelona Travel Guide Books – Amazon.co.uk