It's not as well-known as nearby Bellagio, but Varenna has similar pretty streets to offer without the crowds.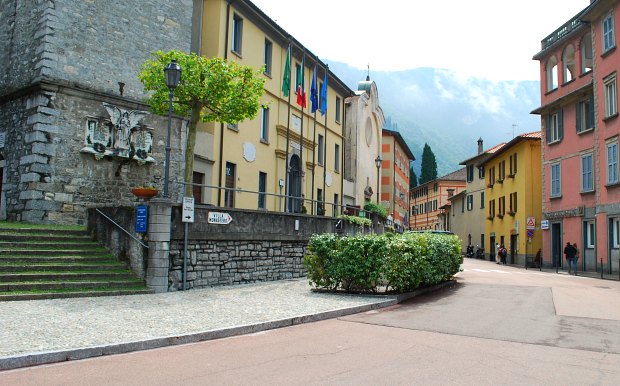 In terms of ferry links, Varenna is just as well placed as Bellagio but the big advantage here is that, in comparison, it's so much quieter. As such, you can walk the network of cobbled streets in relative peace. There's also a lovely town square to enjoy – Piazza San Giorgio – overlooked by the church of the same name. Its tower dominates the skyline of the town. Also in the piazza, there's a tiny chapel to visit and as you walk towards the shore, plenty of places to eat with a view of the lake. The ferry dock is a short walk from the town centre along a cliff-side pathway and if you stick to the paths near the shore, you see the best of what this pretty town has to offer.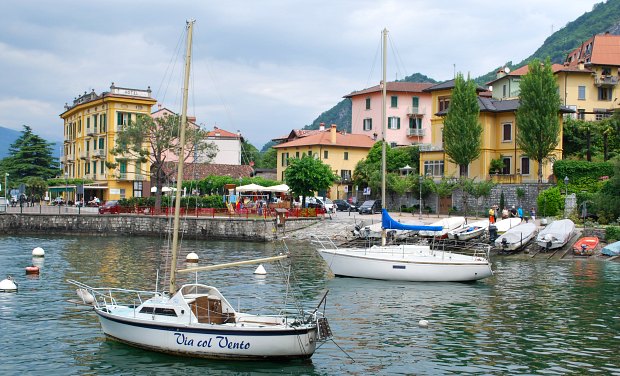 To be honest, all the streets are attractive here and everywhere we walked we liked the cobbles, collections of plant pots and the friendly atmosphere. There are shops in Varenna and they're similar in style to Bellagio with ceramics, arts and gifts available in the majority of them. However, they are not as plentiful and we'd seen pretty much all of the shops on offer here in the space of half an hour. Even if you arrive by car, it's worth spending a bit of time near the ferry dock. Here there are more restaurants, a little harbour with bobbing boats, hotels and the railway station.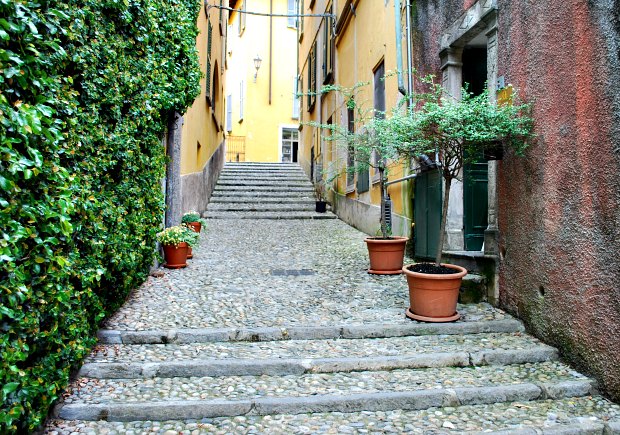 Another highlight in Varenna is the small Roman castle on the hilltop – Castello di Vezio. It's a short walk up a steep path, but it's worth it. The central tower was a fantastic look-out position and today it still provides magnificent views of the lake. The castle is now a bird of prey breeding area and as such, birds are usually on display from 10am to 4pm in the castle garden.
Address: Castello di Vezio, Frazione Vezio, Perledo, Lake Como, Italy
Tel: +39 348 824 2504
Opening Times: 10am to 6pm daily
Admission: 4 Euros (2015 prices)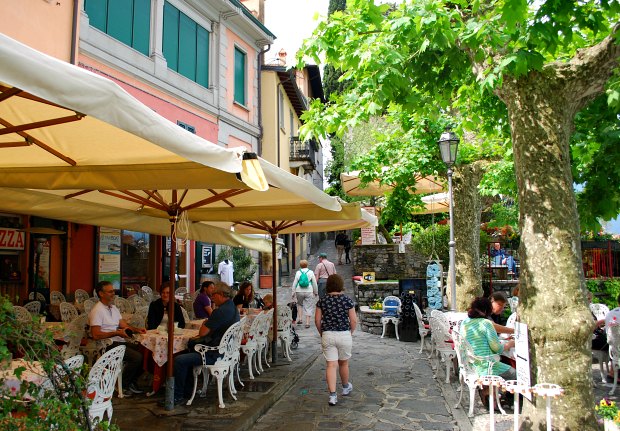 We really liked Varenna. It was a relaxing place to be and we didn't feel at all rushed when we were exploring. The streets here were just as attractive as Bellagio and the castle adds to the feel that this is somewhere worth spending your time.
VARENNA LOCATION MAP
This map shows Varenna and you can move it around and zoom in or out to see particular locations…
MORE ON VARENNA
Lake Como Day Trip From Milan – Latest reviews and prices in US Dollars
Lake Como Day Trip From Milan – Latest reviews and prices in UK Pounds
Varenna – Wikipedia
Castello di Vezio – Official website
Hotels in Varenna – We recommend Hotels.com