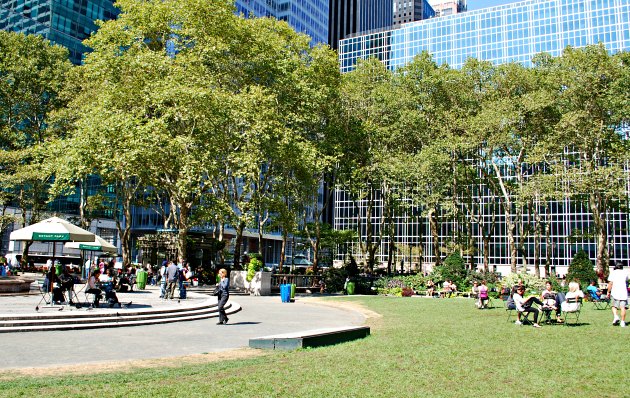 Bryant Park in central Manhattan, is a little oasis of peace and greenery, surrounded by some of New York's tallest skyscrapers. The park sits just behind the historic library on 42nd Street and although it's small, it has a number of features to enjoy. There's a children's carousel and an iconic water fountain, but people come here mainly to sit on the grass and relax. Around the lawns are green chairs and tables, benches and chess tables.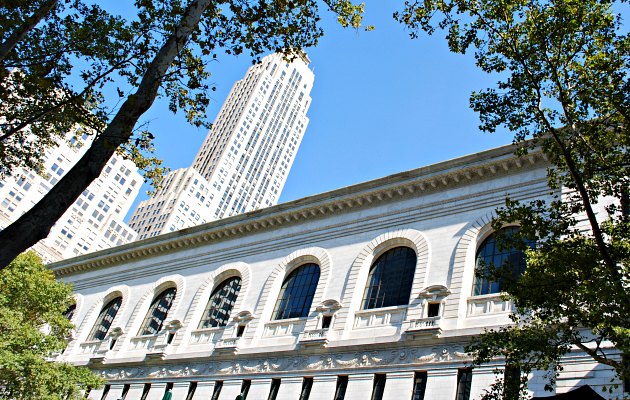 Another feature in the park is the terrace at the rear of the library which is partly occupied by one of New York's fashionable restaurants. The rest of the terrace is available for park goers to enjoy and gives a lovely perspective on the lawned areas of the park, surrounded by 6 large flower beds. There is also a free outdoor 'Reading Room' where you can pick up a book or publication from the carts and just sit and read it.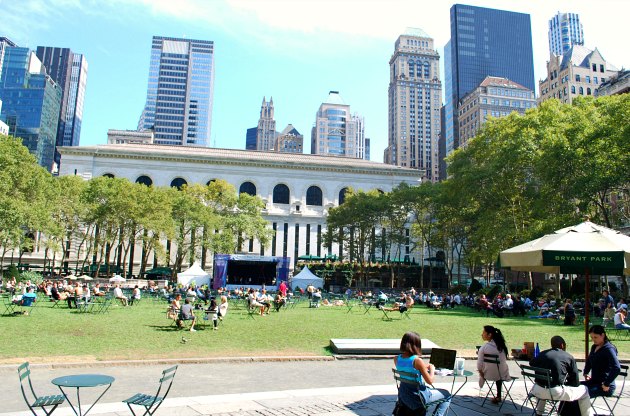 The Josephine Shaw Lowell Memorial Fountain, stands on its own terrace and is one of the longest surviving features in the park. It was dedicated in 1912, but the park had a chequered history after that and was not always the magnet for New Yorkers as it is now. In fact in the 1970s it was a place to avoid unless you wanted to get mugged! Today, the park is friendly and welcomin and you'll find frequent seasonal events here from summer music performances to a winter market.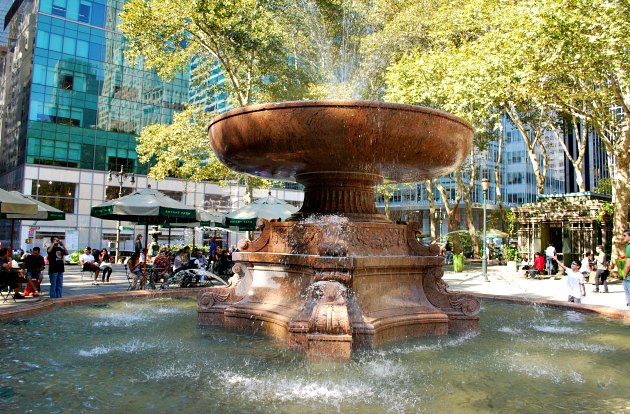 Bryant Park and the Library have been used in the TV show "Sex and The City" – See our mini guide to Sex and The City Filming Locations.
LOCATION & CONTACT
Address: Bryant Park, 6th Ave. between W. 40th and W. 42nd Streets., New York City, NY 10017.
Tel: +01 212 768 4242
MORE ON BRYANT PARK
Hotels near Bryant Park – Great deals from Hotels.com
Bryant Park – Official Website
New York In One Day Tour – Consistently gets good reviews
More Things To Do In New York
Bryant Park – Wikipedia
Books on New York – Amazon.co.uk