Castello Sforzesco is a huge brick-built castle which dominates the southern part of the centre of Milan.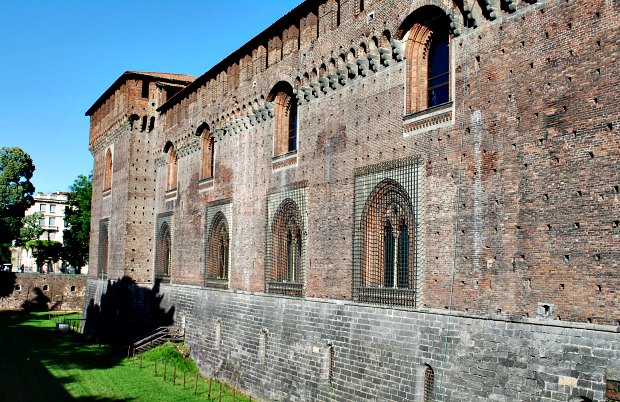 The castle was built in the 15th century originally as a fortified home and seat of defence for the Visconti family and then expanded further in the 16th and 17th century. Its name comes from Francesco Sforza who took power in Milan in 1450 and set about adapting the castle for his needs as ruler. He also tried to make it more beautiful and less bleak-looking. You can judge for yourself if he achieved that when you see it. Over the years, the castle has been partly destroyed on a number of occasions and has had to be rebuilt. Most notably, the central tower, the Torre del Filarete, which is now one of Milan's most famous landmarks collapsed in the 1500s and what you see today was actually rebuilt to the original plans in 1905. The castle was also severely damaged by allied bombardment in 1943.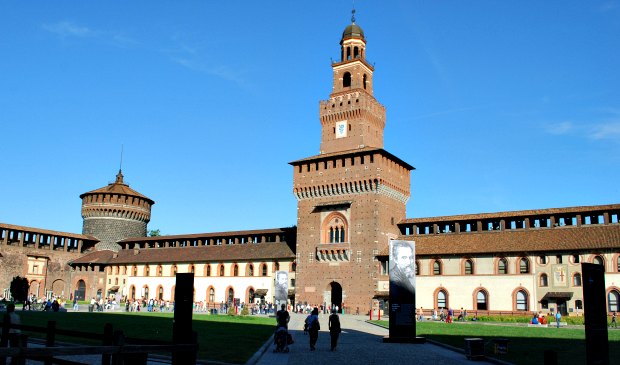 Today, the castle is the home to many of Milan's museums. Inside you'll find…
The Museum of Ancient Art – this is the museum which includes Michelangelo's unfinished last sculpture
The Pinacoteca del Castello Sforzesco – the public art gallery of the castle
The Prehistoric collections of the Archaeological Museum of Milan
The Museum of Musical Instruments
The Egyptian Museum
The Applied Arts Collection
The Antique Furniture & Wooden Sculpture Museum
The Achille Bertarelli Print Collection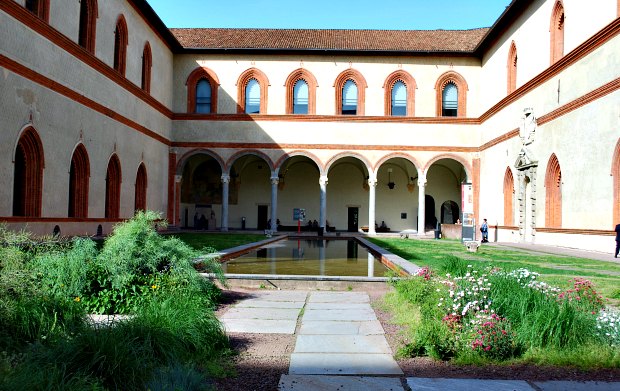 Whilst some of the museums at the castle have admission prices, the castle itself is free to wander around and it's definitely worth exploring all the various aspects of it. It's only by walking around it that you get a feel for just how big it is! It's also only when you're inside that you see the true beauty behind the stark, bleak walls. If you follow the main pathway from front to back, you'll exit at the rear of the castle into one of Milan's most used parks, Park Sempione. If you fancy a different kind of sightseeing at the castle and park, consider taking the Milan Segway Tour which passes through them both and consistently gets great reviews.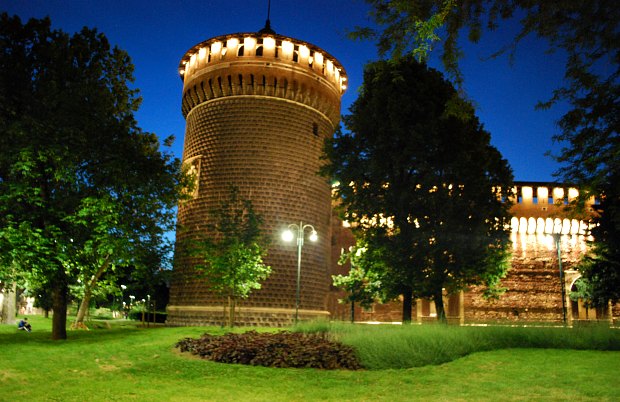 Castello Sforzesco is open daily from 9am to 8pm in the summer, closing at 6pm in the winter. Combined admission to the museums is 12 Euros (2015 prices). There is free admission to the museums every Tuesday from 2pm and Wednesday to Sunday during the last hour of the opening of the museums.
LOCATION & CONTACT
Address: Castello Sforzesco, Piazza Castello, 27029 Milano, Italy
Tel: +39 02 8846 3700
MORE ON CASTELLO SFORZESCO
Castello Sforzesco – Official website
Sforza Castle – Wikipedia
Milan Segway Tour – Includes Castello Sforzesco
Milan Hop-on, Hop-off Bus Tour – Stops outside Castello Sforzesco
Hotels near Castello Sforzesco – We recommend Hotels.com