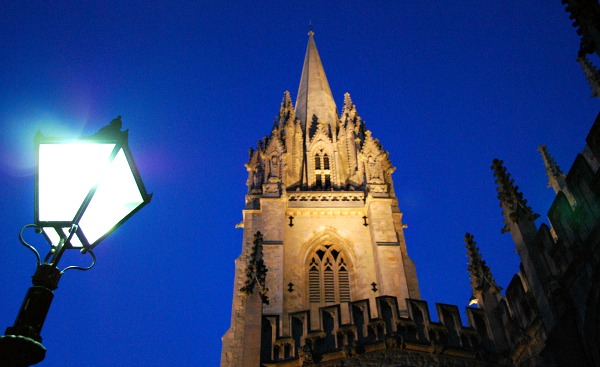 The University Church of St Mary the Virgin is packed with history and it also has the best views of Oxford from its tower. To get the best out of your visit to the church, take a free drop-in tour, lasting about half an hour. Simply, register with a volunteer on arrival and they'll tell you when the next one is. You'll learn how the church has been here for so many years that the colleges were established around it.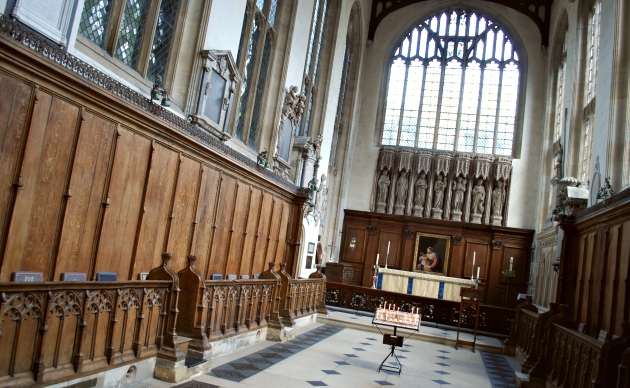 There's been a church on this site since 1086! The church was then adopted as part of the university and by the early 13th century it was being used as the seat of government of the university. It was also used for the awarding of degrees and for meetings and lectures. In fact, graduation ceremonies were held here until the 17th century when the new examination hall was built over the road. When you visit the church, there a few things to look out for. The porch at the entrance on High Street is particularly attractive with its spiral columns. It was built in 1637 and if you look carefully at the statue, you'll see bullet holes which were left by Oliver Cromwell's troops. Inside, the communion rail is from the 1670s and have a look inside the de Brome Chapel with its fancy throne (which belonged the the chancellor) and its 18th century panelling. John Wesley even preached here in 1741!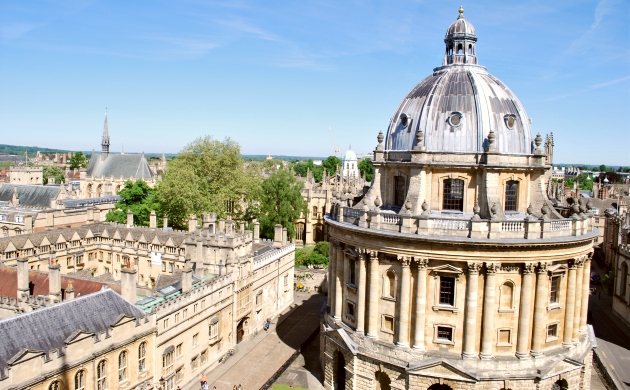 When you've finished with the church itself, don't miss the trip up the tower. Head up in the morning on sunny days to see the spires of the city and the magnificent Radcliffe Camera below bathed in sunlight (pictured above). For us, the highlight of this church was the trip up the tower. There are 127 steps to take you to the viewing area. When you get there, you'll find uninterrupted views in all directions over the most beautiful bits of Oxford.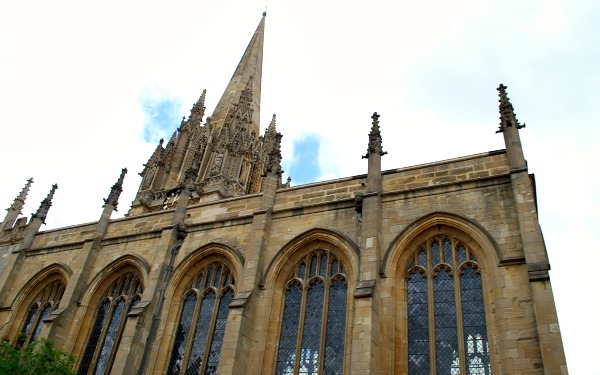 The tower opens at 9.30am every day except Sunday when it opens at 11.45am. Adult admission to the tower is £4 (2018 prices). Admission to the church is free and it's open from 9am to 5pm daily, with later closing at 6pm in July and August. Even if churches aren't your thing, you can still pop into the cafe which is located in the attractive vaults.
LOCATION & CONTACT
Address: University Church of St Mary, High St, Oxford OX1 4BJ
Tel: +44 1865 279111
MORE ON THE UNIVERSITY CHURCH OF ST MARY
University Church of St Mary – Official website
Visit Oxford & Oxfordshire – Official Website
Oxford Hop-on, Hop-off Bus Tour – Stops on High Street
Hotels in Oxford – We recommend Hotels.com
Oxford Guide Books – Amazon.co.uk
Travel Through Oxford Guide Book – Amazon.com