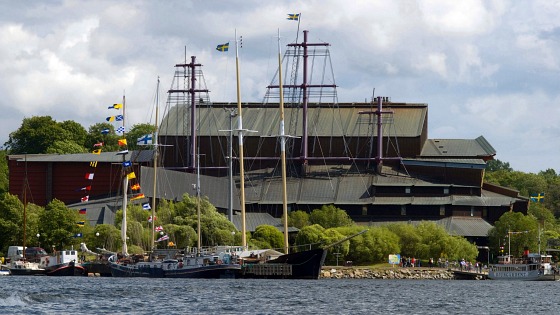 In 1628, a new kind of warship set sail on its maiden voyage from Stockholm harbour and promptly sank! 333 years later it was salvaged and brought to the surface. The properties of the water in the harbour had preserved it and today you can see The Vasa in all its original glory in a specially constructed museum. This is the most visited museum in Scandanavia and once you've been you'll understand why. To see a vessel like this preserved as it was when it sank is truly amazing. We were totally blown away by it. If you have kids who like the "Pirates of the Caribbean" movies, they'll love seeing a real life original warship. You can't go on board, but the walkways all around the museum give you ample chance to get up close.
Whilst the main attraction of the museum is the ship itself, there are also a range of permanent exhibitions which tell its story. These include how and why the Vasa was built, the sinking and the preserving of ths ship. One of the exhibition areas also focusses on what life would have been like on board and includes a replica of the gun deck. There's a detailed scale model which we spent ages tooking at too. Just in case you're wondering, the Vasa sank so close to home because its design was fatally flawed.
To get the most out of your visit, we'd recommend taking one of the guided tours which are included in the entrance fee. These are available in English at 10.30am (Weekends only), 11.30am, 12.30pm and 3.30pm.
The Vasa Museum is open every day, from June to August between 8.30am and 6pm and from September to May between 10am and 5pm (8pm on Wednesdays).  Adult admission is 110 SEK (2011 prices).  Admission is FREE with the Stockholm City Pass which is well worth the money if you're planning to visit a number of sights in the city.
LOCATION & CONTACT
Address: Galärvarvsvägen 14, Djurgården, Stockholm, Sweden
Tel: +46 8519 54800
Email: vasamuseet@maritima.se
The Vasa is on the island of Djurgården. We walked to the museum which takes about 30 minutes from the Central Station. By metro, the musuem is 10 minutes from the Karlaplan station and by tram take the no 7 service towards Waldemarsudde. Another option is the Blue Route on the Stockholm Hop-on, Hop Off Tour which stops at the Vasa Museum.
MORE ON THE VASA MUSEUM
Stockholm City Pass – Free admission to the Vasa Museum
Vasa Museum – Official website
Stockholm Hop-on, Hop Off Tour – Blue Route stops at the Vasa Museum
Hotels near the Vasa Museum – Lowest Prices guaranteed at Hotels.com
Vasa Museum – Wikipedia