Leonardo Da Vinci's Last Supper painting is a true masterpiece and despite World War 2 bombings and damage from poor attempts to restore it, you can still see it today…but you'll need to book ahead!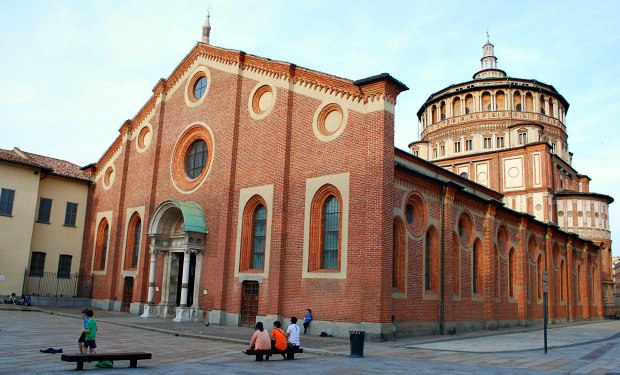 The painting is located on the wall of a convent refectory attached to the church of Santa Maria delle Grazie in central Milan. It's condition is so delicate, that visiting is strictly limited to small groups spending no more than 15 minutes in its presence in order to preserve the climate controlled environment which has been created in the room. This means that there are only a limited number of tickets each day to see the painting and they book up several weeks in advance. If the standard tickets have all gone, you can still try to book on a tour which includes a visit to the Last Supper. This option is more expensive, but the advantage is that you get a guide to interpret the painting for you. We chose the Leonardo Walking Tour of Milan which was excellent. Our knowledgeable guide took the group from a mini history of art and of Milan whilst walking to the church to see the painting. There are further tours listed here though… Last Supper Tour Options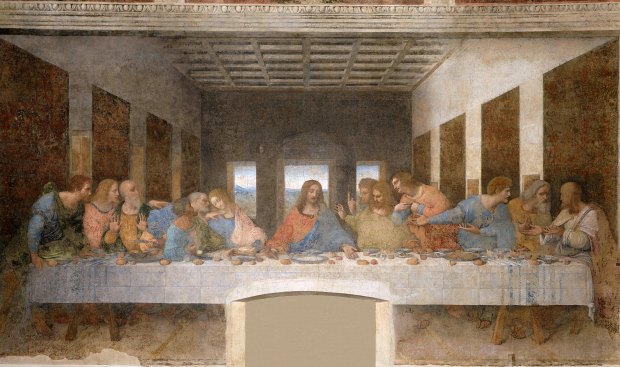 Leonardo Painted the Last Supper from 1495 to 1497 and some of his scientific studies at the time are depicted in the image. When you're standing in front of the painting, look for the way that he uses perspective to make the painting feel like an extension of the room that you're in. He'd also been studying the effects of sound waves, and Leonardo uses this in the way the conversations are depicted at the moment Jesus reveals that there is a traitor amongst them. Everywhere you look, you also see the significance of the numbers 4 and 3. The groupings of the figures are in 4 groups of 3, there are 3 windows at the rear, with 4 tapestries on the side walls etc. Leonardo also uses his studies of light to bring the painting to life.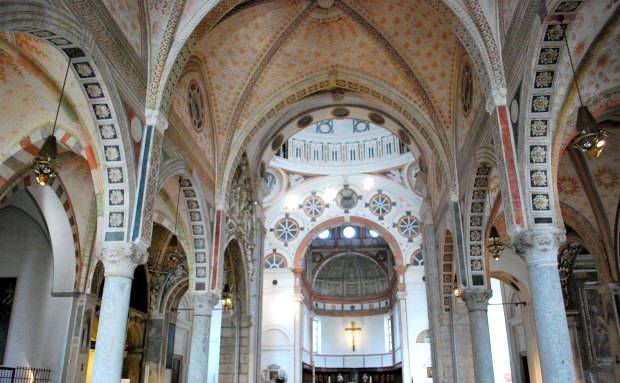 Before or after your 15 minutes with the Last Supper, take some time to visit the church itself. The wall frescoes inside are lovely and even the ceilings are decorated. Head to the altar and look up at the inside of the huge dome on the roof. The church tends to be cool, even on hot days and it feels relaxing to sit in the chairs and look at the walls around you. There are seven square side chapels to see including the impressive chapel of the Holy Crown with its frescoes of the story of the passion. Another site to see at the church is lovely cloister from where there is a great view of the dome tower. There is also a collection of archaeological ruins in a garden at the side of the dome.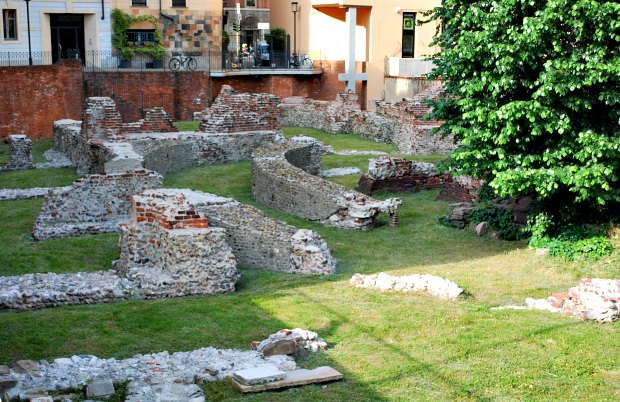 Tickets to see the Last Supper are 6.50 Euros plus an advance booking fee of 1.50 Euros (2015 prices). This is the official site to book online: Cenacolo Vinciano however there are many other websites which will sell you tickets, usually with a small premium added. Viewing times for the Last Supper are Tuesday to Sunday from 8.15am to 7pm. You can book several months in advance. The Last Supper site is a national museum and is not operated by the church. As mentioned above, if you miss out on the tickets, you can also book an organised tour which includes admission: Last Supper Tour Options

LOCATION & CONTACT
Address: Church of Santa Maria delle Grazie, Piazza di Santa Maria delle Grazie, 20123 Milano, Italy
Tel: +39 02 467 6111 (Santa Maria delle Grazie)
Tel: +39 02 92 800 360 (Last Supper Booking Line)
MORE ON THE LAST SUPPER
Santa Maria delle Grazie – Official website
The Last Supper – Wikipedia
Santa Maria delle Grazie – Wikipedia
Leonardo Walking Tour of Milan – Our recommended tour including admission to the Last Supper
Milan Hop-on, Hop-off Bus Tour – Stops near to the church of Santa Maria della Grazie
Hotels near the church of Santa Maria delle Grazie – We recommend Hotels.com