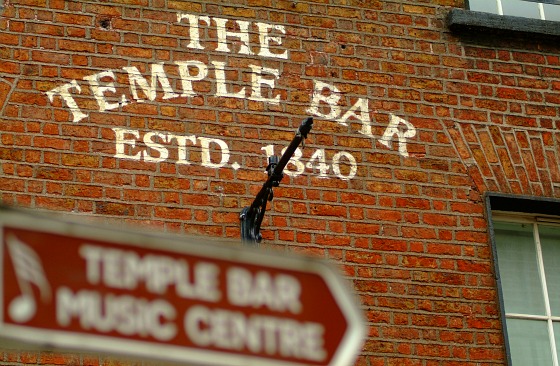 Temple Bar is a lovely area of Dublin, packed with old fashioned pubs, boutique shops and cobbled streets.  Day or night, the streets are always busy and the atmosphere is both vibrant and relaxing. It's a great place to walk around, even if you don't want to go in the shops or to sip a pint of Guinness. Also here, there are galleries and the Irish Film Centre on Eustace Street. The most attractive way to enter Temple Bar is through the Merchant's Arch opposite the beautiful Ha'penny Bridge which takes you directly to Temple Bar Square.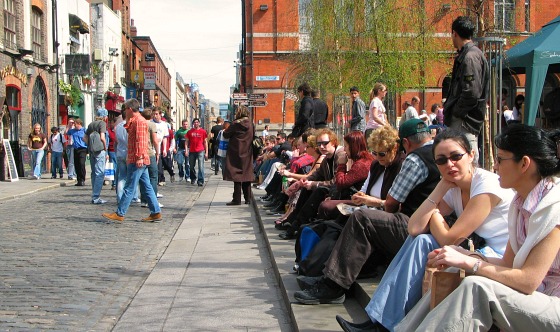 Temple Bar gets its name from Sir William Temple who bought the land between Dame Street and the  River Liffey back in the 1600s. Dublin is well known for it's traditional pubs and many of these are in Temple Bar. Take a peep inside the Oliver St John Gogarty, the Purty Kitchen, the Turk's Head and the Temple Bar to sample some Irish atmosphere. Cow's Lane market (pictured below) is a designer and fashion street market which operates every Saturday in Temple Bar from 10am to 5pm.  The range of goods available is large but commonly you'll find jewellery, clothing and accessories.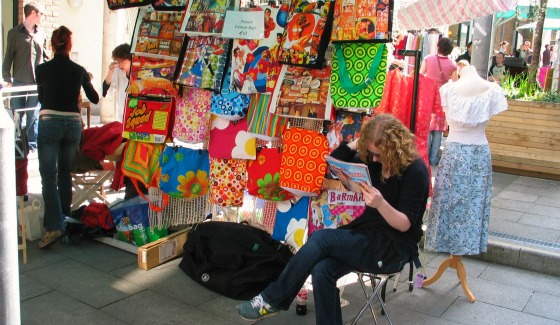 Some of the other highlights in Temple Bar include Crown Alley with attractive cafes and shops and Meeting House Square. A great way to experience Temple Bar is to take the Traditional Irish Music Pub Crawl which is a tour of Dublin's best pubs led by two musicians.
LOCATION & DIRECTIONS
Address:  Temple Bar, Dublin 2, Ireland
Tel: + 353 1677 2255 (Temple Bar Properties)
There are many ways to enter Temple Bar. The area is bounded by the River Liffey to the north, Dame Street to the south, Westmoreland Street to the east and Fishamble Street to the west.   The Dublin Hop-on, Hop-off Bus Tour stops nearby too.
MORE ON TEMPLE BAR
Temple Bar – Wikipedia
Dublin Historical Walking Tour – Includes Trinity College
Traditional Irish Music Pub Crawl – A tour of Dublin's best pubs led by two musicians
Traditional Irish House Party – which includes dinner and the show
Dublin Hop-on, Hop-off Bus Tour – Stops at Temple Bar
Hotels near Temple Bar – Lowest price guarantee from Hotels.com