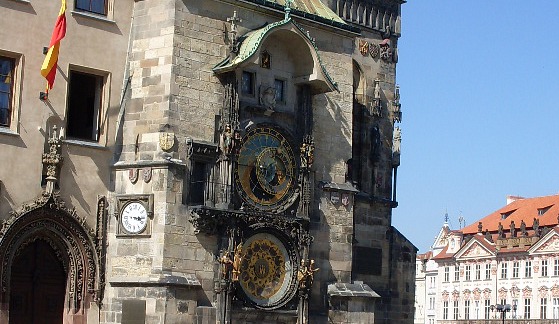 This clock is on the wall of the Town Hall and there's an endless stream of tourists lining up for photos in front of it.  The positions of the sun and moon are depicted along with the calendar dial and it also has moving sculptures. On the hour, every hour you will witness the procession of the twelve Apostles.   This is an extract from our free Prague City Guide.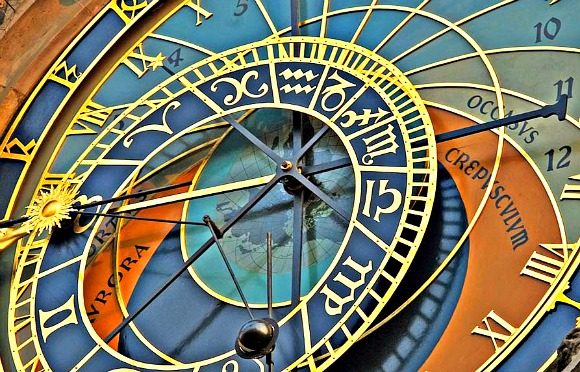 The clock's official name is the Orloj and it is composed of three main parts.  First, the astronomical dial, which represents the position of the Sun and Moon in the sky and also displays various astronomical details.  Then, there is "The Walk of the Apostles" mentioned above, which is a clockwork hourly show of figures of the Apostles and other moving sculptures.  Finally, the lower dial is a calendar face with medallions representing the months.  The oldest part of the clock is though to date back to the early 1400s.  Seeing the clock will not take a long time, no more than 5 or 10 minutes really, but it is worth watching it on the hour if you can.  There really can be a large number of people in front of it at busy times though.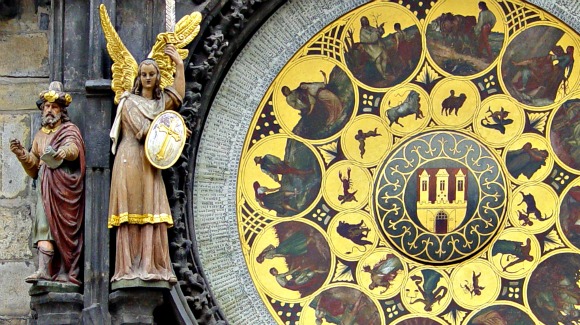 The astronomical clock is featured in the Prague In One Day Sightseeing Tour which always gets great reviews.
LOCATION & CONTACT
Address: Astronomical Clock, Old Town Hall Tower, Old Town Square, Prague 1, Czech Republic
Tel: +420 724 508 584 (Tourist Information Centre)
Nearest Metro: Staromestska (Line A)
MORE ON PRAGUE'S ASTRONOMICAL CLOCK
Hotels near the Astronomical Clock – Great deals from Hotels.com
Astronomical Clock – PragueWelcome.org (official tourism website)
Astronomical Clock – Wikipedia
Prague In One Day Sightseeing Tour – Features the Astronomical Clock
Prague Guide Books – Amazon.co.uk