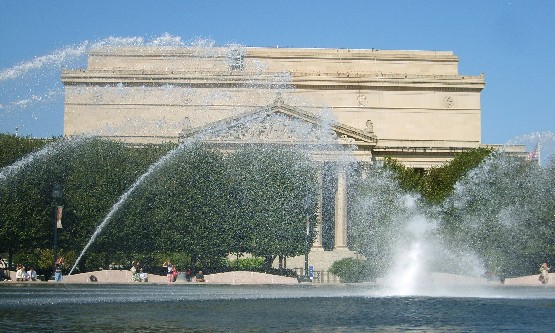 Your chance to see the Declaration of Independence – although we went because we wanted to see how much of the movie "National Treasure" was filmed here!  Across the road from the Archives is a lovely fountain with benches surrounding it.  The National Archives is at 700 Pennsylvania Avenue.    This is an extract from our free Washington City Guide.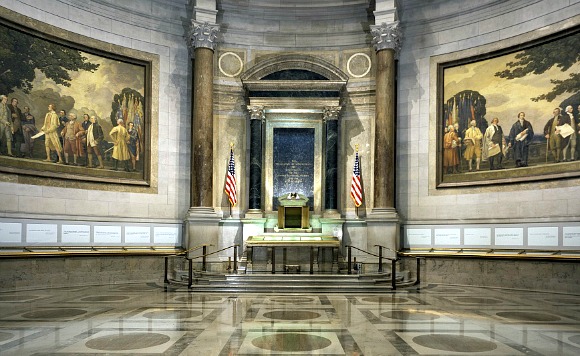 The National Archives stores important documents from America's history.  When visiting, there's an interactive exhibtion which explains what the National Archives does and what is stored in the Washington building.  After this, you enter the "Rotunda" which is the public display area for not only the Declaration of Independence, but also the Constitution of the United States and the Bill of Rights.  The National Archives building is open daily between 10am and 7pm in the spring and summer, and between10am and 5.30pm in the Autumn (fall) and winter.  Admission is free.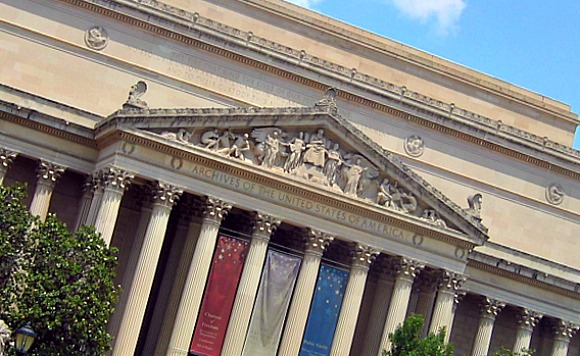 The Washington DC Hop-on, Hop-off Trolley Tour stops at the National Archives.
LOCATION & CONTACT
Address: The National Archives, 700 Pennsylvania Avenue Northwest, Washington, DC 20408-0002, United States
Tel: +1 202 357 5000
MORE ON THE NATIONAL ARCHIVES
Washington DC Hop-on, Hop-off Trolley Tour – Stops at the National Archives
Hotels near the National Archives – Great rates from Hotels.com
More Washington hotels – Massive discounts from Expedia
National Archives Experience – Official Website
Washington DC Guide Books – Amazon.co.uk (UK)
Washington DC Guide Books – Amazon.com (US & Canada)