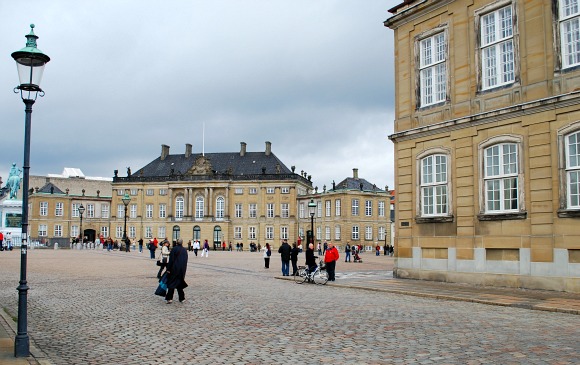 Amalienborg Palace in Copenhagen is the home of the Danish royal family. It's actually a complex of palaces, all set in a cobbled square with an impressive statue of Frederik V on horseback in the centre. There are no restrictions on wandering around the square and looking at the palace exteriors, but if you want to go inside, only some of the palaces are open to the public. You can tell when the Queen is in residence because the Danish Royal Life Guards will be on duty outside her palace.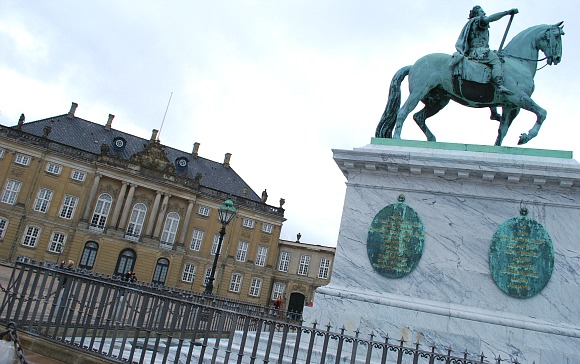 The four palaces that make up 'Amalienborg Palace' are Christian VII's Palace (originally known as Moltke's Palace), Christian VIII's Palace (originally known as Levetzau's Palace), Frederick VIII's Palace (originally known as Brockdorff's Palace) and Christian IX's Palace (originally known as Schack's Palace). The palaces were built to be identical on the outside, but unique on the inside. Look out for the exchange of guards that occurs at noon when the guards from Rosenborg Castle arrive after marching through the streets of Copenhagen.
Christian VIII's Palace is open daily from May to October from 10am to 4pm and from November to April, Tuesdays to Sundays from 11am to 4pm. Adult admission is 75 DKK or you can buy a combined ticket with Rosenborg Castle (2016 prices). Christian VII's Palace is open for guided tours only July to September at 1pm and 2.30pm.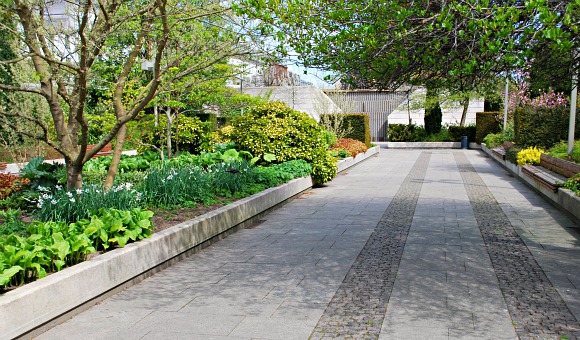 When you visit Amalienborg, make sure you explore more of the Frederiksstaden area of Copenhagen which was built specifically as an aristocratic area by Frederik V. We also enjoyed spending some time in much newer Amalie Garden, known as Amaliehaven (pictured above), which was built in 1993 with a stunning fountain as the centrepiece.
LOCATION & CONTACT
Address: Amalienborg Palace, 1257 Copenhagen, Denmark
Tel: +45 3312 0808 (Christian VIII's Palace)
Tel: +45 3392 6451 (Christian VII's Palace)
Amalienborg Palace is a short stroll from the harbour area of Copenhagen, near to Marmorkirken.
MORE ON AMALIENBORG
Hop-on, Hop-off Bus Tour – Stops close to the Amalienborg Palace complex
Amalienborg Museum – Official Website
Amalienborg Palace – Wikipedia
Hotels near Amalienborg – We recommend Hotels.com for the best rates
Copenhagen Grand Tour – passes Amalienborg
Copenhagen Card – Free access to Copenhagen's top attractions
Copenhagen Travel Guide Books – Amazon.co.uk (UK residents)
Copenhagen Travel Guide Books – Amazon.com (USA residents)