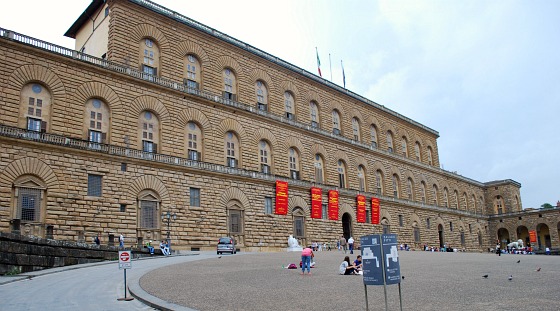 Palazzo Pitti is the newer palace built in Florence for the Medici family, who ruled the city. Many of the rooms have been preserved as they were when this was a palatial home and you'll enjoy seeing the Royal Apartments and the Green Room particularly. The palace is split into several areas – The Palatine Gallery, the Gallery of Modern Art, the Costume Gallery, Museo degli Argenti, the Porcelain Musem and the Boboli Gardens.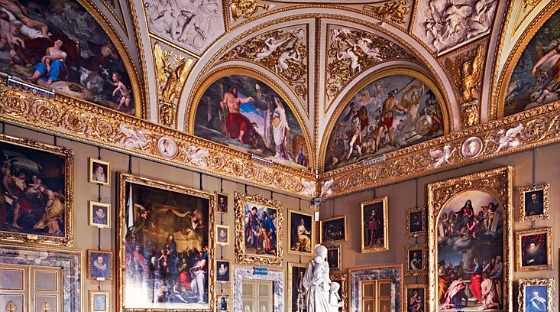 The Palatine Gallery  – This occupies the whole left wing of the first floor and contains paintings by Raphael, Titian, Correggio, Rubens, Pietro da Cortona and other Italian and European masters. Top of the list to see art wise, is probably Raphael's La Velata, although there are plenty of his other Madonna portraits here too. From the Palatine Gallery the visit continues through the Royal Apartments of fourteen rooms which were the home of the Medici family. The Castagnoli Room is pictured below
The Gallery of Modern Art – This is on the second floor of the Palace and has a collection of mostly Italian paintings and sculptures, dating from the late 18th century to World War I.
The Costume Gallery – This comprises of six thousand items including costumes dating from the 16th century.
Museo degli Argenti – This is the treasury of the Medici located in the Summer Apartments on the ground floor and on the mezzanine floor of
The Porcelain Museum – This is actually housed in a separate building (Palazzina del Cavaliere) at the top of the gardens and contains porcelain bought by Pietro Leopoldo and Ferdinand III plus other porcelain from the historical palaces of Parma, Piacenza and Sala Baganza.
Boboli Gardens – A beautiful Italian garden at the rear of the palace with water features and tree-lined walkways.  See our special page on Boboli Gardens.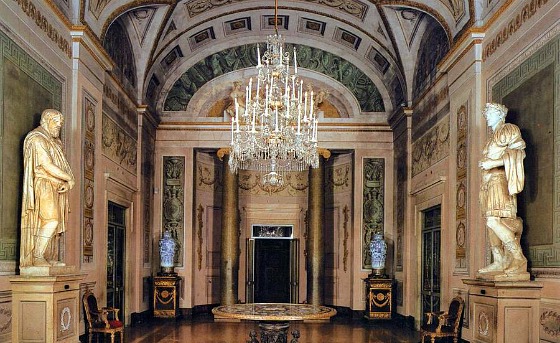 The Porcelain Museum, Museo degli Argenti and the Costume Gallery are all included in the admission price of the Boboli Gardens.  All the other galleries come under the Palazzo Pitti ticket which is 8.50 Euros (2016 prices) for adults.  Palazzo Pitti is open Tuesday to Sunday from 8.15am to 6.50pm.
LOCATION & CONTACT
The Pitti Palace is on the south side of the river Arno.  Simply walk accross Ponte Vecchio and keep going straight up the street to get to the palace and the Boboli Gardens.
Address: Palazzo Pitti, Piazza de' Pitti, 1, 50125 Firenze, Italy
Tel: +39 055 238 8616
Email: info@polomuseale.firenze.it
MORE ON PALAZZO PITTI
Hotels near Palazzo Pitti/Boboli Gardens – Best price guarantee from Hotel.com
Palazzo Pitti – Official website
Palazzo Pitti – Wikipedia
Florence Bike Tour – Stops at Palazzo Pitti
More Florence Tours – From our Tours & Activities pages
Florence Guide Books – Amazon.co.uk (UK)
Florence Guide Books – Amazon.com (USA & Canada)