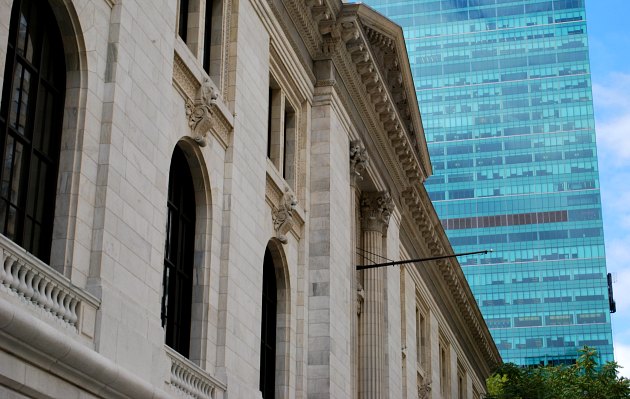 New York Public Library is an exquisite, marble-built temple for books, located right next to Bryant Park in central Manhattan. It's free to go inside and there are free tours available too to help you understand the building. You first enter a stark but grand foyer which has electric candelabras, making it look like some kind of palace.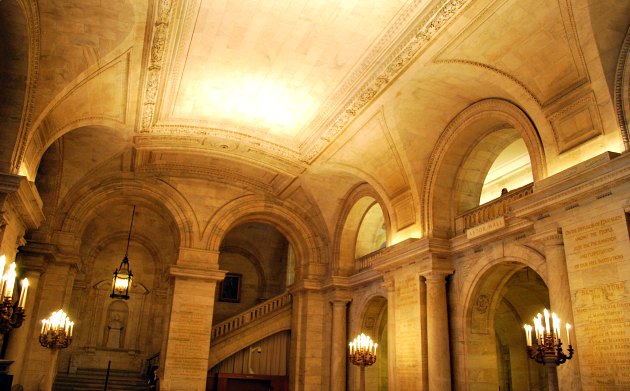 It's here, in the Astor Hall as it's known, that the tours meet at, leaving from the sign at 11am and 2pm Monday to Saturday and 2pm on Sunday. The tours last around 1 hour and we found it very informative and entertaining. One of the few places you actually see books on the tour is the impressive reading room.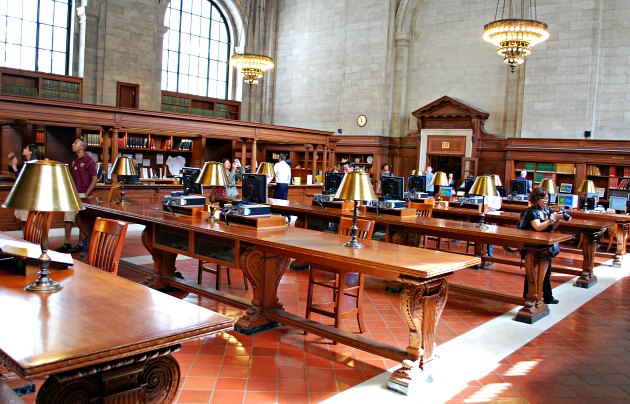 Here, there are reference book shelves down each side and areas for study in the middle. The reason that you don't see many books in the library is that most of them are kept in the huge storage areas. If you look at the building from the adjacent Bryant Park, the narrow windows that you see are where most of the books are kept. In addition, there are also storage areas under the park itself.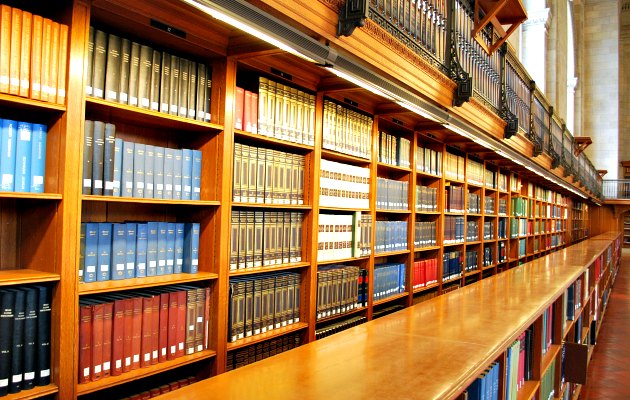 If you're a fan of Sex & the City, Carrie attempted to marry "Big" in this building in the first movie. The area at the top of the right hand staircase in the Astor Hall (as you come through the main entrance) is where she discovers he's not arrived. You also see Carrie run down this staircase when she decides to leave. If you love Sex & The City, see our special Sex and the City Filming Locations page and check out the highly rated Sex & The City Hotspots Tour.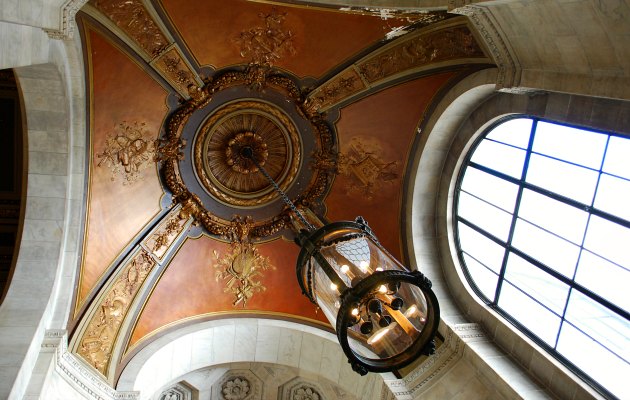 Free internet access is available in the library in the main reading room on the top floor (pictured below) although you will have to register first.
LOCATION & CONTACT
Address: New York Public Library, Stephen A. Schwarzman Building, Fifth Avenue and 42nd Street, New York, NY 10018
Tel: +1 212 930 0650
New York Public Library is on 42nd Street at the junction 5th Avenue, with the beautiful Bryant Park at its rear.
MORE ON THE NEW YORK PUBLIC LIBRARY
Hotels near New York Public Library – Great rates from Hotels.com
New York Public Library – Tours
New York Public Library – Wikipedia
Books on New York – Amazon.co.uk
Sex & The City Filming Locations – See our special page
Buy the Sex & The City movie featuring NYPL – Amazon.co.uk