This is your free Cardiff City Guide! It's the capital city of Wales and it has lots of amenities and attractions to boast. It might not be your first thought for a City Break, but don't overlook it – we particularly liked the growing Cardiff Bay development around the old docks. Here are our personal recommendations for your city break…
WHAT TO DO IN CARDIFF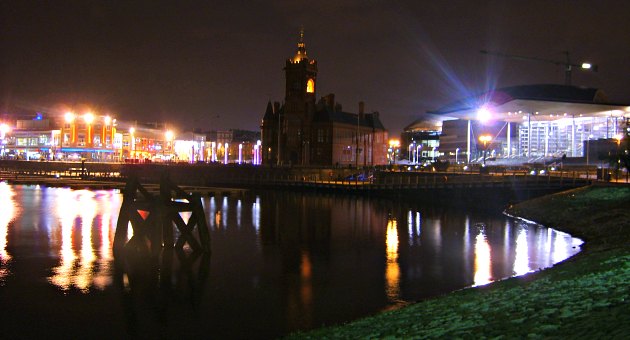 Cardiff Bay – This area was once the busy Cardiff docks, but it's been totally transformed in recent years. A barrage was completed in 1999 to create a huge "lake" and prevent the tide from taking all the water! It can now be used for sailing and other water sports. Meanwhile, all the old docks were either filled in or spruced up to create waterfront shops, restaurants, apartments and hotels. Other highlights in the bay include the incredible Millennium Centre (see below), the Welsh National Assembly (see below) and a huge mirrored water feature which is used in the British TV show "Torchwood". There's also a visitor's centre in a bizarre tube-shaped structure which explains the creation of the bay. Getting to the bay is easy now, with regular bus services, a train link and the option to take a water bus!
Cardiff Bay: Read more, pics, links & map…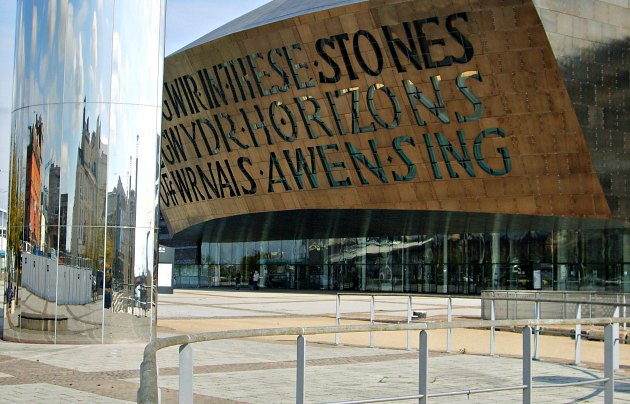 Millennium Centre – This was the big highlight for us in Cardiff. Essentially, it's a theatre, but you don't have to buy tickets for a show to appreciate the stunning architecture. It's huge frontage is dominated by a poem written in English and Welsh and the lighting at night makes it look even more impressive. The foyer area has a café and areas to sit and watch the world go by and we'd also recommend the regular behind the scenes tours to get a feel for the whole place and see the auditorium. We were really impressed with this building, so much so that next time we go to Cardiff, we will definitely book tickets for a performance. You'll find the Millennium Centre in Cardiff Bay, near the bus turn-around set slightly back from the water.
Cardiff Millennium Centre: Read our full review, pics, tickets, tours & map…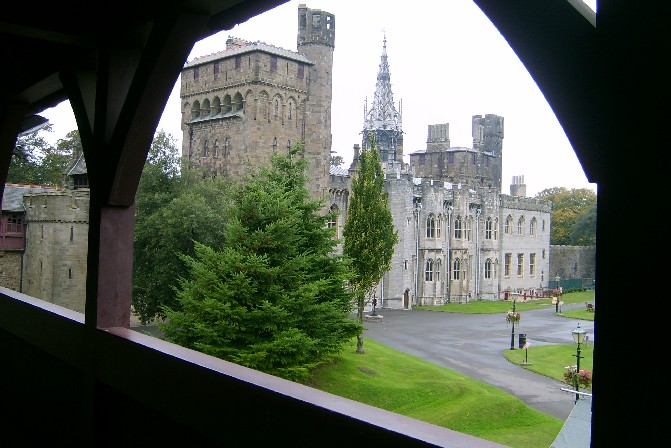 Cardiff Castle – A more traditional attraction than the Millennium Centre above, and one that has been receiving visitors for a lot longer! The castle has around 2000 years of history and the old keep in the centre is surrounded by the more modern extensions that made it a family home for the Bute family. You get to see some of lavishness of the insides of the castle and it's well worth a visit. We did find the guide a little tedious, but the building is marvellous. The castle is next to Bute Park in the city centre, near to the Millennium Stadium.
Cardiff Castle: Read more, pics, ticket prices & map…
Cardiff Castle: Discounted tickets…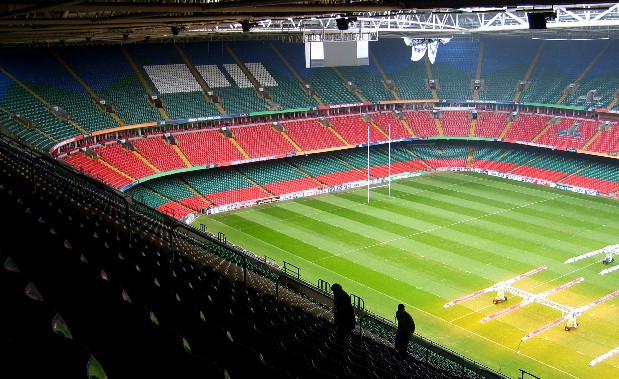 Millennium Stadium – The modern home of Welsh Rugby, but a facility that can also be used for other sports like soccer, as a music venue and it also hosts large shows. They're able to do this because the pitch is set into moveable concrete blocks which can be picked up and moved out. The stadium is one of the new water-side additions to the city centre and we can recommend the regular tours. Our guide for the tours was brilliant and really brought the place alive. You get to see the dressing rooms, the royal box and go pitch-side amongst other things.
Millennium Stadium: Read our review, pics, tours & map…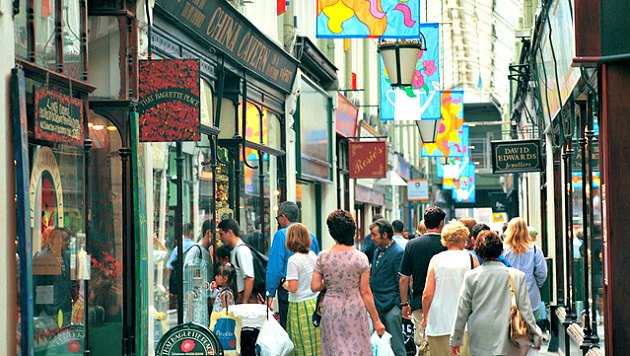 The Arcades – Cardiff is famous for its Victorian shopping arcades. These days they contain niche shops selling specialist products and you'll find them cutting through some of the traditional streets near the castle. Notable arcades include High Street Arcade and Duke Street Arcade.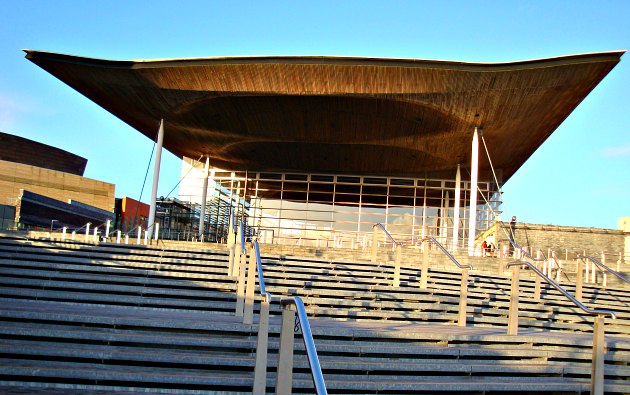 Welsh National Assembly – This is the Welsh "parliament" building in Cardiff Bay. It was opened by the Queen in 2006 and is a striking design. The building is open to visitors and you can wander in for a coffee or go to the public galleries.  We really liked the look of the building and in particular it's environmental design. It re-uses rainwater, makes the most of natural light and is heated from the earth.
Welsh National Assembly
Bute Park – This park is really quite large and is part of the former grounds of Cardiff Castle.  Some of it is laid out as a sort of formal garden area, but there are also large areas of open space too. There's an arboretum and a range of public sculptures. It's a lovely place for a walk along the river and on a sunny weekend, the park is full of locals enjoying the facilities.
Bute Park
MORE THINGS TO DO IN CARDIFF
OUR TOP TIP IN CARDIFF
Cardiff Bay is a lovely area to spend time in, and we'd recommend getting your hotel here. It means you have access to eating places, bars and shops, but also somewhere attractive to wander around at night. We stayed at the Future Inn which is right next to the Red Dragon shopping centre in Cardiff Bay.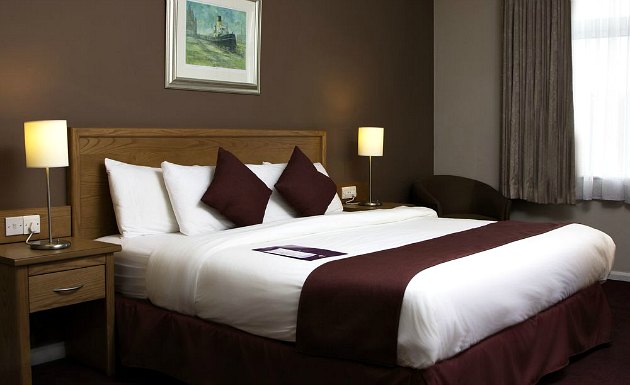 It has spacious, luxurious, modern rooms with free internet on the TV and we'd thoroughly recommend it. Ask for a room away from the stairwell however as these can be noisy when people return after a night out.
GETTING AROUND CARDIFF
The city centre and Cardiff Bay are each easy to walk around, but to get between the two you may need to take one of the regular busses, the train link or Water Bus as it's about 2 miles.  We did walk between them  on a number of occasions though and had no problem.  Another way to get around is to use the Hop-on Hop-off bus Tour and there's a great deal if you pre-book.  To travel out of the city, you really need a car.
MORE ON CARDIFF
Cardiff Hotels – Great rates from Hotels.com
VisitCardiff.com – Official Cardiff website
Books on Cardiff – Amazon.co.uk