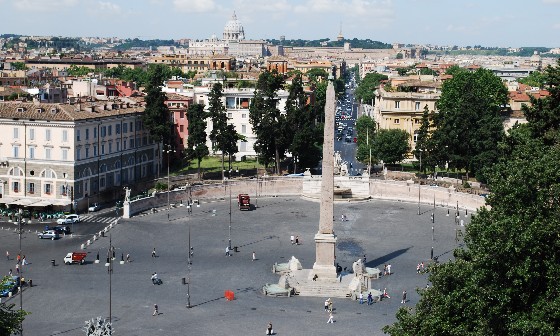 This piazza is one of the largest open spaces in Rome and it often lives up to its name as a the "people's square" by playing host to large public events.  At it's centre is the second oldest egyptian obelisk in Rome (from around 10BC) surrounded by four water spewing lions.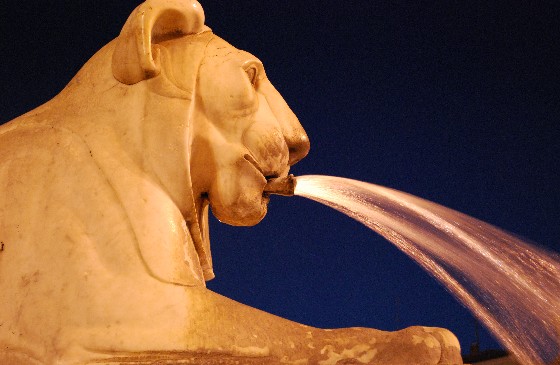 Other highlights around the piazza include the so called "Twin" Churches and the lovely interior of the church of Santa Maria del Popolo on the opposite side of the square near the old Roman gate. Take the steps in the north east corner of the piazza and you will climb to the beautiful Pincio Gardens which overlook the it.  From here you'll have a birds eye view of the piazza and a great view of much of Rome too.
Piazza del Popolo is featured in the Dan Brown book Angels & Demons and it is also visited on the Best of Rome Walking Tour which consistently gets great reviews from travellers who've been on it.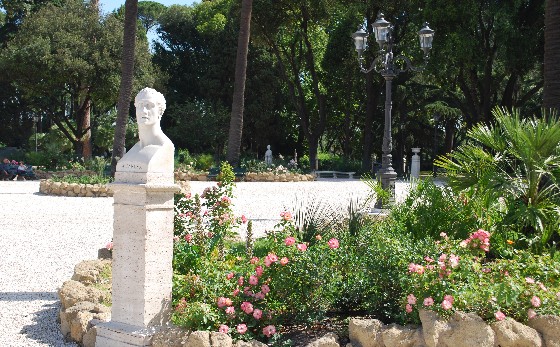 LOCATION & MAP
Piazza del Popolo is at the convergence of three major roads in central Rome, Via del Corso, Via de Ripetta & Via del Babuino.  All three fan out from the piazza and as such you can follow any one of them northwards to get to the piazza.  Nearest Metro stop is Flaminio.
MORE ON PIAZZA DEL POPOLO
Hotels near Piazza del Popolo – Great rates from Hotels.com
More Hotels in Rome – Massive discounts from Expedia
Best of Rome Walking Tour – Stops at Piazza del Popolo and gets great reviews
Piazza del Popolo – Wikipedia
Rome Guide Books– Amazon.co.uk
BACK TO…ROME CITY GUIDE
BACK TO…ROME'S BEST PIAZZAS
BACK TO…ANGELS & DEMONS TOUR