This is your free Paris City Guide! It's the world's most romantic city and we love it. We go every couple of years and we always find something new to see or experience. If you've never been before, it really is a must-see city. Here are our personal recommendations to you…
WHAT TO DO IN PARIS
The Eiffel Tower – It's the icon of the city it's great to go up just before sunset to see Paris in the daylight and at night, but whenever you go, you're likely to find a queue to buy your ticket. At peak times, you can wait for hours, so we'd recommend buying in advance if you know what day you want to go up the tower. Even if you don't want to go up it, you still have to see it from the bottom. You won't believe how big it is! The park around the tower is lovely to wander around too. The tower is best viewed from over the river at the Trocadero and look out for the sparkling effect on the hour at night.
Eiffel Tower: Read More, Opening Times, Tickets & Map…
Eiffel Tower: Skip The Line Access…
Notre Dame Cathedral – Despite the awful fire in April 2019, it's still worth heading to Notre Dame to see the imposing towers and Gothic carved stone. You'll get a sense of the impact the fire had and also the scale of the rebuilding process. There's also always a great atmosphere in the square outside the cathedral with loads of people around.
Notre Dame Cathedral: Read More, Pictures & Map…
Arc De Triomphe – You'll find it at the top of the Champs Elysées and it's the most bizarre traffic junction in Paris. We go as much to see the near accidents as we do to see the Arc! Fortunately there are pedestrian underpasses to get you to it and you can climb to the top for a good view (small fee). When you're standing in line with the Arc, you can look both ways to see how the city is laid out from a single straight line stretching from the La Défense business district to the Louvre.
Arc De Triomphe: Read More, Admission Prices, Opening Times & Map…
Champs Elysees – This is the city's most famous street. Essentially it's just a combination of designer shops, chain stores, restaurants, entertainment venues and car showrooms but the pavements are wide and tree lined so it's pleasant to walk down even if you don't like the shops. Anyway, you have to say you've been! We've found it best to walk down the hill from the Arc De Triomphe.
Champs Elysees: Read More, Pictures & Map…
Jardin du Tuileries – This beautiful public park was once the garden to the Tuileries Palace, which is now the Louvre Museum. It's sandwiched between the Place de la Concorde and the Louvre and continues the linear layout of this part of Paris from the Arc de Triomphe, down the Champs Elysees and through the main path in the gardens. As such, many visitors just walk through it on their way to the Louvre. We love stopping here for a while though and spending a bit of time in the park. Highlights include the various ponds with their water features, the statues and sculptures and the Orangerie building.
Jardin du Tuileries: Read More, Orangerie Opening Times, Pictures & Map…
Montmartre– If you have the time to take a trip out to this hill, you'll enjoy it. Not least the Sacre Coeur church at the top, but also the artists square in the village centre surrounded by traditional cafes. There's a funicular to help with the steep steps in front of the church but bear in mind that Monmartre is particularly busy on Sundays. There are lots of souvenir shops here too which detract a bit from the lovely setting, however if you're in the market for this kind of thing, the prices here are much cheaper than those of the Champs Elysees. Our favourite Metro stop is Lamark Caulincourt (which you might recognise from the film Amelie). Then walk up the steps and keep climbing till you get there!
Montmartre: Read More info, Pics, & Map…
Opéra de Paris Garnier – Beautiful on the outside, despite the busy traffic that surrounds it and you can take tours to see how amazing it is on the inside! Sometimes access to the actual auditorium is excluded from the tours so ask before buying your ticket. The district around the Opera has some of the most exclusive shops.
Opéra de Paris Garnier: Read More, Tour Tickets, Pictures & Map…
Opéra de Paris Garnier: Best Priced Tickets (Self-Tour)…

Paris Catacombs – Did you know that under the streets of Paris there are secret tunnels which link almost the whole city? The Paris Catacombs were created by quarrying hundreds of years ago and there are all sorts of stories about people living down there to this day. The vast majority of the city's catacombs are off-limits to visitors however, but one small section – about 2km – is now a tourist attraction. The whole thing is a bit of a spooky experience though as the tunnels were used as a cemetery for human remains for almost one hundred years. One minute you're walking along empty carved tunnels, looking at some of the things the quarrymen built and the next you're surrounded by endless stacks of human bones, all lined up in neat patterns. We found it both fascinating and disturbing.
Paris Catacombs: Read More, Queue Tips, Tickets & Map…
Moulin Rouge – Since it opened in 1899, the Moulin Rouge has been entertaining the public with its flamboyant dancing shows. The theatre is world famous and although there are other similar shows in Paris now, for us this was the one we had always wanted to visit. Most people opt for dinner along with the show and you watch from the table you ate your food at. The theatre is designed so that everyone will be able to see, and the show does not disappoint. It's a feast for the eyes, with a mix of variety acts, circus and acrobatic skills and the topless dancing girls with their often feathery costumes. If we were being picky, we'd say it's quite a 'traditional' show, but it's non-stop entertainment. It's been done like this for decades and you wouldn't want it any other way.
Moulin Rouge: Read More, Best Priced Tickets, Pictures & Map…
Moulin Rouge: Show with Dinner Ticket Options…
The Louvre – This museum is huge! You'll find the Mona Lisa inside and the glass pyramid featured in the DaVinci Code outside. If you have a rainy day, you could easily spend most of it in here. Even if you don't plan to go to the museum, we'd recommend you descend into the pyramid to see how it looks from underneath. This area is free to access and you can browse the shop and the walkways without purchasing a ticket.
The Louvre: Read More, Opening Times, Admission Prices & Map…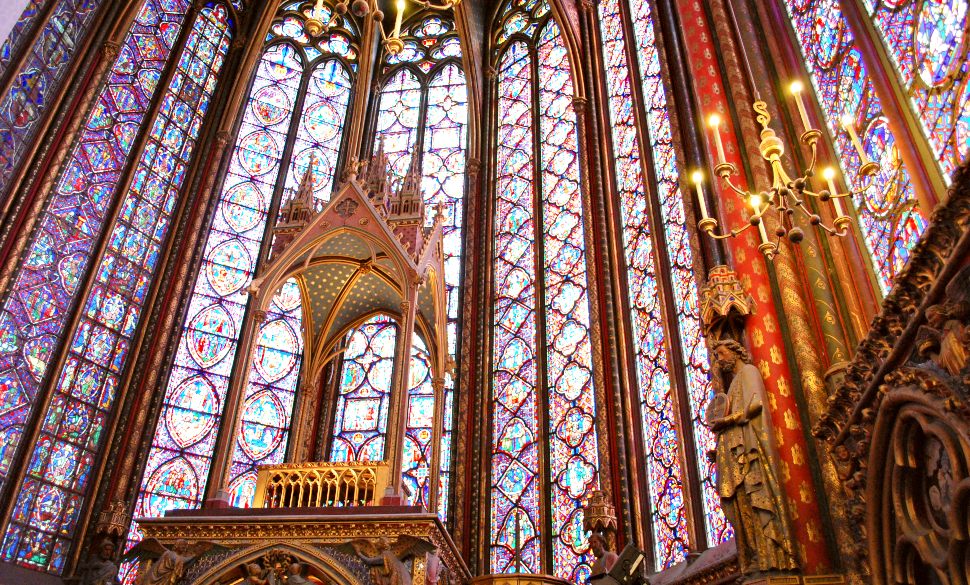 Sainte-Chapelle – Original built as a Royal Chapel, this church is a feast for the eyes. The huge stained-glass windows dominate the interior and they're topped by an extraordinary, vivid-blue, painted ceiling. With Notre Dame out of action for the time being, this chapel is a worthy alternative just a stones-throw away. Don't miss it.
Sainte-Chapelle: Read More, Tickets, Opening Times & Map…
Jardin du Luxembourg – This is the city's most used park. It's great to wander through on a sunny day to sample Parisian life. The flower beds are stunning at the right time of year too. You'll find a huge bronze head amongst the art works in the park and the attractive centrepiece palace is now the home of the French Senate.
Jardin du Luxembourg: Read More, Pictures & Map…
Musée d'Orsay – This museum, across the river from the Louvre, was a former railway station and is well worth a look. If you thought the outside was impressive, the architecture inside is really remarkable too and then there's all the exhibits to enjoy on top. For us, the building was the best exhibit here but there are also loads of memorable paintings too from artists like Renoir, Van Gogh and Gaugin.
Musée d'Orsay: Read More, Admission Prices & Map…
Le Centre Pompidou – If you like your modern art, you'll love a visit inside, but it's the outside that's our favourite bit of this building. All the functional bits like pipes, lifts, escalators etc are on the outside, rather than being hidden away. Great fun! You'll enjoy the public square outside the building too as there's always a bustling atmosphere and some ship-style funnels to see too.
Centre Pompidou: Read More, Admission Prices, Pics & Map…
Saint Sulpice – If you like seeing churches, this one is certainly worth a visit. It's towers are visible on the city skyline from many of the viewing areas like the towers at Notre Dame and inside it's both humble and huge. If you've read The DaVinci Code you'll know that the obelisk and brass line in the floor feature in the book.
Saint Sulpice: Read More, Opening Times, Pictures & Map…
La Défense – This modern business and leisure district is located at the end of Metro line 1 and is home to a giant arch which is in line with the Arc de Triomphe, the Champs Elysees and the Louvre. There's a huge open plaza which is bustling during the day with office workers, shoppers and tourists. Lining it on either side are offices, apartments, shops and eateries. Although there are quite a few things to occupy your time here, for us, the highlight was the "Grande Arche de la Défense" itself.
La Défense: Read More, Pictures, Shopping & Map…
Grenelle Market – Underneath the overhead line 6 metro track on Wednesdays and Sundays, you'll find one of the best markets in Paris. It's packed with goodies like freshly made bread, wines, clothes, cheeses, fruit, vegetables, cooked and fresh meat. Parisians flock here to do their shopping, but increasingly you'll find tourists here too looking for traditional French produce or just to soak up the sounds and the smells!
Grenelle Market: Read More, Pictures, Best Time To Visit & Map…
Canal Saint Martin – If you have a spare few hours, this is a great way to see a different side of Paris. You can walk the canal tow paths and visit the cafes on route, but we found the boat trip through the locks a better experience. It does take quite a while to do though, so don't miss out on the other sights of Paris in order to do this. It's also quite expensive. You can take the trip from either the Arsenal Marina (next to the River Seine) or from Parc de la Villette.
Canal Saint Martin: Read More, Boat Prices & Map…
Disneyland Paris – Around 40 minutes by train from Paris, you'll find the two theme parks that make up Disneyland Paris. It's an easy day trip to take, but make sure you buy your park tickets in advance for the best prices. The two parks are the Walt Disney Studios and Disneyland Park and both are right next to each other just a short walk from the RER station. There are all kinds of rides and shows to see and many will be familiar if you have visited other Disney parks around the world. There's plenty to occupy your time for a full day at both parks really, but you can do the highlights of both in one day and it's well worth the trip from Paris.
Disneyland Paris: Read More, Best Priced Tickets, Hours & RER Directions…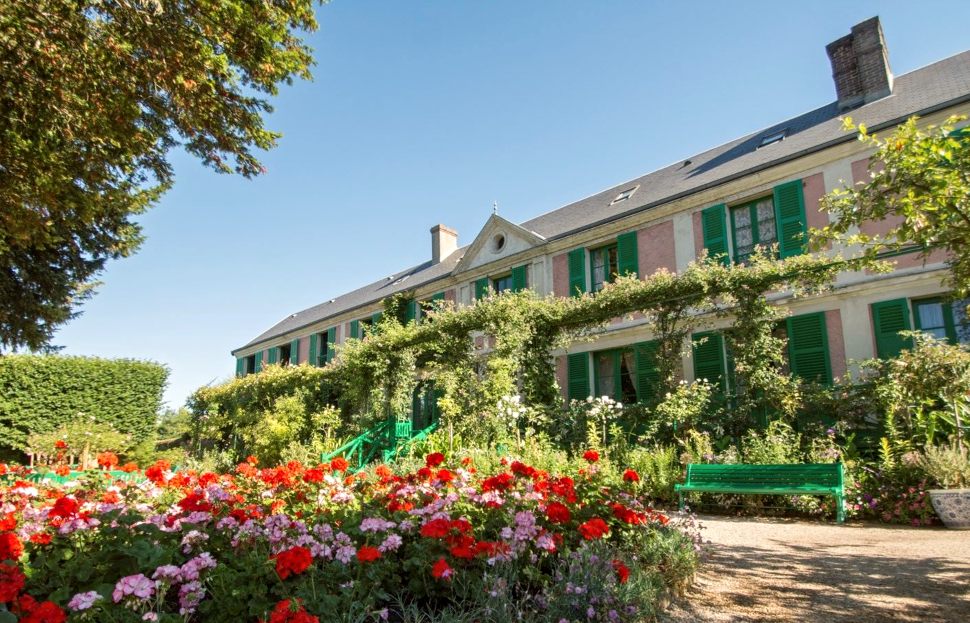 Beyond Paris – This page offers more advice on the fascinating places to visit which are within easy reach of Paris.
OUR TOP TIP IN PARIS
Palace of Versailles – About 20km from the centre of Paris, you'll find one of the most magnificent palaces in Europe in splendid condition. There are two main areas to explore, the palace itself (Château de Versailles) and the huge gardens, packed with water features. The highlight in the house is the impressive 'Hall of Mirrors' with its large windows, chandeliers and painted ceilings. In the gardens, the water features all 'perform' at different times, but there are lots of other features to enjoy too like the beautiful statues and a mini colonnade. You'll need a full day to visit the site.
Palace of Versailles: Read More, Travel Information, Tickets and Map…
MORE THINGS TO DO IN PARIS
There are lots of organised tours you can take in Paris to enhance your enjoyment of the city. Many of them will take the stress out of arranging things yourself. Here are some examples, or follow the link to see a full list and select your currency: All Paris Tours
RECOMMENDED HOTELS
We have stayed in many hotels in Paris but there are only a handful we'd really recommend to other people. Our favourite was the Hotel Ares Eiffel which is just a short walk from the park that surrounds the Eiffel Tower but also has good Metro access at La Motte-Picquet Grenelle and is in a pleasant neighbourhood with cafes and small shops. The hotel was redeveloped a few years ago and now offers affordable boutique luxury.
The other hotel we would recommend is a modern 4* hotel near the Eiffel Tower called the Mercure Tour Eiffel Grenelle. It's right on the Boulevard de Grenelle and has lovely tastefully decorated rooms which will add a bit of luxury to your visit. One thing to bear in mind with this hotel is that the raised Metro line runs right past the front of it, so if you're a light sleeper, ask for a room away from the front of the hotel. For more hotel advice, go to Hotels.com where you'll find insight from previous travellers, hotels pictures and rankings.
GETTING AROUND PARIS
Walking as above, or for longer trips, use the Metro! Don't be put off by it – it's part of the experience of Paris. Buying tickets is easy and most of the Metro stations have staff who will speak enough English to get what you want. You can buy travel cards that will last your whole stay or what we've done in the past is buy a carnet of 10 tickets to use whenever our legs get tired. You'll pick up the way the Metro works quite quickly as the various lines are numbered and colour coded but one thing to bear in mind – they're signed in the direction of the final stop on the route, so you'll need one of the free maps to work out which way to go. The website Paris By Train is really helpful too. Another way to get around now is by using the city's rental bike system called Velib. You can pick up and drop off the bikes at hundreds of locations and they're used by tourists and Parisiens alike.
We've always found the easiest way to get from the airport (Charles De Gaulle) is to catch the Air France busses which drop you to the Arc De Triomphe. They run very frequently. If your hotel is elsewhere in Paris though, you might be better taking the RER B train from the airport stations which links into the Paris Metro. We've tried it both ways and as the price and duration of journey are similar, it does depend on where your hotel is in Paris. Alternatively, click the Airport Transfers button to see a range of other options with latest prices.
MORE ON PARIS
More Things To Do In Paris – Tours & Activities
Hotels in Paris – Great deals from Hotels.com
Official Paris Website
Disneyland Paris Tickets – Attractiontix
Paris Guide Books – Amazon.co.uk