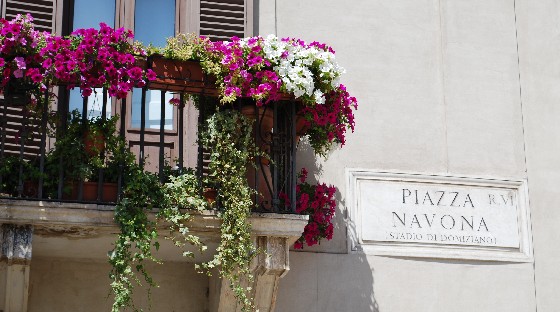 Almost 24 hours a day, this piazza is the heart of Rome's social life.  There are several routes into the piazza, and all offer striking views of the Bernini water fountain at the centre which was featured in Dan Brown's Angels & Demons book.  Cafe's surround the edge of the open space and the centre is filled with street entertainers, artists and musicians.  We loved it here – there was a relaxed and friendly atmosphere and it's a beautiful place to while away some time.  Piazza Navona is just off Via della Scrofa, and is only a 2 minute walk from the Pantheon.    This is an extract from our free Rome City Guide.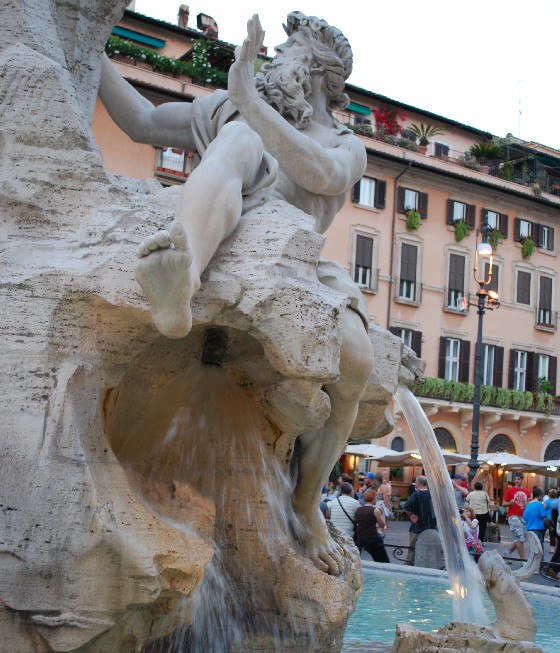 Bernini's Fontana dei Fiumi (fountains of the rivers) is undoubtedly a fine centre piece for Piazza Navona.  It features symbolic representations of major world rivers like the Ganges and Nile clinging to a cliff face with sea monsters below.  This fountain was featured in the Dan Brown book "Angels & Demons" as the location where a cardinal was murdered.  There are two further fountains in the piazza which are also worth spending time enjoying.
There are several guided tours that call into Piazza Navona to help you to get the most out of your visit. The Ancient Rome Half Day Walking Tour and the Angels & Demons Half Day Walking Tour are the most popular ones on our Tours & Activities pages.  You can see details of all the tours available in Rome and get latest prices in US Dollars here.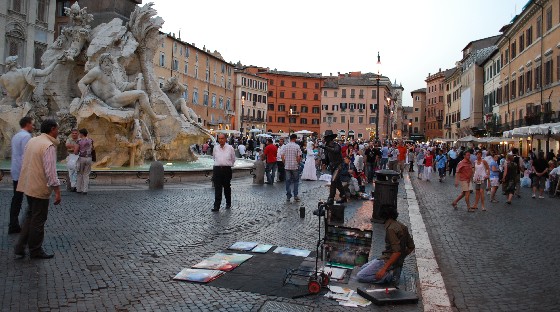 LOCATION & MAP
Piazza Navona has several access passageways like Via Agonala, and it doesn't matter which you take as all offer a terrific perspective of the square when you enter.
MORE ON PIAZZA NAVONA 
Hotels near Piazza Navona – Great deals from Hotels.com
More Hotels in Rome – Massive discounts from Expedia
Ancient Rome Half Day Walking Tour – Stops at Piazza Navona
Angels & Demons Half Day Walking Tour – Calls in at Piazza Navona
Piazza Navona – Wikipedia
Rome Guide Books – Amazon.co.uk
BACK TO…ROME CITY GUIDE
BACK TO…ROME'S BEST PIAZZAS
BACK TO…ANGELS & DEMONS LOCATIONS