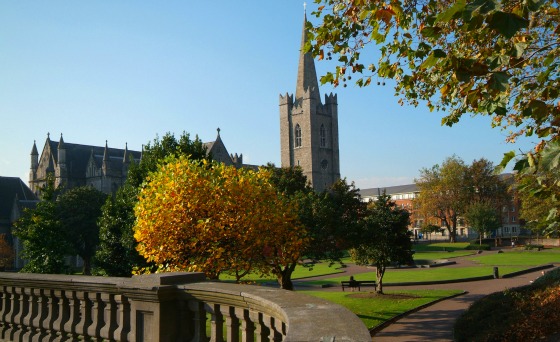 St Patrick's church is the largest in Ireland and also acts as the Protestant Church of Ireland's national cathedral. The building you see today dates back to 1220, but the origins of the site go back even further than that. It stands adjacent to a well where it's claimed St Patrick baptised converts around 450AD. There's plenty to see at the church including the ornate choir stalls, the Lady Chapel, the Door of Reconciliation and various monuments.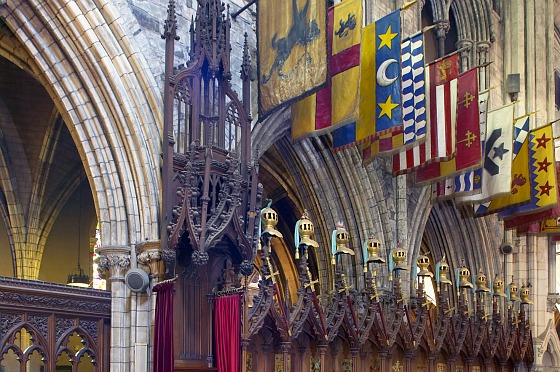 One of the distinctive features of the cathedral are the banners pictured above. From 1783 until 1871 the cathedral served as the Chapel of the Most Illustrious Order of Saint Patrick, whose members were the Knights of St. Patrick. The banners you see are the heraldic symbols of the knights at the time the order moved to Dublin Castle. St Patrick's is the largest of the two cathedrals in Dublin, but the other Christ Church Cathedral is worth a visit too.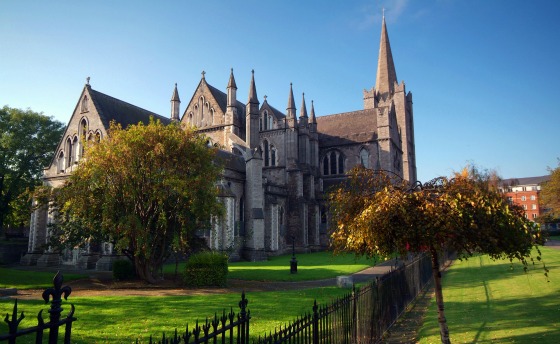 St Patrick's Cathedral is open to visitors Monday to Friday from 9am to 5pm, Saturday from 9am to 6pm in the summer and 5pm in the winter and on Sundays from 9am to 10.30am and from 12.30pm to 2.30pm. In the summer months the church opens again on a Sunday from 4.30pm to 6pm. Adult admission is 6 Euros (2016 prices) although entry is free with the Dublin Pass.
LOCATION & DIRECTIONS
Address:  St Patrick's Cathedral, Christchurch Place, Dublin 8, Ireland
Tel: +  353 1 453 9472
St Patrick's Cathedral is next to St Patrick's Park at the junction of Patrick Street and Upper Kevin Street, just a short walk from the city centre shopping streets.  The Dublin Hop-on, Hop-off Bus Tour stops nearby too.
MORE ON ST PATRICK'S CATHEDRAL
Dublin Pass – Free entry to St Patrick's Cathedral
St Patrick's Cathedral – Official Website
St Patrick's Cathedral – Wikipedia
Dublin Historical Walking Tour – Learn about Dublin's history
Dublin Hop-on, Hop-off Bus Tour – Stops near St Patrick's Cathedral
Hotels near St Patrick's Cathedral – Lowest price guarantee from Hotels.com
Dublin Guide Books – Amazon.com (US & Canada)
Dublin Guide Books – Amazon.co.uk (UK)