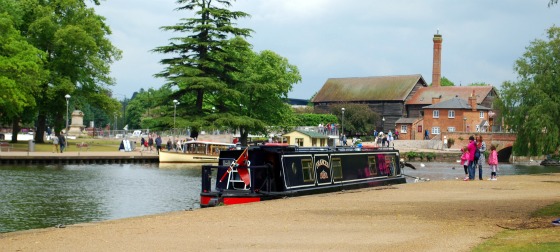 One of the unmissable features of the centre of Stratford is the river.  You'll find lots of boats trips depart from opposite Cox's Yard and they last around half an hour.  Alternatively, walk down the river path on the opposite side to the RSC.  After a while you'll come to an interesting lock and eventually, a weir.  You can also hire rowing boats to spend some time on the Avon.  We'd also recommend that you experience the river by taking the historic chain ferry from one side to the other.  The ferry takes you from the rear of the RSC to the opposite river bank and the journey costs 50p (2011 prices).   This is an extract from our free Shakespeare Country Guide.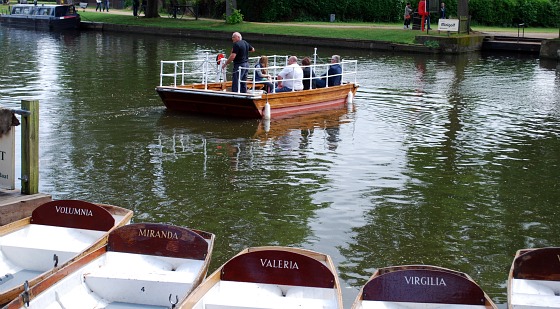 Highlights along the small section of the Avon at Stratford include…
Clopton Bridge – a 14 arch bridge dating back to 1490 which still carries traffic on the main road into Stratford.
Tramway Bridge – This used to be part of the horse drawn tramway to Gloucestershire, but is now a pedestrian bridge.
The Canal Basin – Where the canal joins the river, you'll find a lovely marina and barges which act as retail units.
Cox's Yard – A converted mill which houses bars, cafe's and restaurants right next to the Tramway Bridge.
Colin P Witter Lock – An unusual lock accessed on foot from an "island" in the Avon –  originally called Stratford Lock.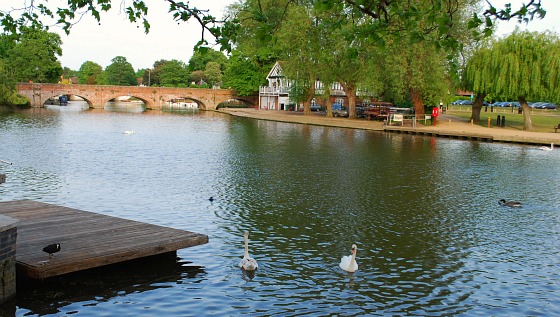 Boat trips on the River Avon vary in price depending on which company you use.  As an example, a 45 minute cruise with Bancroft Cruisers costs £5.50 for adults (2011 prices).  Bancroft operate every day, all year round from 10.30 to 5.30pm.  For more information of cruise options, call the official Visit Shakespeare's England tourism office on +44 (0)1926 471 329.  Also, bear in mind that some tickets for the f you buy a ticket for the Stratford Hop-on, Hop-off Bus Tour include a short river cruise.
LOCATION & MAP
MORE ON THE RIVER AVON
Stratford Hop-on, Hop-off Bus Tour – Stops alongside the River Avon
River Avon (Warwickshire) – Wikipedia page
Visit Shakespeare's England – Official website with accommodation, special offers and more information.  Alternatively call +44 (0)1926 471 329
Hotels in Stratford-upon-Avon – Best prices from Hotels.com
Stratford Upon Avon Guide Books – Amazon.co.uk (UK)
Stratford Upon Avon Guide Books – Amazon.com (US & Canada)