This museum is huge!  You'll find the Mona Lisa inside and the glass pyramid featured in the DaVinci Code outside.  If you have a rainy day, you could easily spend most of it in here.  Even if you don't plan to go to the musuem, we'd recommend you descend into the pyramid to see how it looks from underneath.  This area is free to access and you can browse the shop and the walkways without purchasing a ticket.  Nearest metro station is Palais-Royal–Musée du Louvre.   This is an extract from our free Paris City Guide.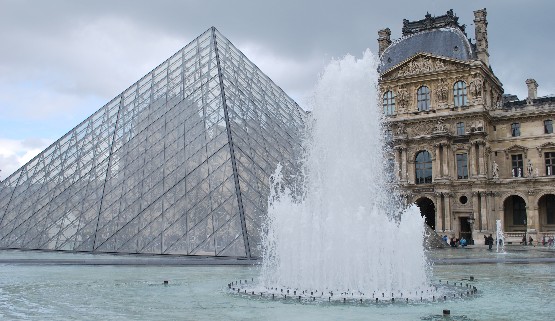 As with many places around the world, we were actually more impressed with the building than many of the exhibits inside. We'd recommend that you spend a bit of time in the huge public square near the fountains.  There's a lovely atmosphere here, even when it's busy.  You also get a great view of just how big the building is and when you're looking at it, bear in mind that it's a bit like an iceberg in that you're only seeing part of the museum as there's a huge area underground.  The museum is open Monday, Thursday, Saturday, Sunday between 9am and 6pm. Wednesday and Friday between 9am and 10pm.  The Louvre is closed on Tuesdays.  Adult admission for the permanent exhibitions is 10 Euros (2012 prices), although entrance is free on the first Sunday of every month. Entry is also free with the Paris Pass .
There are a number of tours you can take to make the most of your visit to the Louvre including a Skip The Line Guided Tour and a special Louvre Guided Tour.  Both have been getting great reviews from travellers who've been on them.  See all the tours you can take in Paris, with reviews, here.
LOCATION & CONTACT
Address: Palais-Royal / Musée du Louvre, 99 Rue de Rivoli, 75001 Paris, France
Tel: +33 (0) 1 40 20 50 50
MORE ON THE MUSEE DU LOUVRE
Skip The Line Guided Tour – See the Louvre without the wait!
Louvre Guided Tour – This mini-van tour includes the Louvre
Hotels near the Louvre – Great deals from Hotels.com
More Paris hotels – Massive discounts from Expedia
Louvre – Official Website
Paris Pass – Includes entry to Musée du Louvre
Paris Guide Books – Amazon.co.uk