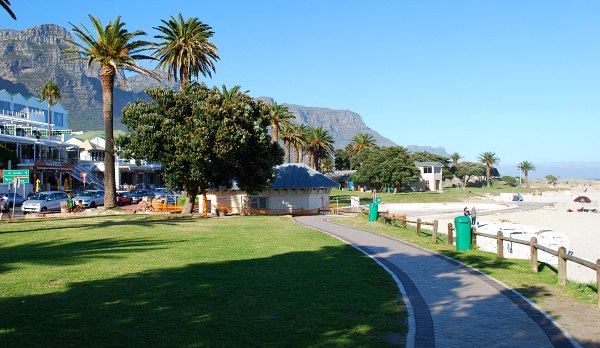 Camps Bay is an attractive seaside resort, just over the hill from Cape Town. It has a lovely sandy beach, boutique shops and a selection of restaurants. This part of the cape is generally an affluent area and it shows in the size of the houses and the general feel of the place. Camps Bay has a different perspective of Table Mountain, with a series of craggy outcrops, known as the 12 apostles, overlooking the town.
The road from Cape Town to Camps Bay was opened in the 1880s to allow people to have better access to an area which was already popular as a picnic site. It became the kind of place that day-trippers from Cape Town wanted to visit and amenities like the Rotunda (now the Bay Hotel) were built along with a tramway in the early 1900s. It's not so much of a day-trip these days, but Camps Bay retains that seaside, holiday feel.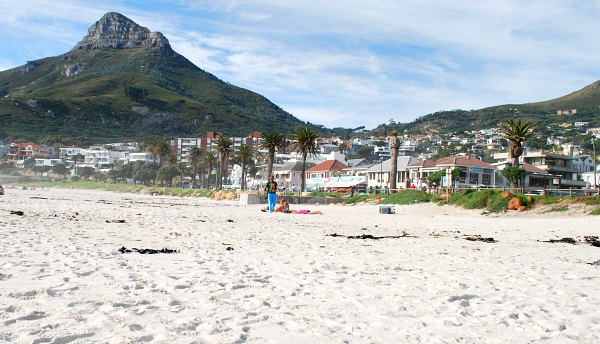 It's still predominantly the lovely, sandy beach which brings people to Camps Bay, but there's also a decent restaurant culture too with quite a few eateries along the main road. Choices include European and Italian dining and prices range from average to expensive. There are a handful of shops too, including a small supermarket.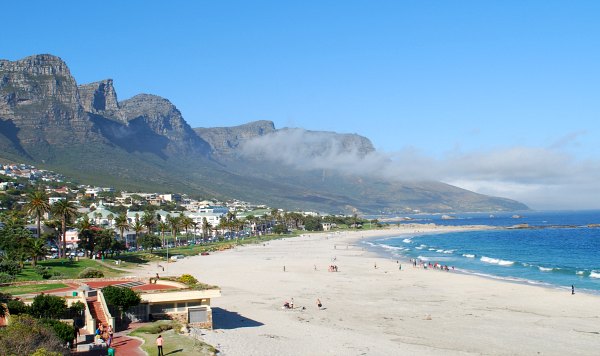 Make some time in Camps Bay to walk along the beach-side pathway which stretches along most of the length of the beach. If you have more energy you can follow the coast road up the hill for a terrific view of the Camps Bay as you head towards Clifton, which is set in another beautiful cove.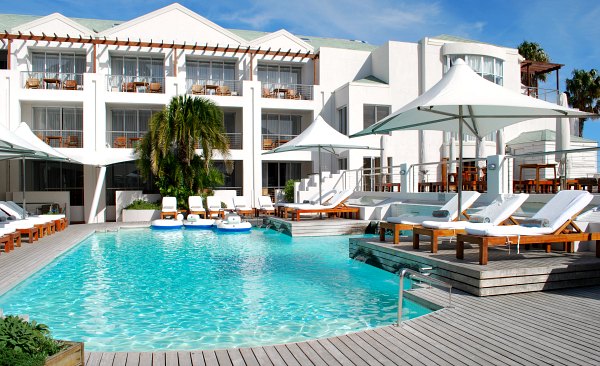 Camps Bay is a great place to stay because it gives you a seaside feel, but easy access to Cape Town. We stayed at the superb Bay Hotel (pictured above) which is one of the best hotels we have ever stayed in. We had a beautiful room overlooking the beach and the busy walkway and most evenings we watched the amazing sunset from our balcony. The service in the hotel was great and we'd recommend eating here too. We thought the restaurant served in the best food of all the places we ate in Camps Bay.
LOCATION & MAP
Address: Camps Bay, Cape Town, South Africa
If you don't have a car, the Cape Town Hop-on, Hop-off Bus Tour red and blue routes stop at Camps Bay and offer a fairly fast service into the city centre.
MORE ON CAMPS BAY
Cape Town Hop-on, Hop-off Bus Tour – A great way to get around from Camps Bay
Camps Bay – Wikipedia
More Things To Do In Cape Town – Prices in US Dollars
More Things To Do In Cape Town – Prices in UK Pounds
Hotels in Cape Town – We recommend Hotels.com