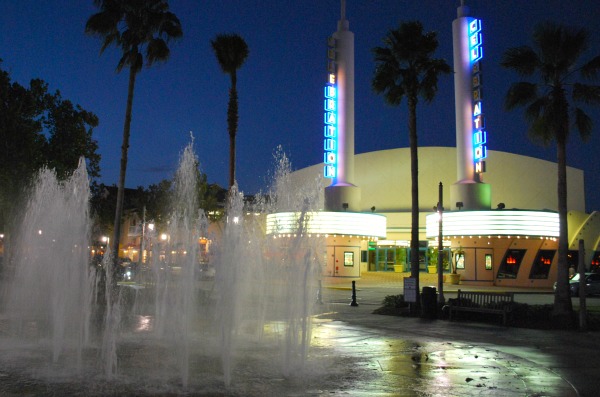 This town is a purpose built community near to Disney World and was initially developed by the Walt Disney Company in the 1990s. It's a fascinating place to visit, because they've effectively created a "perfect" American town. All the houses are perfect, the town centre is perfect, the school is perfect, the shops are perfect and the walk along the lake is perfect! We loved this place so much that we went back a number of times to eat in the restaurants and just drive around and soak it all up. It was a welcome break from the theme parks, but it still feels like you're on a film set. Look out for the alligators in the lake too – they were the only wild ones we saw on our trip to Florida.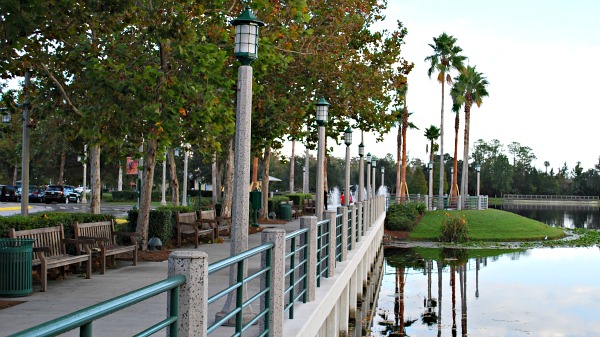 Celebration has a number of amenities to enjoy on your visit including a welcome centre next to the post office, a cinema which is pictured at the top of the page, a water feature, shops and restaurants. We tried out two restaurants and enjoyed them both. Shannon's Irish Pub on Bloom Street and Cafe D'Antonio on Front Street, but there are lots of other dining options too.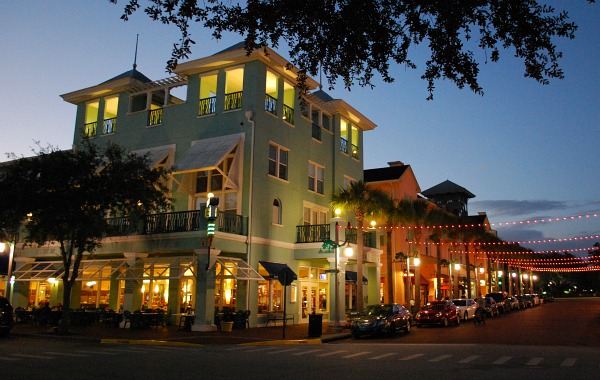 A number of well known architects were involved in designing Celebration's buildings and there are several ones to look out for. We particularly liked the circular front of the Post Office on Water Street which was designed by Michael Graves. Opposite is the striking Bank of America building with its almost Italian looking tower (see below). There's lots more to see just by walking the side walks near the town centre or by driving along the boulevards. It really is a fascinating place!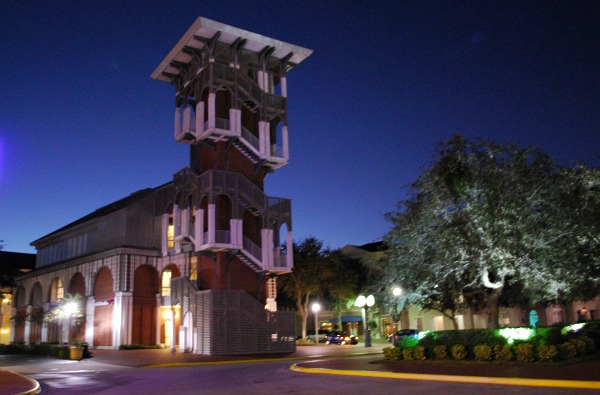 A good place to start your visit is the Celebration Welcome Center in the heart of the town at 690 Celebration Ave. It's open weekends only 10am to 5pm. We consider Celebration to be an 'extra' Disney attraction to visit on your holiday in Orlando. You can see our pages on the other Disney Attractions here…
Disney's Magic Kingdom
Disney's Animal Kingdom
Disney's Hollywood Studios
Disney's Epcot
Disney's Typhoon Lagoon Water Park
Disney's Blizzard Beach Water Park
LOCATION & CONTACT
Address: Celebration Welcome Center, 690 Celebration Ave, Celebration, Florida 34747, USA
Tel: +1 407 566 1201 (Welcome Center)
Celebration is sign posted from the I-4 and is located at the bottom of World Drive which is the main entrance road for Walt Disney World.
MORE ON CELEBRATION
Celebration – Official Website
Celebration – Wikipedia
Walt Disney World Tickets – See best prices in GB pounds
More Things To Do In Orlando
Hotels in Celebration – We recommend Hotels.com for the best service and prices