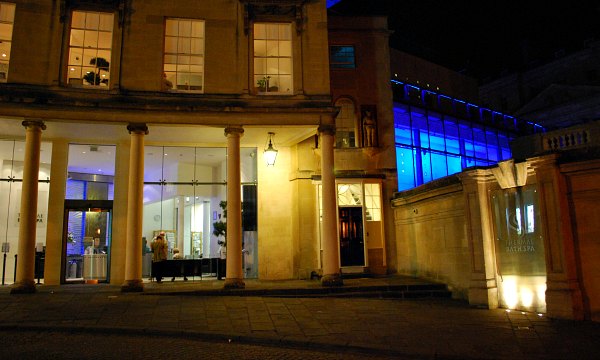 This is the modern way to enjoy the hot springs of Bath and it's a world away from the nearby, historic Roman Baths. From the outside, the spa building design is impressive, melding a historic building in Bath city centre with ultra modern glass panels. Inside they offer a range of spa treatments and pool sessions. What you get here is a luxury experience with prices to match, but the chance to bathe in naturally heated spring water, just like the Roman's used to, is one not to be missed! The special twilight packages are a good idea, so you can enjoy the views from the roof-top pool at dusk and you'll still get most of your day to look around the rest of Bath. If you do want to indulge in a spa treatment while you're here, we can recommend the Watsu. Watsu? What's that? An hour long gentle massage while floating in the spa water! This is an extract from our free Bath City Guide.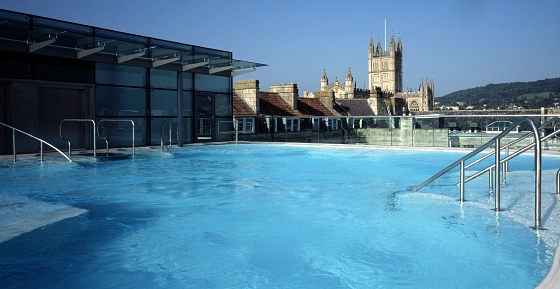 There are two main baths to enjoy at the Thermae Bath Spa and both are fed by the natural spring water. The roof-top pool is lovely with terrific views of historic Bath Abbey and on colder days especially, the steam effect is beautiful. The water is so hot, that it doesn't really feel right to swim in it, so instead you're given a floatation aid to support you as you just bob around. Every so often, the pool erupts into life, bubbling away jacuzzi style. It really is a relaxing experience and the views make it extra special. The other pool is the indoor Minerva Bath which is on the ground floor. This is shaped around the large support columns and includes a mini-river, powered by underwater jets, which everyone queues up to float around. There's a popular water-fall here too where you can feel the power of the hot water on your back which acts as a sort of massage!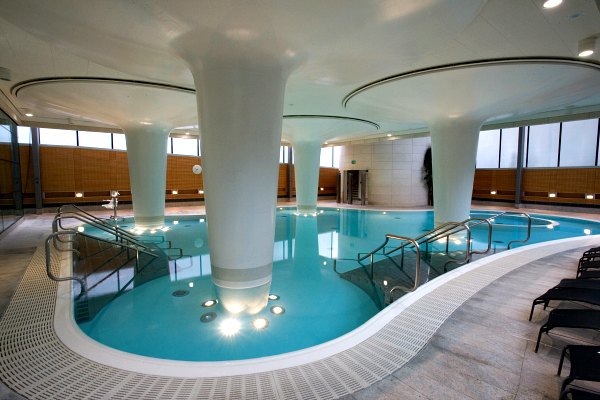 All the spa sessions include access to both pools, but you can also visit the collection of aromatherapy steam rooms surrounding a central waterfall Shower and the outdoor sun deck. When you're ready for a break, you can head to the Restaurant and the time that you spend there is then added on to your spa session so you don't miss out. We were impressed with the quality of the food and the diversity of options from yummy cakes to full hot meals. Prices for spa sessions are £27 for 2 hours, £37 for 4 hours and £57 for a full day (2014 prices).
WATSU REVIEW
Many people opt to have an additional treatment while at the Thermae Bath Spa. These need to be booked in advance. Options include a range of massages, hot stones therapy, body wraps and even a 'rainforest shower'. The speciality treatment is Watsu which is a relaxing floatation therapy which combines aspects of massage and acupressure. One of the best things about this treatment is that it takes place in a separate historic bath that you wouldn't get to see otherwise. Having said that, your eyes are firmly closed, so you don't get to see it for long. The therapist is in the pool with you and supports your head above the water for the whole time.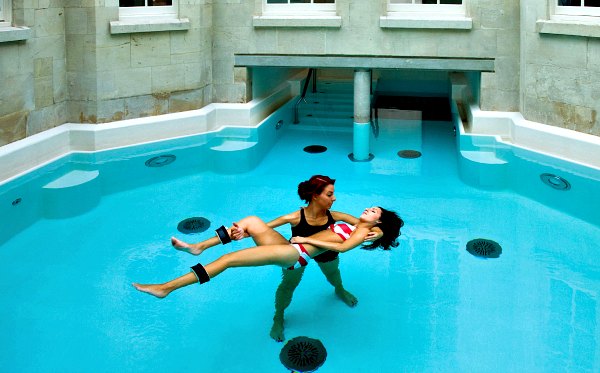 At first, it's a little disconcerting, but once you let go of your inhibitions, or your fear of sinking…or both, you start to put your trust in the therapist and relax. Your body is moved gently from side to side with stretching and massaging taking place along the way. Before long, your mind stops trying to work out what's going on and that's when you really get to a state of relaxed calm. We found it to be a truly memorable experience and you're so relaxed by the end that you feel that you're on the verge of sleep. You'll definitely require some recovery time afterwards in the special zone that's been created with loungers and herbal tea.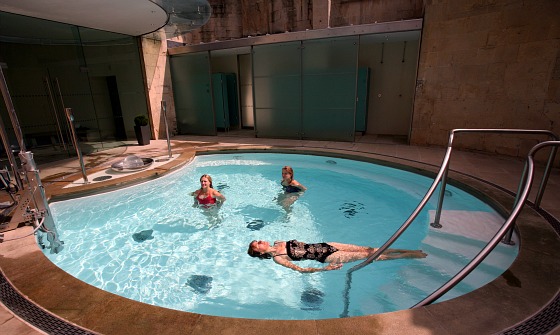 One way to make the Thermae Bath Spa experience more affordable is to book one of many a spa packages, some of which include a treatment. These offer the best value and free robes and slippers are included too. You can see all the spa package options here. Another cheaper alternative for soaking up the thermal waters is the Cross Bath. This is a smaller stand-alone bath with its own changing facilities located in a beautiful historic oval-shaped building across the road from the main structure. A 1½ hour spa session is £17.00 per person (2014 prices)
The Thermae Bath Spa is open all year round from 9am to 9.30pm daily (pools & steam rooms close at 9pm). The Cross Bath is open from 10am to 8pm daily (last entry at 6pm).
LOCATION & CONTACT
Address: Thermae Bath Spa, The Hetling Pump Room, Hot Bath Street, Bath, BA1 1SJ
Tel: +44 (0)1225 33 1234
Email: info@thermaebathspa.com
Thermae Bath Spa is right in the heart of Bath city centre on Bath Street, 200 yards from the towers of Bath Abbey. The Spa is featured on all the city's main signposts and way-markers.
MORE ON THERMAE BATH SPA
Thermae Bath Spa – Official website
Thermae Bath Spa – VisitBath.co.uk
Thermae Bath Spa – Wikipedia
Hotels in Bath – We recommend Hotels.com
More hotels in Bath – Expedia.co.uk
Books on Bath – Amazon.co.uk