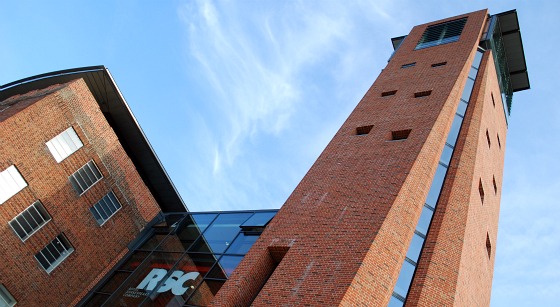 Not everyone realises that this tour exists and since the re-modelling of the theatre complex, it's taken on extra significance.  This is a fascinating way to see how the old has been melded with the new in the RSC theatre. You'll see the original walls from the art deco building inside the new structure.  The tour also takes you "behind-the-scenes" to wardrobe, the lighting booths and the audio description room.  You sit in both theatres, see where the production director controls the show and get a feel for how precise the timings in an RSC production have to be.  We liked this tour because it was a combination of an architectural tour and a traditional theatre tour.  Our guide was fascinating and was able to answer pretty much anything that was asked of him.  We would have liked to have seen even more of the non-public areas of the theatre complex and it would have been great to stand on the stage, but all in all it was a great insight into the building and the performances that are created inside.   This is an extract from our free Shakespeare Country Guide.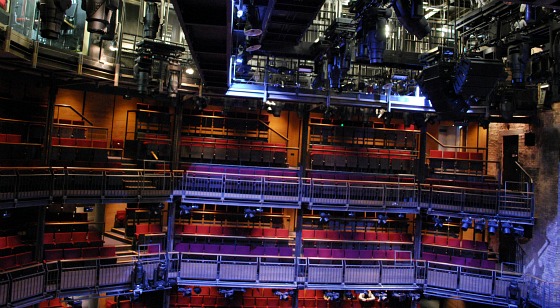 Our tour started with an introduction in the lobby, explaining the redevelopment before moving to the top floor by the new restaurant area. Here you can see the oval shaped wall of the new theatre, but also part of the old wall of the original theatre. Look closely on the picture below and you will see three original seats left in their original position, now in the restaurant.  This shows how much better the view of the stage now is inside the new theatre where the seats are much closer to the stage.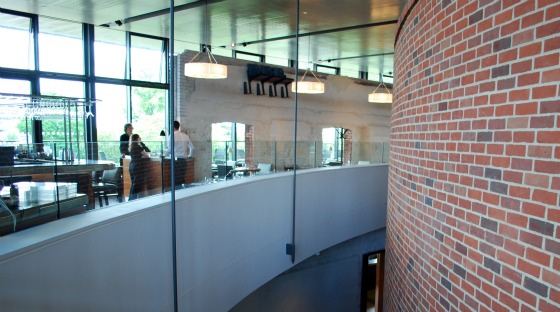 Next our tour took us to the 'backstage' area to the lighting and direction booths, before heading past the dressing rooms to the Swan Theatre at the rear of the building. We were then taken past the wardrobe department and wig making workshops through to the new theatre auditorium.  Finally, we were shown some of the original art deco features of the building including the staircase below.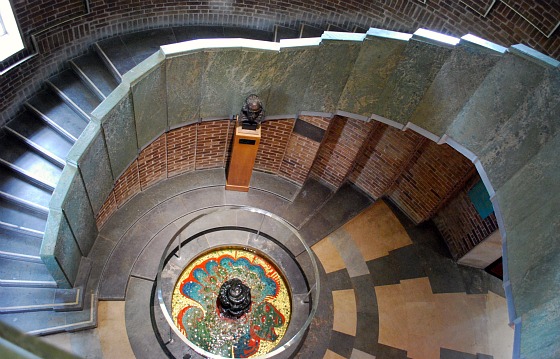 Tours last approximately one hour and run daily at 9.15am, 11.15am, 1.15pm and 5.15pm, subject to availability, (10.15am, 12.15pm, 2.15pm and 4.15pm on Sundays and Bank Holidays).  Adult tickets for the tours cost £6.50 (2011 prices).
LOCATION & CONTACT
The theatre complex is located alongside the River Avon in the waterside area of Stratford.  Nearby you'll find Cox's Yard and the Dirty Duck (Black Swan) Pub.
Address: Royal Shakespeare Company, Royal Shakespeare Theatre, Waterside, Stratford-upon-Avon, Warwickshire, CV37 6BB
Tel: 0844 800 1110 (Within the UK)
Tel: +44 1789 272227 (Outside the UK)
ticketqueries@rsc.org.uk
MORE ON THE ROYAL SHAKESPEARE THEATRE TOUR IN STRATFORD UPON AVON
Royal Shakespeare Company Tours – Official website
The Arden Hotel – The recommended hotel by the RSC, next to the complex
Hotels in Stratford-upon-Avon – Best prices from Hotels.com
Visit Shakespeare's England – Official website with accommodation, special offers and more information.  Alternatively call +44 (0)1926 471 329