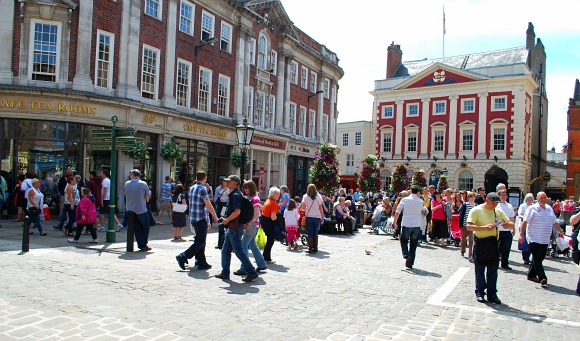 Over the years, York has become renowned for shopping and as such most of the city centre's cobbled streets are packed with shops, boutiques and cafes. You'll find all the big name reatilers here, but what's extra special is the huge range of independent shops too. Many sell their own products like jewellery, clothing, crafts or gifts. For the independent shops, start at Petergate, for the big names head to Parliament Street, but pretty much every street in between will also have shops and boutiques to visit. If you have a car, there's also out-of-town shopping at the York Designer Outlet. This is an extract from our free York City Guide.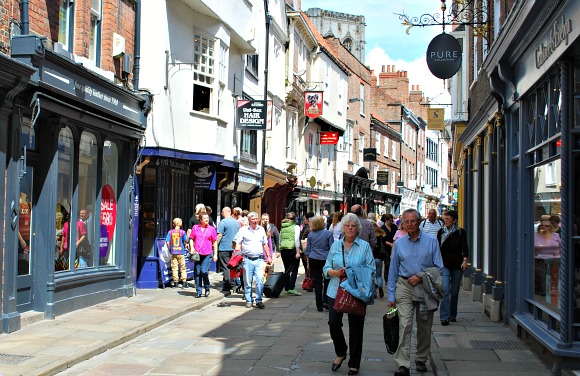 When you want to take the weight off your legs on a shopping trip to York, there are plenty of seating areas especially along Parliament Street or outside the new Chocolate attraction at the top of the Shambles. Alternatively head to one of York's many cafe's. We particularly liked the one at York Castle Museum.
Another shopping location we'd recommend in York is the Newgate Market which is accessed from a number of streets like Market Street and is nestled at the rear of Marks & Spencer running parallel to the Shambles. It offers a fascinating range of goods from fresh fruit to luxury crafts and there's everything else you'd expect from a good British market in between.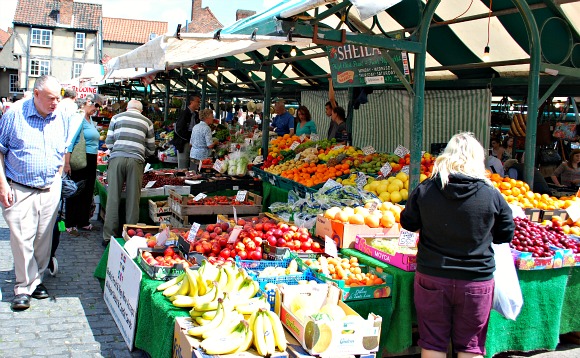 LOCATION & MAP
All of York city centre's main shopping streets are within the city walls, but there are also convenience stores on most of the major roads into the city. This map shows Parliament Street, but you can move it around to see York's other shopping streets:
MORE ON SHOPPING IN YORK
Hop-on, Hop-off Bus Tour – Stops at major locations in York
VisitYork.org – Official York Tourism Website
York Pass – Free entry to York's attractions
York Hotels – We recommend Hotels.com with their lowest price guarantee
York Insight Guide – Amazon.co.uk
York Pocket Guide – Amazon.co.uk
Rough Guide To Yorkshire – Amazon.co.uk
Yorkshire Travel Guides – Amazon.com (USA)