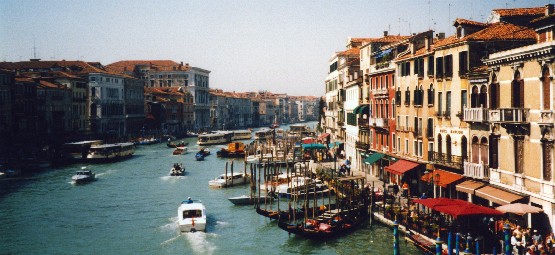 It's the busiest water route in Venice and the best way to experience it is to be on the water.  Our tip would be to take a Vaporetto (Water Bus) for a ride up the canal.  We've also done it in a Gondola, which is a lot scarier and a lot more expensive!  This is an extract from our free Venice City Guide.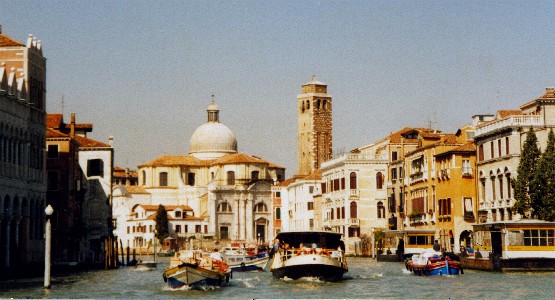 The Grand Canal banks are lined with more than 170 buildings, most of which date back to between the 13th and the 18th century.  This was the location that wealthy Venetians wanted to have their family houses or Palazzos.  There are plenty to look out for including Ca' d'Oro (Palazzo Santa Sofia) which is absolutely beautiful and looks gold in colour from the gilt decoration.  Near the entrance to the canal, you'll also see Palazzo Venier dei Leoni which houses the Peggy Guggenheim Collection and the lovely Santa Maria della Salute church with its domed roof.  If you want a proper guided trip on the Grand Canal, rather than the Vaporetto ride, consider The Grand Canal Boat Tour which usually gets great reviews.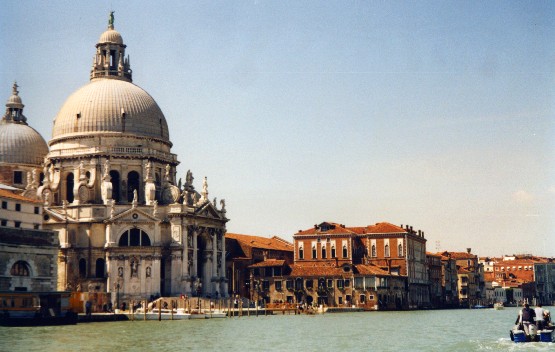 LOCATION & MAP
The Grand Canal runs from the southern part of Venice island with it's entrance near to the Santa Maria della Salute church and winds through Venice to the lagoon near Santa Lucia railway station in the north.
MORE ON THE GRAND CANAL
The Grand Canal Boat Tour – A 70 minute guided trip
Hotels near the Grand Canal – Great rates from Hotels.com
The Grand Canal – Wikipedia
More Things To Do In Venice 
Discount Venice Guide Books – Amazon.co.uk (UK)
Discount Venice Travel Guides – Amazon.com (US & Canada)