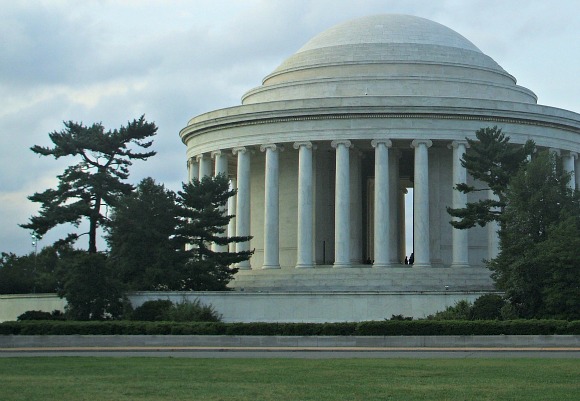 The memorial to Thomas Jefferson is another impressive example of Washington's collection of monuments. There's a bronze statue inside the domed building surrounded by passages from the Deceleration of Independence. It tends to be less busy that the Lincoln Memorial. You'll find it off the Washington Mall, set on the Tidal Basin near 14th Street. This is an extract from our free Washington DC City Guide.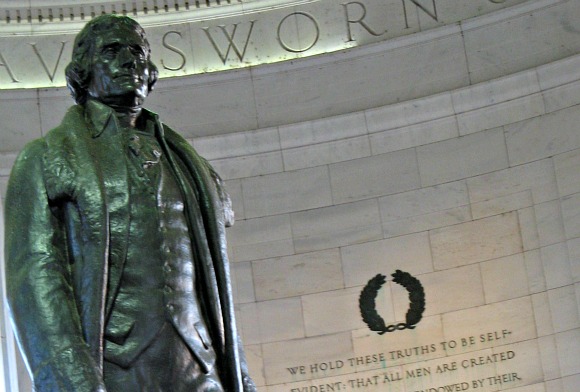 Of all of the memorials in the park around Washington National Mall, this is the one that is slightly further away and as such often gets overlooked. Many tourists will walk the Mall from one end to the other and when you're doing that, it's such a long way, that you don't really want to veer off to the side to visit an extra memorial. We'd urge you to take the time to do it though, either on another day, or by getting the Trolley Tour because it's so much more peaceful that the other memorials and is set in the most stunning location. Even if you don't have time to make it inside, then make sure you walk to the edge of the Potomac Tidal Basin to see it from over the water. The memorial juts out into the basin and at some angles looks almost like an island on its own.
The Thomas Jefferson Memorial is free to visit and is open 24 hours.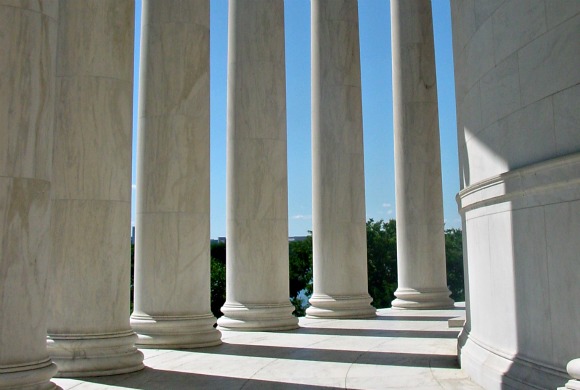 LOCATION & CONTACT
The Thomas Jefferson Memorial is located at the southern end of the National Mall right next to the Tidal Basin in West Potomac Park. The Washington DC Hop-on, Hop-off Trolley Tour stops here.
Tel: +1 202 426 6841 (National Parks Service)
MORE ON THE JEFFERSON MEMORIAL
Washington DC Hop-on, Hop-off Trolley Tour – Stops at the Jefferson Memorial
Hotels near the Jefferson Memorial – Great rates from Hotels.com
Jefferson Memorial – National Parks Service Website
Washington DC Guide Books – Amazon.co.uk
Washington DC Guide Books – Amazon.com (US & Canada)