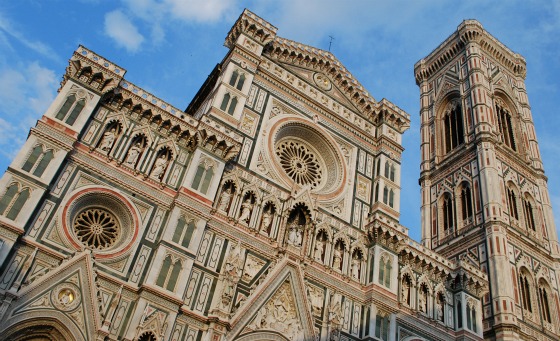 This is the magnificent frontage to the Duomo in Florence, also known as the Cathedral of Santa Maria del Fiore.  Admission to the cathedral itself is free, although you can buy a combined ticket that covers the charges for climbing the dome, seeing the baptistry and entering the museum.  The line to enter forms down the left had side of the photo above. The cathedral is open Monday, Tuesday, Wednesday & Friday from 10am to 5pm, Thursday from 10am to 4.30pm, Saturday from 10 am to 4.45pm  and on Sunday from 1.30pm to 4.45pm.  The line to enter usually moves quite quickly, but at busy periods it can take 30 minutes or so.  You skip the line by taking the Best of Florence Walking Tour which includes to Duomo.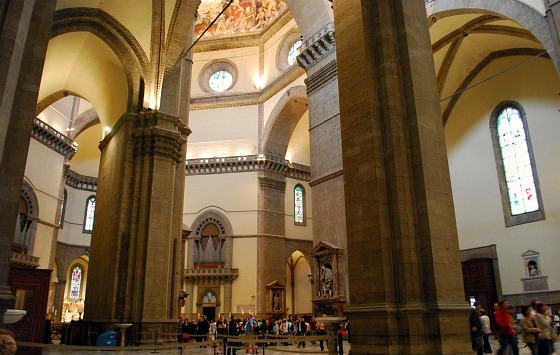 The most striking feature inside the cathedral is the painted roof of the dome.  Although you can see the frescoes quite well from the ground, you get the best view if you decide to climb to the top of the dome which has a fee.  See our special Climbing the Dome page for more.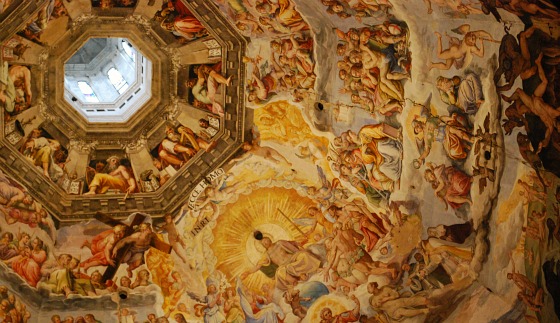 To be honest, most of the Duomo inside is quite bland but you are struck simply by the size of the place.  The patterned floors are interesting too (see below) and one other area to take a look at is the New Sacristry near the altar which has bronze doors dating back to the 15th century and a wooden interior.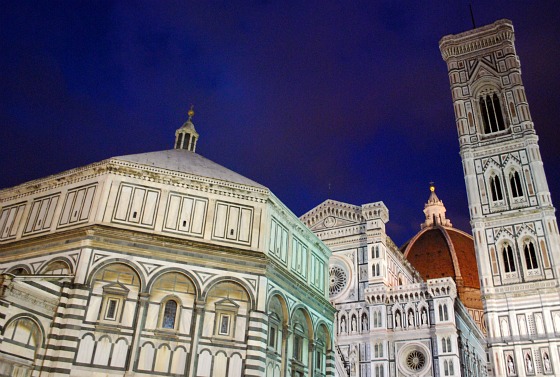 The Campanile outside was designed by Giotto with 414 steps to the top. It's slightly easier to climb than the dome, and the big bonus is that your pictures of Florence from the top will have the dome in them! Open daily from 8.30am to 7.30pm with last entrance 40 minutes before closing. You'll find the museum (Museo Dell'Opera) at the rear of the Duomo and exhibits include Michelangelo and Donatello sculptures and the original 'Gates of Paradise' from the Baptistry. Open 9am to 6.50pm daily but closes early at 1pm on Sundays. The Duomo combined ticket which covers access to all the cathedral's attractions is 15 Euros (2016 prices). See our special pages on the other aspects of your visit to the Florence Duomo…
Florence Duomo: Climbing The Dome In Pictures
Florence Duomo: Visiting The Baptistry
LOCATION & CONTACT
Address: Florence Duomo, Piazza del Duomo, 50122 Firenze, Italy
Tel: +39 055 215380
Email: opera@operaduomo.firenze.it
MORE ON FLORENCE DUOMO
Florence Duomo – Official website
Hotels near Piazza del Duomo in Florence – Best price guarantee from Hotel.com
Best of Florence Walking Tour including the Duomo
More Florence Tours – From our Tours & Activities pages
Florence Guide Books – Amazon.co.uk (UK)
Florence Guide Books – Amazon.com (USA & Canada)